Subscribe or Log In to ePantagraph
ePantagraph is an electronic PDF replica of the printed Pantagraph that you can access on any computer with an Internet connection and a browser capable of viewing PDF documents.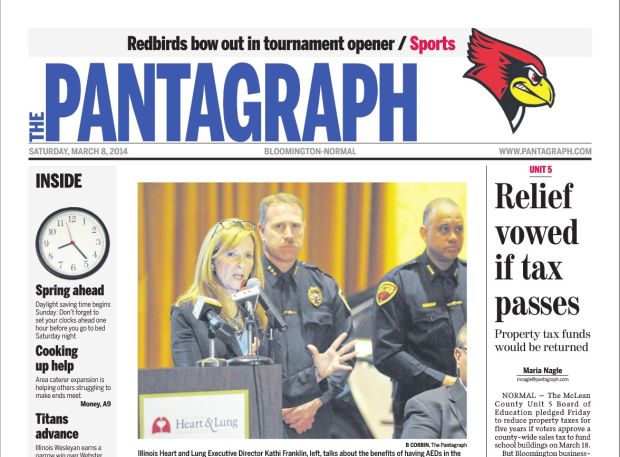 Select the option for you
Log in to ePantagraph Current registered ePantagraph subscribers can log in to access their ePantagraph from anywhere.
If you would like to subscribe to ePantagraph, we offer several subscription options. Call 309-820-3358 or click to subscribe
Frequently asked questions about ePantagraph
Q: What is the difference between ePantagraph and the print edition of The Pantagraph?
A: ePantagraph replicates every regular page of the print edition. Classified and in-paper retail ads are in ePantagraph, but ePantagraph does not include advertising inserts, as not all are available electronically from advertisers. ePantagraph also may not include all special sections.
Q: What does ePantagraph have to offer?
A: ePantagraph is convenient and economical:
Convenience: Ability to access ePantagraph 24/7 from any computer with Internet access.
Economical: Receive the same news as the print edition for only $9.95 a month.
Q: How do I access ePantagraph?
A: You can read ePantagraph from home, work or on the road, wherever you access the Internet with any device that can access the web and view PDF files. As a subscriber, you'll always have the current edition of The Pantagraph at the click of your mouse.
Q: How much does a subscription to ePantagraph cost?
A: One-day access to ePantagraph is $5 and one-month access is available for $9.95. To subscribe to ePantagraph, call 309-820-3358 or click here.
Q: Can articles, photos and features such as crossword puzzles and comics be printed out?
A: Yes. Select the portion you want to print, and then click on the printer icon. You may have to adjust your printer settings to contain features to one page.
Q: Can I e-mail articles to a friend?
A: You can e-mail a page from ePantagraph, but not an individual article.
Q: I can't see the whole page on my screen. What do I do?
A: If you cannot view the entire width of the page, find the scroll bar along the bottom edge of your web page. You can scroll right or left to view more of the page. You also will be able to navigate up and down using the scroll bar on the right edge.
Q: I signed up and provided my e-mail address. Is that information being offered to any third parties?
A: No. This information is for internal use only. You may receive e-mails from The Pantagraph only, and can opt out at any time from these promotional e-mails.
Q: If I go on vacation can I put my ePantagraph on hold to stop it while I am away?
A: No. There is no need. ePantagraph can be accessed anywhere you go, so you can always stay up to date with what is going in Central Illinois.