At the BCPA this weekend
PUSH comes to shove gravity away
Troupe merges acrobatics, dance, mime and more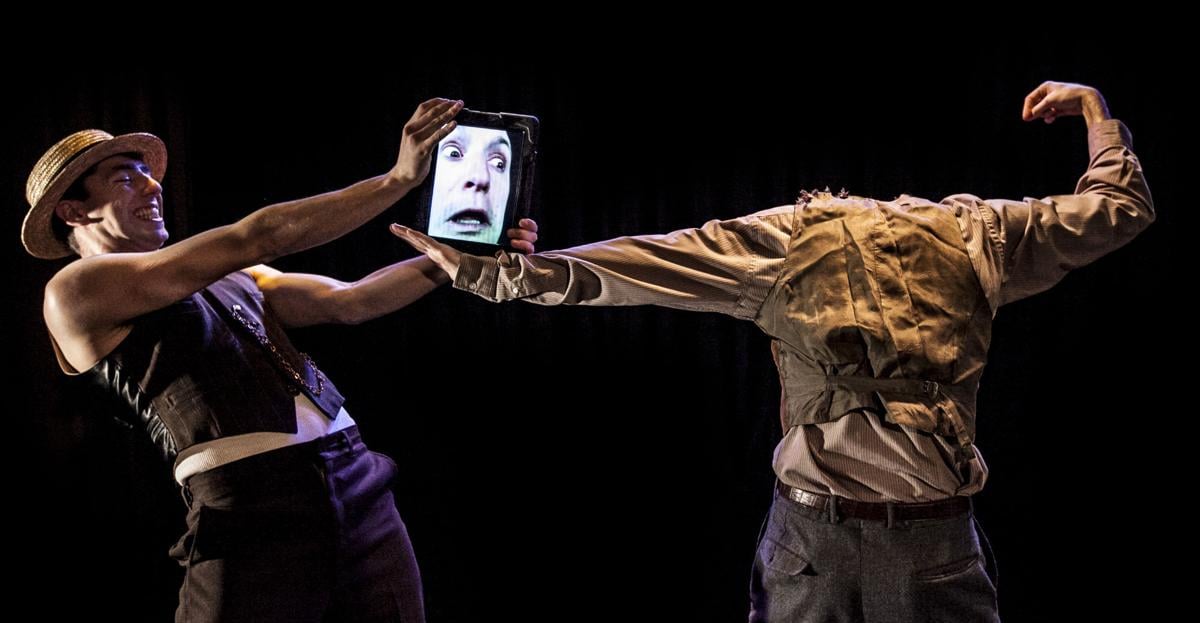 Imagine the trippy, bullet-dodging action sequences of "The Matrix" films beamed from the safety of the canned movie screen to the danger of the living stage.
Like, say, the Bloomington Center for the Performing Arts ... at 2 p.m. Sunday.
Welcome to the gravity-flaunting, time-shifting universe of PUSH Physical Theatre.
That's where you WILL believe a man or woman can fly, or leapfrog, or remain suspended in time and space longer than the laws of physics and the BCPA's dimensions should legally allow.
PUSH founder Darren Stevenson describes the net sensory impact of the five PUSHers (the official term for the performers, himself included) as "images rich with information that are sped up or slowed down in time as we jump from scene to scene."
Take, for instance, one of the troupe's signature pieces, "Galileo," a gravity-free homage to its namesake's discovery of the heliocentric universe ... you know, the one in which the Earth and planets revolve around the Sun.
Created in 2003, the piece, says Stevenson, figuratively "deals with the very large solar system and the movement of planets." Guess who plays the planets moving?
"We end up climbing on each other, and lifting each other, and throwing each other around the stage," says Stevenson of the cosmic spectacle as conveyed via the PUSHers' lithe bodies.
In "The Natural World," PUSH shoves us down into a subterranean world of crawling, flitting insects magnified from the tiny to the human-scaled.
"The creatures are based on actual insects, but invented by us," he notes.
Hence, the two-headed bug and the amphibian species known only to PUSH's nature as squat frogs.
Bugs and creepy-crawlies they may be, but they still experience "the ramifications of kindness, respect, conflict and friendship and more." Who knew?
For PUSH, says Stevenson, it's all about the humanity being conveyed through the acrobatic movement, even if the PUSHers are portraying squat frogs or two-headed bugs.
What it's not about, he says, are expectations about what dancer-acrobats like the PUSHers are supposed to do in relation to each other.
"Unlike, say, ballet, in our company, the women are often lifting the men," notes Stevenson, whose partner in PUSHing is his partner in life, Heather Stevenson. "It's not unusual to see a 120-pound girl lifting a 170-pound guy." 
The Stevensons co-founded the group 17 years ago in Rochester, N.Y., as a means to their desired end of creating a troupe that would merge an array of disciplines — from dance to mime to acrobatics to theater to comedy — into a single moving entity.
"We didn't want a company where we were the choreographers and the dancers were the robots doing whatever we tell them," Stevenson says. "We wanted to make a home for artists to explore their own creativity."
Amid the high levels of physical intensity on display, PUSHers are asked "to try and find an intimacy or a something that is human and personal in the work and in their artistic voice as well."
Hence those orbiting planets and squat frogs with real emotions and relationships to one another.
"They have to be emotionally available and vulnerable at the same time that we are asking them to go to their physical limits. And that's very hard to do, day after day after day."
In addition to Darren and Heather, the troupe features Jonathan Lowry, a classically trained actor and mime; Avi Pryntz-Nadworny, a Cirque du Soleil alum with a gymnastics and juggling background; and Katherine Marino, a professional dancer.
Now in their mid-40s, Darren and Heather have survived the 17 years of extreme PUSH behavior longer than they imagined.
"When I was in my mid 20s, I thought I was about done with my career," says Darren. "I'm 44 now, and the body starts to break down, and you become  more susceptible to injuries, with a much longer recovery time."
Funny about that process, though: "I'm actually fitter and stronger now than I was 15 years ago. I'm enjoying it so much, I just keep going."
A big chunk of that motivation, he adds, is what he hopes will be going down at the BCPA Sunday afternoon.
"This idea of ours that we have an exchange between us and the audience ... that you can feel the dynamic in the room even if the audience isn't talking to you. That's what I'm addicted to ... that's what keeps me going."
Follow Dan Craft on Twitter: @pg_dcraft