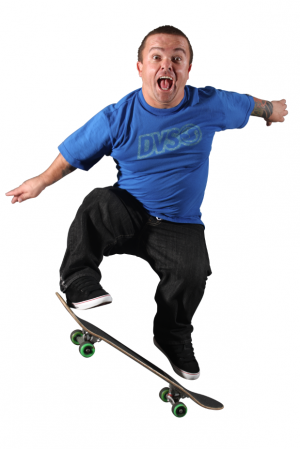 It isn't the average GO! interview subject who suggests packing a barf bag for his show.
The suggestion is not "just in case," but in the likely event.
"Oh, yeah, we've had people puking, and close to puking," he helpfully notes on behalf of the gastronomically challenged among us.
If nothing else, "people are ALWAYS closing their eyes."
Ah, but consider the circumstances.
The advice is being offered by one of the four willful masochists comprising "Jackass Live," the touring edition of the long-ago MTV series (2000-2), which was followed by a trio of taste-free movie versions ("Jackass the Movie" in 2002, "Jackass Number Two" in 2006 and "Jackass 3-D" in 2010).
The quartet of barf-baiting pranksters is headed to the Castle Theatre at 8 p.m. Sunday. 
On stage with every formerly broken bone and square inch of scar tissue intact: Chris "Party Boy" Pontius, Dave England, Preston Lacy, and Jason "Wee-Man" Acuna (corralled by the evening's hosts, comedians Mike Stricker and Tim Brennan).
They're all well into their 40s now, with no end to the creative extreme abuse in sight.
On the line with us this day, conjuring visions of projectile vomit and worse, is the irrepressible Wee-Man himself, Jason Acuna.
All 4-feet-one-half-inch of him (his stature, for the record, is the result of achondroplasia, a form of dwarfism).
Housed within Wee-Man are the dozen-odd bones that have been fractured or broken over the course of his career as a professional skateboarder — where his defying gravity, taste and death begins — and through his ongoing "Jackass" lifestyle. 
"We do these on occasional weekends," he says of the live show. "But it's not something continuous ... this'll pretty much be one of your only chances. Not much is planned after this trip."
Let that be a warning, then, if you're a fan and you're still debating how to spend your Sunday night out.
Prior to "Jackass Live," Bloomington-Normal's only in-the-flesh encounter with a series alum was a live stand-up comedy show several years back at the defunct Laugh Comedy Club featuring one of the two alums who became stars in their own right, Steve-O (the other, bigger success story: Johnny Knoxville).
Wee Man's post-"Jackass" career has involved everything from business entrepreneurship (he's a partner in the Chronic Tacos fast-food chain with 50 locations around the country and owns his own underwear brand) to starring in his own reality series (CBS's short-lived "Armed and Dangerous") to headlining in movies (playing the title role in 2012's direct-to-video holiday film "Elf-Man").
"We're still really huge in Australia ... they love us there," he notes. "We walk down the street, and it's Wee-Man! Wee-Man! In England, we have one of our biggest fan bases. And, in Japan, that's when I knew this (bleep) was really big, with people running after us yelling our names." 
Born in Pisa, Italy, of German and Mexican descent, Wee-Man, 43, was raised in Torrance, Calif., where he was deep into the local skateboarding culture, a passion that eventually led him into the heavily skateboarder-influenced "Jackass" universe.
Among Wee-Man's trademark flirtations with injury and death over the course of his "Jackass" tenure:
Kicking himself in the head, successfully ... doing deep-knee bends with NBA star and "Jackass" fan Shaquille O'Neal on his back ... getting tossed into a pit along with two anacondas ... bungee jumping off a bridge in Miami with Lacy as his support weight ... being thrown across a swamp by-high powered fans while attempting to achieve flight ... and running around butt-naked just about anywhere, anytime (in "Jackass Number Two," it's during a production meeting).
As Dave England once noted: "Wee-Man is magic. When he's on the scene, everything is magical. He can do anything he wants. I'm pretty sure he could kill someone right in front of a cop and the cop would go, 'Oh, cool. Good job, Wee-Man!'"
Re: encroaching middle age, and worse, Wee-Man notes that rock stars their age "beat up their bodies with partying and drugs and mental/physical abuse ... and that doesn't stop them."
"We're just living the rock star lifestyle," he adds, characterizing himself as the pit bull of the quartet we'll see on the Castle stage Sunday night ("Chris is the party guy, Preston is the comedian, Dave's the grossest ... but I'm the aggressor").
Life as a Jackass at 43, then: not too shabby.
He may be inspiring his fans to toss it up for him, barf bags in place ... but "hey, I'm not cleaning toilets in the men's room at the airport." 
Postscript: The correct email address for local musician Bob Holliday, whose "The Donald" was the subject of last week's column, is hollidaymusic@comcast.com. Find out more about the song (which scored another 700 YouTube hits this week) and Bob's new album via that address.
Dan Craft is Pantagraph arts and entertainment editor. He can be reached at 309-820-3259 or via email at dcraft@pantagraph.com.