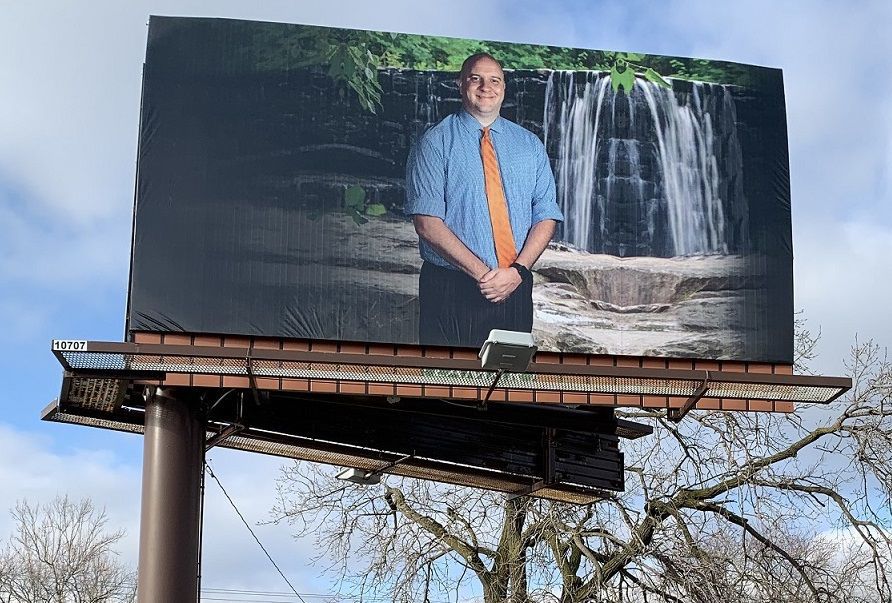 As the times of COVID-19 continue:
Did you notice recently the billboard along Veterans Parkway in east Bloomington, next to the old Circle Lanes bowling alley, with nothing more than a humongous photo of a fellow in an orange necktie and short-sleeved shirt standing next to a flowing fountain?
That's him on the billboard! 
You say you've heard all the hilarious practical jokes played among great friends? 
Seems about a year ago, Ryan — a B-N native, now 38 and assistant principal at Pontiac High School — intercepted an old high-school prom photo of Eric Bohm, the Pontiac High principal, and for good laughs, posted it at school for all to see during the televised morning announcements.
With smiles and smirks, everyone mentioned it to Eric, too.
And that ... oh, that was just the start ...
By Christmas, Ryan Bustle began having people from all over the school district thank him for his wonderful Christmas card, complete with his 2019-20 Pontiac High school photo, the one of him in a light blue shirt and orange tie.
Except … Ryan hadn't sent out any cards. At all.
In a good-natured touché, Eric sent out dozens of photo Christmas cards to school district personnel ... with Ryan's school photo on it.
"I have reason to believe that he sent out my card in lieu of sending out one of his own family," says Ryan.
Next, Ryan got invited to a get-together at Crawford's Corner Pub, a popular spot in west Bloomington.
There, Ryan noticed a huge photo on a restroom door. And it was him! It was that same school photo of his — now poster-sized — put there by Bob Crawford, an owner of the pub and a Ryan friend.
One recent day — after school classes had gone online in wake of COVID-19 — Ryan is cruising along Veterans Parkway. He happened to look up on a billboard.
And it was that school photo of his, now 24- by 12 feet, being electronically beamed across B-N's most heavily traveled road.
"Stunned," chuckles Ryan, "would be an understatement."
Seems two more friends (Kyle and Marty Rave, of Rave Homes in Bloomington) had joined in the joke and in Ryan's words, "graciously given me" an entire billboard.
"This whole thing has been awesome," says Principal Eric Bohm. "We have had some great laughs during a time when we all need more opportunities to laugh."
And now of course — well — it's even made the newspaper.
If you see Van Baker wallowing in a ditch in Normal, maybe carrying an open beer or bottle of liquor, commend him.
He's doing a public service during these coronavirus times.
Retired and a guy who's seen a lot in his 71 years, Baker volunteered through his church to pick up litter twice a week in an area of north Normal the church had "adopted" — along Linden Street, up to Ironwood Gardens.
"It's good exercise," says Baker.
A non-drinker himself, Van says he's found all kinds of beverages, even exotic ones like Jack Daniels Tennessee Honey and Eagle Banana Bread Beer.
He's discovered countless food and drink containers, as well as underwear, condoms, bottles of 5-hour Energy Drink, a bathroom tile inscribed "VIRGINITY ROCKS," a large Budget Inn and Suites marquee sign broken in pieces, even a garage door opener including its complete 6-foot rail, chain, motor, mechanism, and all.
There also have been, as Van calls them, "incidents."
Like, being chased by wild turkeys or nearly knocked down by jackrabbits fleeing from weeds. Hauntingly, there have been huge masses of birds on wires above chirping at him, like in Hitchcock's "The Birds." He's lost his shoes in the mud while also "tumbling down the ditch into the murky creek that runs beneath the road."
He's found money, not $100 bundles, he attests, but still money. Sadly, he's also found weathered photos, including one of a cute baby. "Who tears up baby pictures and throws them out a car window?" wonders Van.
Most recently, he found — yes — a used face mask, a byproduct of this time.
And one other thing — what else would you think if you saw a 71-year-old man trawling in a ditch on a town's outskirts while carrying any number of alcoholic beverage bottles.
Yes, while in reality doing a good deed that involves his church, he recently also was mistaken for being a homeless person.
"A nice young guy offered me a $20 bill," Van says.
These coronavirus times, we won't forget them.
Test your knowledge 
Flick Fact: In what town did Ronald Reagan learn his math?
Question: This is the 109th anniversary of Ronald Reagan's birth in Tampico, a small town about 40 miles from the Quad Cities. He also spent major parts of his childhood and teen years in Dixon and Eureka. But it actually was what other Central Illinois city where he learned to add and subtract? (1) Bloomington; (2) Ottawa; (3) Minonk; (4) Galesburg.
Answer: Reagan first learned all about numbers in (4) Galesburg where he attended first and second grade. That's before they moved back to Tampico.
Flick Fact: How can an area of 27,000 folk be so quiet?
Question: An area in Bloomington is home to 27,000 folk yet is, without question, one of the quietest areas in the entire city. Can you name where that area is?
Answer: That would be Evergreen Cemetery, just south of downtown. The cemetery, by the way, is actually older than the city itself.
Flick Fact: Was there ever a 'Shorty' at 'Shorty's' barber shop in Normal?
Question: True or false? When L.W. Peyton began giving haircuts in 1922 at Red Keen's barber shop along North Street in Normal, he probably didn't realize that nearly 100 years later, people would still know him by a different name.
Answer: That's true. Known as "Shorty" because he was short in stature and would even stand on a short stool to give an especially tall man a haircut, L.W. "Shorty" Peyton eventually bought Keen's shop and renamed it Shorty's. It remains popular today and still operates in uptown. It's believed to be Normal's oldest business. "Shorty" cut hair for 61 years before retiring in 1985. He died in 1993 at age 94.
Flick Fact: How many wash their cars on 'spring-like' winter days?
Question: Spring-like days during winter generate a lot of business at car washes. For example, at those Rainstorm Express car washes in B-N, how many cars can pass through the automated wash on a spring-like day in winter? 
Answer: According to attendants, 500 cars can pass through that car wash alone on a nice winter day. An "average" in summer usually produces 200/250 car washes a day, they say.
Flick Fact addition to Sunday's answer: Besides referee Doug Rosenbaum, two others with B-N ties have Super Bowl rings. Central Catholic High and Illinois grad Michael Hoomanawanui won a ring with the New England Patriots in 2015 and Dennis Nelson, an Illinois State University Little All-American tackle, was on the 1971 Baltimore Colts that won the Super Bowl.
Flick Fact: Anyone from B-N been in the Super Bowl?
Question: Has anyone from Bloomington-Normal been in a Super Bowl and earned a Super Bowl ring?
Answer: Yes, if you include referees. Doug Rosenbaum, a 1975 Normal Community and 1980 Illinois Wesleyan grad and veteran of 16 seasons of being a referee in the NFL, was a referee in the 2011 and 2017 Super Bowls. Before there were Super Bowls and only "NFL championships," in 1940, the sports editor of this newspaper, Fred Young, was a referee of the NFL Championship Game in Washington D.C., a 73-0 win by the Chicago Bears over the Washington Redskins that still ranks as the most lopsided score in pro football history.
Flick Fact: Could Bloomington have been called Miami instead?
Question: If Bloomington had been founded 300 years ago, they might have called it Miami instead?
Answer: That's true. The Miami Indians were predominant in the area, along with the Peoria and Sioux tribes.
Flick Fact: Can a B-N man beat a bear and two human competitors?
Question: On the Discovery Channel at 7 p.m. on Saturday, as the nation looks on, Central Illinois will be featured by (1) the Fighting Illini basketball team making waves; (2) state officials looking ahead to Illinois' "Super Tuesday" primary in March; (3) a Bloomington man competing against a grizzly bear.
Answer: Yes, it is (3). It will be a final seasonal segment of the reality series, "Man Vs. Bear." He won a semifinal last week. So now it's on to the final three finale, for Bradley Slama of Bloomington.
Flick Fact: What was the last weekend without snow or rain?
Question: The weather forecast for the weekend is (could it possibly be?!?!) no snow nor even any rain. Quick — name the last weekend in which we had no precipitation?
Answer: We couldn't remember such a weekend so we asked Chuck Collins, weather guru at 25 News, and his response was, "Good question! The last time was the weekend of December 20-21. Since then we've had all or part of the past five weekends with rain or snow."
Flick Fact: How close has B-N come to having a U.S. President?
Question: Was Bloomington's David Davis, whose home is a local historical shrine, ever close to being president of the United States?
Answer: Very close. In 1881, David Davis was president pro tem of the U.S. Senate when President James Garfield was assassinated and Vice President Chester A. Arthur became president. Had anything happened to Arthur, who was sickly (and would die in 1886), Davis would have become president.
Flick Fact: Why is today a big weather day in B-N?
Question: Based on statistics kept since 1980 at a weather station at Central Illinois Regional Airport, today is the best day in an entire year to expect what in Bloomington-Normal? (1) snow; (2) major cold; (3) the cloudiest day of the year; (4) no snow or rain. (Hint: today's date is actually two of those in B-N.)
Answer: Based on the weather station's 40 years of keeping track and then creating averages, Jan. 28 is not only (2) the coldest day of the year but also the one that (4) produces the least moisture. 
Flick Fact: What little thought-of American city is especially huge?
Question: As a land mass, Bloomington-Normal covers nearly 40 square miles. But as cities go, geographically that still makes us 42 times smaller than what other American city? (1) New York City; (2) Los Angeles; (3) San Francisco; (4) Anchorage, Alaska.
Answer: It's (d) Anchorage, which isn't even twice as big (240,000) as B-N population-wise, but covers an incredible 1,698 square miles.
Flick Fact: How many rubber gloves do they use at Advocate BroMenn?
Question: When at the doctor's office, hospital and medical facility, it seems they're always changing into a new pair of rubber gloves. So take a guess ... how many pairs of gloves do they go through each year at Advocate BroMenn Medical Center in Normal?
Answer: Brace yourself — they go through 1,548,752 gloves in a year at Advocate BroMenn. Says Aron Klein, its Vice President, Finance: "I had to reach out to our Materials Manager to get the answer as with the different styles, types, sizes, etc. It's not as simple as looking at one line item in our purchase history."
Flick Fact: What's with those carousel horses along U.S. 24?
Question: What's up with that row of carousel hobby horses that can be seen in a farmer's field along U.S. 24 near Chenoa?
Answer: A row of carousel horses that have been there for years, it was begun years ago by the field's farmer, Robert Wenger. He is said to have placed a carousel horse at the end of a field for his wife to see. Over the years, he then placed more carousel horses there. Mr. Wenger died at age 90 in September 2019 and, as his obituary added: "Robert brightened commuters' lives with his line of horses in a field."
Flick Fact: Will a B-N man `battle' a grizzly bear?
Question: On the Discovery Channel these days is a show titled "Man Vs. Bear" in which three human competitors go up against grizzly bears in challenges based on the bears' natural instincts and predatory skills such as tug-of-war, tree climbing and an eating contest. Why might Twin City area folk be watching at 7 p.m. Saturday for the latest episode?
Answer: A 30-year-old Bloomington man, Bradley Slama, is listed by the Discovery Channel as one of the three competitors against the bear.
Flick Fact: Which is bigger -- the wintertime oasis, Aruba, or McLean County?
Question: Which is bigger — McLean County or Aruba, a highly popular wintertime oasis in the Caribbean?
Answer: No contest. At 1,186 square miles, McLean County is almost 18 times larger than Aruba, which is only 69 square miles.
Flick Fact: Where in B-N was that famous Chili-Mac sauce invented?
Question: That Chili-Mac sauce you eat at any Steak 'n Shake in the world was said to have been invented where? (For extra credit, give the exact street address.)
Answer: In the kitchen at 1110 East Emerson in Bloomington. That was where Steak 'n Shake founder Gus Belt lived and is said to have one night with his wife, Edith, mixed ketchup with Worcestershire sauce and a dash of cocoa to begin building a legend.
Flick Fact: What area town names its teams after its famed products?
Question: Can you name the Central Illinois town whose high school sports teams are named after what used to be the town's leading manufacturer? 
Answer: That would be the Morton Potters. Until the 1960s, one of Morton's leading manufacturers was Morton Pottery Co., then known nationwide. 
Flick Fact: The less pay, the more you miss work?
Question: True or false? In Bloomington-Normal, the more you are paid at a job, the less you miss work.
Answer: That would appear to be true. A recent economic and employment study showed people who earn less than $12,000 a year miss three times as much work as those who make $35,000 or more.
Flick Fact: Will State Farm ever be No. 2 instead?
Question: Because of gains by arch-rivals Geico and Progressive and younger consumers who've grown up with the Internet and prefer to buy online rather than through an agent, State Farm is losing some of its market-share in the auto-insuring business, to the point said Crain's Chicago Business last week, that "around 2022" Geico could overtake State Farm as the country's largest auto insurer. What would be especially sad if that would be true?
Answer: 2022 will be the 100th anniversary of Merna farmer G.J. Mecherle founding his company back in 1922 in downtown Bloomington. State Farm has planned many events to help celebrate that historic milestone, none of which include falling to No. 2.
Flick Fact: Who was that famous guy in Minonk?
Question: Can you name the man who later would become known worldwide but in 1948 appeared one Saturday night in Minonk, and after a half-hour concert by the Pontiac Municipal Band, gave a 20-minute speech to those who stopped by to listen?
Answer: It was a little-known first-term congressman from Orange County, Calif.: Richard M. Nixon. After his Minonk visit, he went on to bigger things, like being president of the United States. Nixon is perhaps the most famous person to ever visit in the now 166-year-old Woodford County town.
Flick Fact: Just where was Raggedy Ann and Andy born?
Question: Almost everyone in America has at one point in life had a Raggedy Ann or Andy doll, a fact substantiated by the Smithsonian Institution, which ranks them as the only dolls in the world to supersede Barbie in popularity. Why is that especially good news in Arcola?
Answer: The creator of the Raggedy Ann and Andy dolls was Johnny B. Gruelle, who was from Arcola.
Flick Fact: Is 70-plus too old for a U.S. President?
Question: True or false? Even if Bernie Sanders, Elizabeth Warren, Joe Biden, Donald Trump and Michael Bloomberg are all over 70 years of age, an age concern for many, our forefathers wouldn't have thought them too old.
Answer: That's probably true. As Bob Bradley, a professor emeritus at Illinois State University, points out: 35 years was the minimum age specified in the Constitution to be eligible for election to the presidency. However, when the Constitution was ratified in 1787, the average life expectancy of a white male in the U.S. was 38 years old. Thus, by comparison, today's 70-plus-year-olds may have not been too old in our forefathers' view.
Flick Fact: Just how dangerous is your home's toilet?
Question: Insurance companies keep statistics on almost everything. For example, according to the Insurance Institute of America of which Bloomington-based State Farm Insurance is a member, how many Americans are injured each year by toilets?
Answer: 40,000 Americans are injured by toilets each year, says the IIA. Just how those transpire is not explained by the IIA.
Flick Fact: Do those Pontiac inmates count as residents, too?
Question: Do the inmates at the Pontiac Correctional Center count as residents in the population of Pontiac?
Answer: Yes, according to the U.S. Census Bureau. Inmates in cities that have prisons are counted as part of a city's population even though the inmates can't vote, according to Census Bureau statutes.
Flick Fact: What you don't think about at breakfast ...
Question: It took how many pounds of food for the hen to produce those eggs you had for breakfast?
Answer: The average Central Illinois farm hen has to eat 4 pounds of feed to produce a dozen eggs. So claim the ag folk in Springfield.
Flick Fact: Which Illinois college beats U of I in football stars?
Question: For most of the 20th Century, with famed football-playing alums like Red Grange, George Halas, Jim Grabowski, Ray Nitschke and Dick Butkus, the University of Illinois was the state's gold standard for football talent. But the U of I in recent years has been supplanted by what other state university?
Answer: Eastern Illinois University. It has become a phenomenal school for producing exemplary NFL quarterbacks. Now retired NFL coaching icon, Mike Shanahan, began at EIU as a QB in the 1970s. In 1980s, today's New Orleans Saints Coach Sean Payton was a QB at EIU. In 2002, Tony Romo, the ex-Dallas Cowboys star and now NFL TV announcer, became an all-American at EIU. And most recently, San Francisco 49ers QB Jimmy Garoppolo, leading a team this year that many believe could be Super Bowl-bound, was in 2013 EIU's QB instead.
Flick Fact: Can you cover three states in three blocks in B-N?
Question: True or false? Iowa, Illinois and Indiana actually are separated by only a single block.
Answer: In Bloomington, that's very true. They are all neighboring streets, each only two blocks long, in west Bloomington.
Flick Fact: Why did that pathologist on "60 Minutes" look familiar?
Question: Renowned physician/forensic pathologist Dr. Michael Baden made news this week by suggesting on TV's "60 Minutes" that his preliminary look into the death of financier and convicted sex offender Jeffrey Epstein showed more signs of a murder than, as alleged, a suicide. How is Baden best known in Central Illinois?
Answer: Back in 1984, in a case that drew national attention, the prosecution brought in Baden to testify at the trial of David Hendricks, who was accused of killing his wife and three children. Baden provided key testimony about the stomach contents of the children that helped lead to a conviction. Hendricks was acquitted in a retrial in 1991.
Flick Fact: If they played football inside Rivian ... ?
Question: If they'd begin playing football inside the Rivian plant on the west edge of Normal, how many football fields could they fit inside?
Answer: Try 52 football fields, says literature from Mitsubishi Motors North America, the Normal car plant's previous owner.
Flick Fact: How did rock n roll icon Chuck Berry play Peoria?
Question: Rock'n'roll pioneer Chuck Berry was a showman and a shrewd businessman. For instance, a recent biography of Berry says that when he played Peoria in the 1960s, he had specific instructions for preparing and paying for his show. What were they?
Answer: When Berry played Peoria, the band had to be set up and ready before Berry appeared at the last minute. He drove up, sat in his car until he was paid — in cash — went in, performed for 90 minutes, then immediately left, alone. (Thanks to Sam Harrod of Eureka for the fact.)
Flick Fact: In Normal, where is South Street?
Question: Normal still has a North Street — it's the one that runs through Uptown — but whatever happened to South Street?
Answer: Once Normal began moving farther south than South Street, it got renamed Florence Street, today a residential street that is off Fell Avenue, just south of Vernon.
Flick Fact: After teaching, what's biggest at ISU?
Question: Illinois State University is one of the country's leading producers of school teachers and nearly 30 percent of all ISU students major in such. But can you name the second most popular major at ISU? (1) theater; (2) accounting; (3) business management; (4) physical education.
Answer: According to the university, (3) a little more than 20 percent of ISU students major in business administration and management.
Flick Fact: What is Logan County's tie to the NFL playoffs?
Question: As the San Francisco 49ers carry the No. 1 seed into the NFL playoffs, what Logan County town has a sentimental reason to root for the 49ers?
Answer: Atlanta. That's where Peggy Brandt was born and raised before she went to Eastern Illinois University, met and married football star, Mike Shanahan, and in 1979, they had a child, Kyle. Today Kyle is coach of the 49ers.
Flick Fact: Where could U of I be today instead?
Question: The University of Illinois is in Urbana-Champaign and has given that community fame around America. But can you name which city was first proposed as its home? (1) Chicago; (2) Bloomington; (3) Dwight; (4) Springfield; (5) Normal.
Answer: U of I opened in 1867 — 10 years after what is now Illinois State University opened in Normal — and ISU founder Jesse Fell made a bid for U of I to be located in (2) Bloomington — on 140 acres, near where Franklin Park is today. But state politics won out and U of I was instead established in Urbana-Champaign.
Flick Fact: How much does State Farm spend for all those ads?
Question: So you just saw a State Farm commercial on TV again. Just how much does the Bloomington-based insurance behemoth spend in advertising each year?
Answer: State Farm spends a lot; according to insurance statistics, in 2018, it doled $629 million for advertising. But that's markedly down since the company began significantly trimming costs. In 2013, for example, it spent $802.8 million. State Farm ranks third in ad spending, behind Progressive ($1.08 billion) and GEICO ($1.54 billion.). You may save 15 percent if you spend 15 minutes on GEICO, but GEICO obviously spends a lot to get you to do that.
Flick Fact: How did Bloomington make U.S. history in 1893?
Question: Can you name the exact street address of the very first U.S. vice president to have a home that was more than 700 miles from Washington, D.C.?
Answer: 901 N. McLean St. in Bloomington, Ill. It's the home of Adlai Stevenson I who became vice president under President Grover Cleveland back in 1893. His home still stands across the street from Franklin Park.
Flick Fact: Uh-oh? Getting a divorce in 2020?
Question: True or false? If you're getting divorced and want to change your name back to your maiden name, beginning today your name change will have to be published.
Answer: Just the opposite. Beginning today, if you're getting divorced and want to change your name back to your maiden name, the name change does NOT need to be published.
Flick Fact: Anywhere to buy marijuana on New Year's Day?
Question: So recreational marijuana becomes legal for adults in Illinois at 12:01 a.m. Wednesday. But is there any place open where one can buy it?
Answer: One of the closest is perhaps Sunnyside*Champaign, at 1704 S. Neil St., where the doors open at 6 a.m. on New Year's Day. They are expecting such a crowd, the store's owners, Cresco Labs, have reserved two parking lots on each side of building and also has reserved the large parking lot across the street.
Flick Fact: What did OSF St. Joseph do first?
Question: When Bloomington's St. Joseph Hospital (today's OSF HealthCare St. Joseph Medical Center) announced in the 1960s it was going to move from Bloomington's west side and build a new hospital at what is today's intersection of Washington Street and Veterans Parkway, what was the first thing that had to be done?
Answer: Build a road to get to the proposed site. In that section of town, there was no city street east of Mercer Avenue.
Flick Fact: How does Arcola play a part in NFL history?
Question: Do you know how the Central Illinois town of Arcola, population 2,900, played a part in the creation of the National Football League?
Answer: In 1919, the Arcola Independents football team stocked its roster with University of Illinois players, to be competitive for a game against the Decatur Staleys. But Staleys team owner, A.E. Staley, heard about it and, seeking large men, decided to actually pay players to play on his team. Thus was the birth of what ultimately became the Chicago Bears. In 1921, a football league made up of actually salaried employees was then formed, to eventually be called the NFL.
Flick Fact: What is special about today's weather?
Question: Based on statistics kept since 1980 at a weather station at Central Illinois Regional Airport, today is the best day in an entire year to expect what in Bloomington-Normal? (1) some snow; (2) sunshine; (3) wind; (4) too many clouds.
Answer: Based on the weather station's 39 years of keeping track and then creating averages, Dec. 28 is the cloudiest day in a year.
Flick Fact: How do officials know how fast you are going on Illinois interstates?
Question: True or false? You don't need to be on radar while on Interstate 55 or Interstate 74 for officials to know how fast your car is going?
Answer: That's true. There are sensors within the pavement of interstate highways in Illinois now that can measure your car's speed. There also are inlaid temperature gauges to tell officials during wintry weather when the road is prime for icing.
Flick Fact: What is the connection between Lincoln, Ill., and manhole covers?
Question: True or false? Lincoln, Ill., is famous because it is the only city in the world named after Abe before he was U.S. president, but it is a development in manhole covers that is said to have been made in Lincoln that perhaps has left a bigger mark worldwide.
Answer: That might be true. Before the 1930s, manhole covers were square. Square manhole covers, while easier to handle, can be turned and dropped down through the hole and lost. That's when it is said that employees at a Lincoln foundry developed round manhole covers. And the rest is history.
Flick Fact: Should I quietly grocery-shop today?
Question: Is Dec. 24 an especially busy or surprisingly quiet day at Bloomington-Normal grocery stores?
Answer: Try busy. Grocers will tell the days before July 4 and Thanksgiving are very big. But the busiest day for store traffic, they say, is almost always the day before Christmas.
Flick Fact: Is that a knife on that tombstone?!?
Question: Of all the tombstones in Illinois, perhaps the most interesting is the tombstone of Telford Stone in a cemetery in Dix, near Salem and Centralia along Interstate 57. Can you say why?
Answer: It has a huge etching in granite of the knife that murdered Stone and put him in his grave.
Flick Fact: From junk bonds ... to your beverages?
Question: Michael Binstein, an accomplished investigative journalist in Washington D.C., who wrote an award-winning book on the birth of "junk bonds" in 1980s, also owns a popular business in Bloomington. Can you name it?
Answer: Binstein, 61, gave up his investigative reporting when his dad, Harold, died and he took over his father's business, founded in 1948 and originally called Gold Standard Liquors at Clark and Sheffield in Chicago. But Binfield changed the business name to Binny's Beverage Depot when it began to branch out downstate. Outside of Chicago, the largest Binny's today is in Bloomington.
Flick Fact: Next time you see a James out there ...
Question: The Social Security Administration has compiled a list of popular baby names going all the way back to 1919, based upon applications for Social Security cards. Do you know the 10 most popular names of the past century, both male and female?
Answer: Of boys since 1919, 4.7 million have been named James. Next in line for boys: John, Robert, Michael, William, David, Richard, Joseph, Thomas and Charles. For girls, the top names were Mary, Patricia, Jennifer, Linda, Elizabeth, Barbara, Susan, Jessica, Sarah and Karen. The top five most popular names in 2018: Liam, Noah, William, James and Oliver for boys and Emma, Olivia, Ave, Isabella and Sophia for girls.
Flick Fact: Was that Abe Lincoln at CVS?
Question: The CVS store on the west side of the downtown Bloomington square is slated for closing. True or false? That news might even have upset Abe Lincoln.
Answer: Yup. That building has been there so long, its second floor housed a library and a community center in Abe's day, and Abe was said to have been there often.
Flick Fact: It's Towanda Barnes Road ... but where is Barnes?
Question: Towanda is a town just outside of Bloomington-Normal, accessible by the highly traveled Towanda Barnes Road. But where is Barnes?
Answer: It actually is part of far-east Bloomington today. When the city spread so far east that Towanda Barnes Road at General Electric Road was absorbed into the city, so too was Barnes. Barnes was at that street corner, still marked by a large grain elevator also known as the Barnes Elevator.
Flick Fact: Should ISU be called Naperville South?
Question: True or false? It may be in Normal, but Illinois State University also could be called Naperville South.
Answer: That's true. Amazingly, in 2018, 124 ISU students were from Naperville, including 62 each from Naperville Central and Naperville Neuqua Valley high schools. Normal Community High? Only 37.
Flick Fact: So just why is that called Franklin Park?
Question: True or false? Bloomington's Franklin Park is named after Benjamin Franklin?
Answer: False. Built in 1856, it got its name from Franklin Price, an early Bloomington mayor.
Flick Fact: What local business delivered twice a day until the 1980s?
Question: Until the mid-1960s, during heavy mail times of December, there was home mail delivery twice a day in Bloomington-Normal. Can you name what other business in the area was geared for twice-a-day delivery, too?
Answer: This newspaper. Until 1981, it printed a morning edition (a press run at 12:30 a.m.) and an afternoon edition (a 2 p.m. press run). The morning paper went to the area towns and the afternoon edition went to Bloomington-Normal homes.
Flick Fact: Abe, Andrew Jackson ... and Trump
Question: Abe Lincoln was a member of the Whig Party during his early political career, a party specially created to oppose a specific U.S. president seen by his critics as disobeying the U.S. Constitution and having objectionable stances on race (slavery) and treatment of minorities (Native Americans). Who was the president the Whigs thought was not suitable to be president?
Answer: It was Andrew Jackson, seventh U.S. president (1829-1837). Coincidentally or not, President Donald Trump reveres Jackson and has hung his portrait in the Oval Office. (Thanks to Bob Bradley, a professor emeritus at Illinois State University, for this fact.)
Flick Fact: What area employer created a Super Bowl champion?
Question: Can you name the Decatur businessman who thought a happy employee was one who would come to work happily and thus provided a variety of entertainment options for his employees, including creation of an athletic team to teach good sportsmanship and character building?
Answer: That was A.E. Staley, who exactly 100 years ago, in 1919, created the Decatur Staleys football team, made up of employees and also called the Decatur Starchmen. In 1921, because the team needed "big-city crowds" to be able to support such a team, Staley moved his team to Chicago, where they became known as the Chicago Bears.
Flick Fact: Who's that on Fox News?
Question: Derek Claflin is the 39-year-old Twin City man and military veteran who these days decorates scads of B-N homes at Christmastime and, in what he calls "a giving back to the community," also strings lights for free at several homes of military and law enforcement families. Where is Claflin this week?
Answer: On national TV — in particular on Fox News and Martha MacCallum's "The Story.: Claflin is scheduled to chat about his Decorated Heroes Program on the program at 6 p.m. Thursday and again at 6 p.m.  Friday 6 as well.
Flick Fact: What is the Geico gecko's name?
Question: Bloomington-based State Farm ... Geico ... Progressive ... Farmers ... Allstate — all insurers with some of the funniest, most well-known commercials on TV. So just what is the name of that famous gecko on Geico ads? (1) Martin; (2) Greggie; (3) Gordon; (4) he doesn't have a name.
Answer: Geico says its famous gecko is named (1) Martin.
Flick Fact: What U.S. Senators are former Twin Citians?
Question: True or false? When it comes to the United States Senate, McLean County is better represented in states from the South than it actually is in Illinois.
Answer: That's very true. Kelly Loeffler, a highly successful Atlanta, Ga., businesswoman and Republican, was appointed as a U.S. Senator from Georgia last week. Forty-nine years ago, she was born in Bloomington, grew up on a farm near Stanford and is a 1988 graduate of Olympia High School. In the U.S. Senate, she joins Rick Scott, a Florida Senator and Republican who 67 years ago was also born in Bloomington.
Flick Fact: What portion of your electric bill pays to light your home?
Question: Lighting in your home accounts for what percentage of your monthly electricity bill? (1) 6% of your home's electricity use; (2) 13%; (3) 18%; (4) 24%.
Answer: According to Corn Belt Energy, lighting accounts for only (1) 6% of your electricity use, or about $100 a year. Your air conditioner and TVs and refrigerators? That's another story.
Flick Fact: What was special about Abe's Christmas tree?
Question: What was so special about Abraham Lincoln's Christmas tree back when he lived in Central Illinois?
Answer: Nothing. He didn't ever have one here. In fact, it was in the year Abe left Central Illinois to pursue the U.S. presidency (1858) that the very first Christmas tree appeared in Central Illinois, suggest McLean County Museum of History archives. It wasn't until the 1870s that Christmas trees became popular and commonplace in Central Illinois homes.
Flick Fact: What did Gus Belt give all of his employees for Christmas?
Question: Gus Belt was the B-N businessman who founded Steak 'n Shake and through the 1950s and 1960s employed hundreds of employees at the corporate commissary in Bloomington that served all of the Steak 'n Shake outlets across the U.S. What did Gus give all of his employees for Christmas?
Answer: Belt gave them all fruits baskets from Casey's, the garden shop today along Main Street that back in the day was a grocery store and fruit market, too.
Be the first to know
Get local news delivered to your inbox!