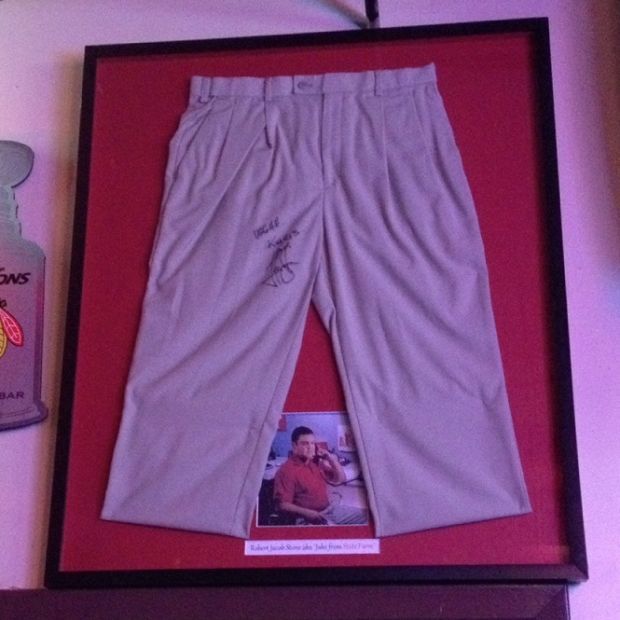 Humorously, he's become an icon. A Twitter account devoted to his character has almost 14,000 followers. His now famous "Uh, khakis" quip is all over Facebook — recently, he and actor Liam Neeson were featured in a humorous picture-post that went viral. There are T-shirts available on Amazon; the inscription simply reads, "Be calm. I'm Jake from State Farm."
Surely by now, almost everyone with a TV knows "Jake," the guy in the State Farm commercials who calmly answers a middle-of-the-night query from a suspicious wife by properly identifying his personal choice in office trousers.
Those actual, uh, khakis?
They now hang on a wall, framed, memorialized, autographed, at Pub II, the popular campus hangout in Normal.
"Oh, I'm great," says a smiling Jake Stone, 28.
Nearly three years after Bloomington apartment-mate and then-fellow State Farm employee Dane Ramirez suggested Jake answer a casting call for a State Farm commercial, Jake remains much like the character he plays on TV — calm, humble, rather unimpressed by himself.
"That's how I've always been," chuckles Jake, a 2003 graduate of Normal Community High School and a 2007 graduate from Illinois State University.
But his life nonetheless has gotten a bit more interesting.
At weddings and similar life events, for example, he gets asked to pose for pictures. 
"He's my brush with stardom," muses Barb Maxwell of Bloomington."I had my photo taken with Jake at a wedding reception last fall. He was such a good sport. And, no, he wasn't wearing khakis."
When happenstance folk discover there actually is a Jake, and that they also happen to be standing next to him, the natural occurs — they ask him to sign something.
There are occasions at Pub II, where he works three nights a week, when families will come in and bring in other family members, too. When introduced to Jake, they say, "Oh my God, it's you!"
"I can't tell you how many times I've happened to see someone meeting Jake and then a moment later, out of the corner of your eye, you see the 'flash! flash!' of someone getting a picture," says Kelly Cochran, a Bloomington businesswoman and patron of Pub II.
Two years ago, coincidentally after the commercials had barely taken off, Jake quit his part-time job at State Farm to become a seasonal employee for the town of Normal while keeping his bartending job at Pub II.
His presence at Pub II — a place celebrating its 40th year and hailed once by Playboy magazine as one of the 100 best campus bars in America — has given it a secondary attraction.
There are nights now, employees will tell you, when a family or entire group might come in. And they might ask their waitress if this is "actually where 'Jake'  works." And when told it is, but it's not one of Jake's nights, they've been known to do something else:
"They've been known to then leave, without ordering anything," chuckles Jake.
Two Halloweens ago, a pal of Jake's — Chance Clemons, who also tends bar at Pub II — went out for Halloween dressed as (what else) "Jake at ... uh, well, now Pub II."
He was a huge hit, actually wearing the same pants he wore during the State Farm commercial's 2011 filming in California. Clemons and Jake's sister, Jacee, had them mounted in a frame; the pants now hang on a wall at Pub II, gawked at nightly, fully revered, above a doorway on the way to the beer garden.
Midway through his reign as a serendipitous icon, Jake got a call from the ad agency, informing him the life of the popular commercial had been extended. So you'll now see Jake, at least on your 52-inch wide screen, through October.
And Jake himself? His plans?
For one, he'll probably have to field and then indulge in a question that he says he is asked endlessly — "Uh, can you say 'Uh, khakis' for me?' "
"When I'm out some place where people learn who I am, I get asked to say that all the time."
Jake says he plans to go back to just being Jake and, despite all the unexpected fame, do something he's been doing pretty much all of the time, anyway.
That is — as he likes to say — putting on his khakis, one leg at a time.
Be the first to know
Get local news delivered to your inbox!