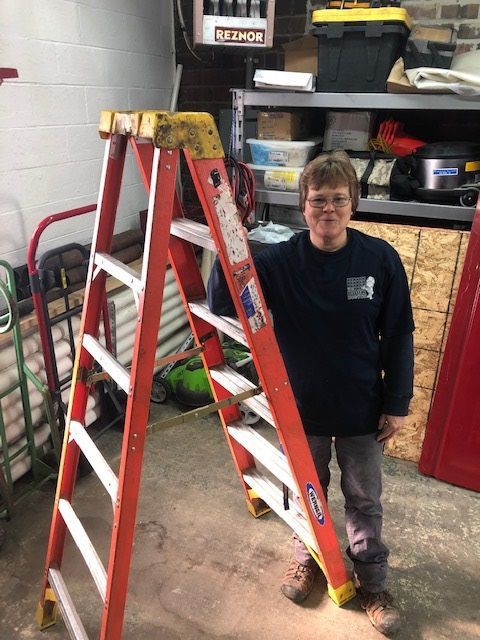 When it comes to having someone repair that hulking, 7-foot-tall, 350-pound garage door, you'll of course need a big guy, maybe one of those weightlifter types or a burly gent who spent his high school years as a middle linebacker or wrestling in the 182-class.
To lift it into place and deal with those huge, heavy, serpentine-like springs that help lug up your door on these cold wintry morns, it'll help if your hulk is rather tall, too.
Which brings us to Andrea Gadberry.
She is 58 years old, a wife, mother and grandmother — eight times over, in fact — who stands 5-foot-3 and is constantly faced by one question:
"You mean YOU'RE going to do it?" 
"I am petite in size but my strength and my stubbornness make it possible for me," says Andrea humbly while also grinning broadly. 
In childhood or to your kids or grandkids, you might have read those childhood classics, like "The Little Engine That Could" or "Mike Mulligan and His Steam Shovel" or watched an old cartoon like "Mighty Mouse" or "Underdog," tales of those thought to have little chance of succeeding because of stature while faced with the enormity of a job.
Andrea Gadberry, aka "Andy," is a bit of a modern-day version, in real-life besides.
An employee at The Door Doctor, a Bloomington garage-repair company, for Andrea a job typically begins with a homeowner — invariably a man — quietly wondering aloud if she can do the task.
"I love it when a customer asks, 'Can you really fix that?' My favorite is the wife then telling her husband, 'Of course, she can fix it or she wouldn't be here!' Sure, there are some doors and springs that I cannot fix alone but even the guys have to ask for help on some of them."
A good-humored woman with a calm confidence, kind sense and an upbringing on Peoria's south side in a "hands-on" house that she says featured a "strong work ethic" ("it's like a motor is inside of all of us," she says), Andrea might one day be able to write a TV sitcom, sort of a "Home Improvement" but in gender reverse. 
There are, for example, the sideways glances when a homeowner with a broken garage door sees her pull up in a company van.
She's pulled into driveways, she says, and walked to the door, to overhear a wife heading to answer the door as her husband yells in the background, "Ain't no way that little woman can fix our garage door!"
"Men from different cultural backgrounds," says Andrea, "they seem to have the hardest time (believing) I can fix their doors. They will watch my every move … which I enjoy."
Once she says she went on a call where a 3-stall garage where 8-foot doors had detached and three older men stepped out of the garage, two of them laughing at the third, who was saying, "That little woman won't be able to fix your garage."
At the end of what became a two-day job, she asked the garage owner if his buddies had later called to check on her. "He turned a little red in the face and answered, 'Yes,'" says Andrea. "I asked if he'd stuck up for me and he said, 'Yes, I did!'"
An employee for 28 years at the Mitsubishi Motors plant in Normal, she like many others went looking for other vocations when the company announced it was closing the plant back in 2015.
"To be cliché, she's just one of the guys," says Howard Springer, a fellow employee who these days also owns The Door Doctor. "We joke around the office (about her size) but everyone loves Andy. We receive positive customer reviews for her several times a month, three last week alone."
"When she pulled up to our house," says Deb Pitcher of Bloomington, another customer, "I said to (husband) Red, 'Hey look! It's a female tech! How cool is that?' I love to see women branching out into 'non traditional' roles!"
"My co-workers joke with me all the time about my height when we are loading and unloading doors on the trucks, but never about being a woman," says Andrea. That's when she also adds with a laugh, "I think I intimidate them." 
A woman? To date, there aren't many women garbage haulers.
The NFL still has no female players and there aren't a whole gob of female mechanics either.
But a job "little" Andrea "Andy" Gadberry actually cannot do when it comes to your 350-pound garage door?
5'3 but her attitude is 6'1.