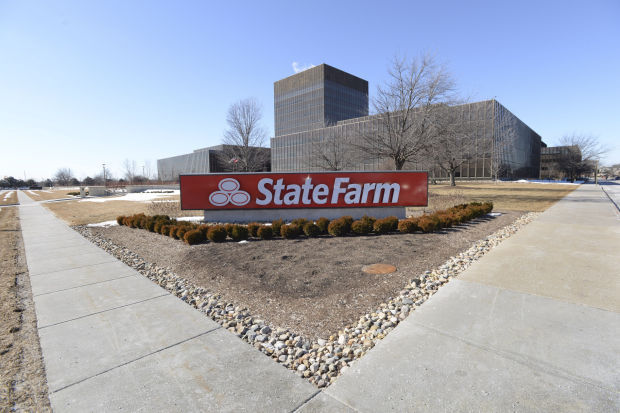 BLOOMINGTON — State Farm's investment portfolio paid off in 2013.
The company's net worth jumped by $10 billion last year, to $75.9 billion, the highest in company history. That's a 16 percent increase over 2012's net worth of $65.4 billion.
The insurer reported jumps in profits of its property-casualty companies, which includes auto and homeowner insurance. The pre-tax operating profits grew from $2.7 billion in 2012 to $4.3 billion in 2013, a 59 percent increase.
The company's financial growth in 2013 can be attributed to State Farm's stock investments, said spokesman Dick Luedke. About two-thirds of the increase in net income, about $6.4 billion, was due to the increase in value of State Farm's stocks.
State Farm also reported a $2 billion gain in net income in 2013.
Luedke said gains in underwriting and investment income realized from bonds helped State Farm's 2013 profits. The insurer reported an underwriting gain of $230 million in 2013 on earned premium of $54.5 billion, compared to an underwriting loss of $1.7 billion the year before.
The gains in underwriting were due to fewer catastrophic weather events in 2013, Luedke said.
"Things can change in a hurry. It's a volatile businesses. Sometimes we have years where we have events like Hurricane Katrina which results in lots and lots of claims," Luedke said. "In years like that, we lose money."
In 2006, the company grew its net worth by 16 percent, but in 2008 the net worth decreased by 16 percent, he noted.
State Farm CEO and Chairman Ed Rust, Jr. received a 19 percent increase in total compensation last year. He had a base salary of $1.75 million in 2013, but combined with bonuses and incentives he earned $11.56 million. In 2012 his total compensation was $9.64 million.
Meanwhile, State Farm also started work on three hubs in Georgia, Texas and Arizona in 2013. The hubs will have thousands of employees, though the company has said State Farm's Bloomington employment will remain around 15,000.
Country Financial, another large McLean County-based insurer, did not provide 2013 earnings information by press time.