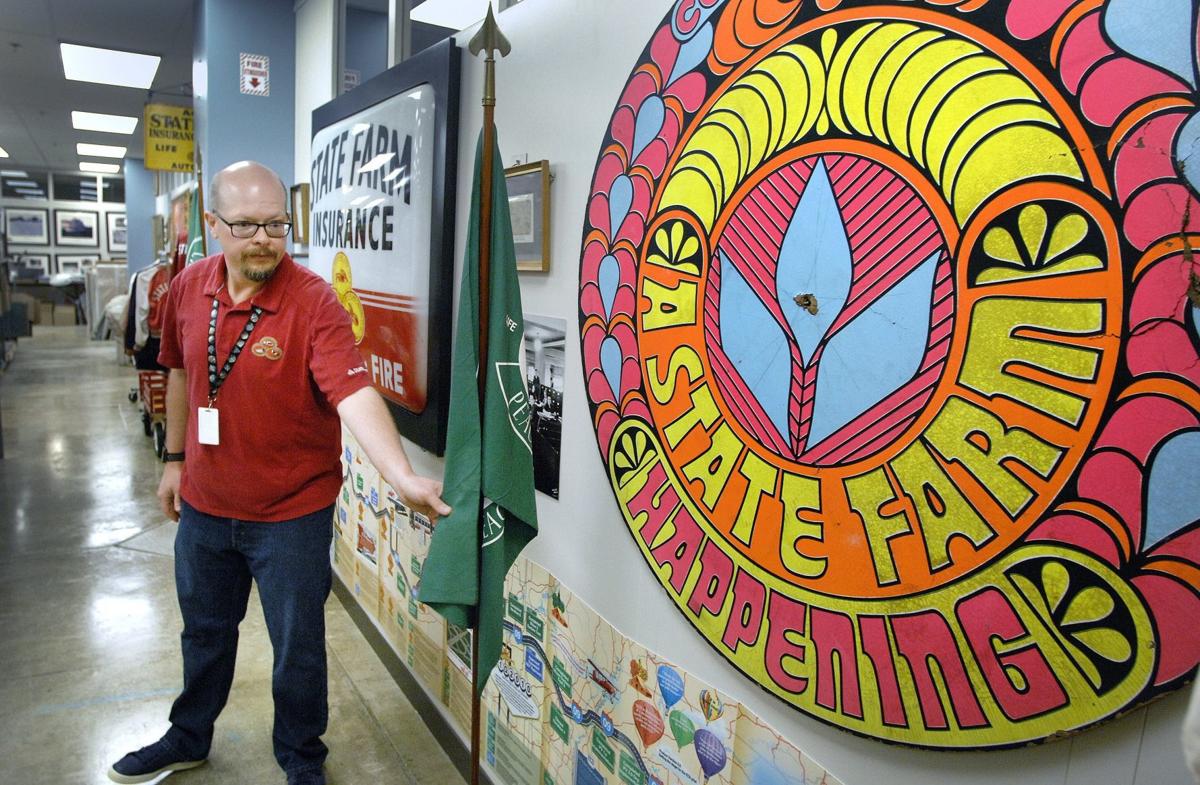 BLOOMINGTON — The tour might not make much sense without its lead storyteller, Buck Farley.
"The roller skating story is interesting," he said, stopping in front of a pair of used white skates.
"In 1939, they were trying to find a new way to increase the efficiency of mail delivery in the downtown Bloomington headquarters," he continued. "So, we had our mail carriers wear roller skates and although it did increase mail delivery greatly, we had too many concerns about employees and ended up deciding it was too much of a liability. So we ended that process."
"These items represent the people who have made State Farm what it is today," he said.
"I'm pretty anxious to see (the time capsule)," Farley said. "We have some idea of what is in it because we have found some lists, but time capsules have a way of holding some surprises, as well."
Changing with the times
A former archaeologist, Farley has been with State Farm for 15 years. The Illinois State University graduate had plans to be a history teacher, but archaeology jobs were at a premium. Instead, he caught a break with State Farm and began working in claims, eyeing the possibility of working with the Heritage Unit.
He got that chance five years ago, when he was named archivist. He's now in charge of the Heritage Unit, which has an estimated 60,000 unique objects, millions of photos, and audio and video recordings.
"Buck really knows his stuff," said Bill Kemp, a librarian at the McLean County Museum of History in downtown Bloomington. "It is vitally important for large employers to house their own archives and historic memories, if they are able. When you have something like State Farm, which has been one of McLean County's most important employers for nearly a century, it is a tremendous asset to the community. "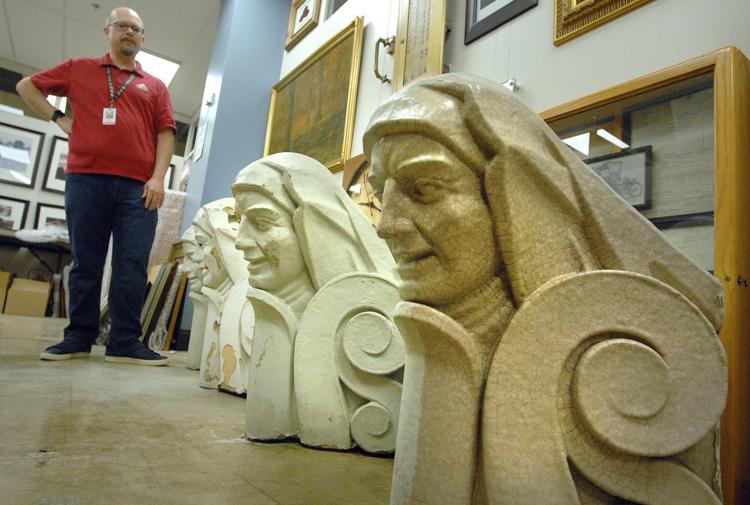 Retired farmer George Mecherle founded State Farm in 1922 in Bloomington as a mutual automobile insurance company owned by its policyholders. The Fortune 500 company remains firmly anchored to Bloomington, although it extended its reach several years ago through regional hubs opened in Atlanta, Dallas and Phoenix.
The company offers investments, banking and insurance lines for vehicles, homes and property, life, health, disability and liability, small businesses and identity restoration. It has 58,000 employees, more than 19,000 independent contractor agents, and 83 million policies and accounts.
"George is tied to Central Illinois as a farmer up until he was around 40 and so the roots of this company include farming and agriculture," Farley said. "When George started the company, auto insurance was still a relatively new thing. Automobiles were not mass produced until 1908.
"The product lines have changed, but our concept — to pay what we owe and take care of our customers — has remained consistent."
Through the years, the company worked to improve efficiency. At one point, that included the use of sewing machines.
"We used to paste the policies and applications together and an employee could do maybe 100 in an hour," he said. "We bought a Singer sewing machine and started sewing them and went up to about 1,000 per hour. We sewed our policies together until about 1977.
"There are still employees here who started out sewing policies together. Then, in 1977, someone decided to buy a stapler and so, you know, the process changed."
Long relationships
Among treasures in the archives — apparently looking forward as well as back — is a crystal ball.
"We had an interesting executive by the name of Morris Fuller," Farley said. "He used to hold meetings in his office about the direction of the life company and where it should go.
"To resolve any issues, he would bring a crystal ball out during the meetings which had a hidden button on it. He would ask the question and hit the button at his convenience to get the answer he wanted."
You have free articles remaining.
Fuller also was responsible for the longstanding tradition of ringing a bell after the sale of a life policy.
"The life department was on the eighth floor" (of the downtown building), Farley said. "He wanted a way to where he wouldn't have to yell across the floor to call a meeting. He had one of his managers find a device that would allow him to call a meeting."
The manager went to the railroad yards, climbed a train engine and "acquired" a bell, Farley said.
The bell worked well, and Fuller decided to take it to conventions.
"At the time, he was using a small cannon to open the life company conventions and most of these conventions were held in February, so they were inside of a building," he added. "To fire a cannon inside a building did not make people happy. So they used the bell, and the agents loved it."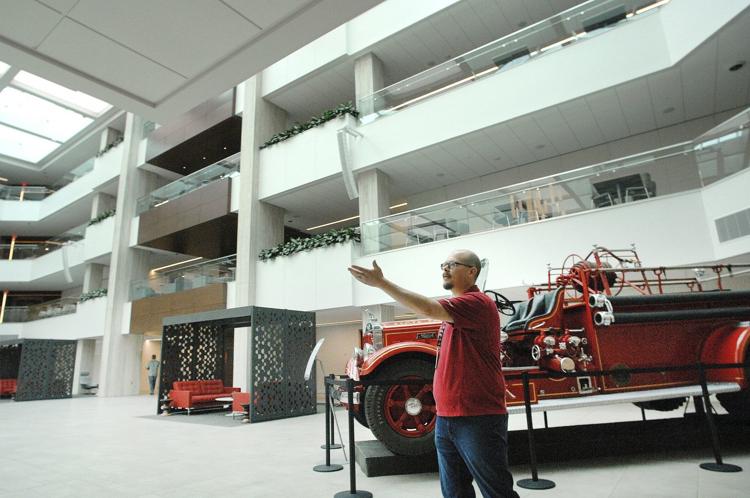 From there was born the Society of Bell-ringers; members wore a red ribbon with a bell around their neck and had a membership card. They eventually got hand-held bells and, every time an agent bound a life insurance policy, they would stand up in their office and ring a bell.
Stopping in front of a picture taken at a 1939 convention, Farley said one of the amazing things about State Farm is the long-lasting relationships with agents and their families.
"I sometimes ask groups how old they think the youngest State Farm agent ever was," he said. "It was actually this 12-year-old boy from Georgia. It was before child labor laws, but his father was the agency director in Georgia, so he just licensed his son to sell insurance, too.
"Now, many of his descendants to this day are State Farm agents in Georgia and still around."
'Aren't just items'
Another cabinet holds an assortment of State Farm-associated neckties. Elsewhere are pins and pens, newsletters from state agencies, and even the four corn maidens removed from the downtown building in 2001. The terra cotta sculptures were thought to watch over the cornfields of customers, according to Farley.
The archives also have more than a million audio and video files, including one made in 1925 that featuring a young Ed Rust Sr. giving instructions on how to work a claim.
"We are working on digitalizing as much as we can so we can better use them and keep them forever," Farley said.
"It was the only time we put in maps of the entire world and we did that so families could see where there sons were fighting at overseas," he said.
Farley, who has an assistant and an intern for help, must document every item before it's displayed.
"It's a lot of work to document something, but we use every tool we have because we want to make sure that everything is authentic," he said. "These aren't just items that we get. It's someone's history. It's our company's history and we take pride in that."
---
Photos: State Farm archive preserves a company history
Contact Kevin Barlow at (309) 820-3238. Follow him on Twitter: @pg_barlow