SAFETY ON SMALL FARMS
On family farms, it's balancing safety and traditions
'The accepted figures in the ag safety world are that about 100 children die in ag-related incidents each year, and about 12,000 are injured'
Few settings speak to the American way of life like the family farm, where children are expected to contribute by learning about the tools that settled the prairie.
But despite the iconic status, small farms are just that — farms, with serious dangers unique to other businesses. The nature of farming means heavy machinery, blades and chemicals are part of life.
And while virtually every American industry has undergone rapid changes in child labor rules over the past century, the family farm — which is generally exempt from Occupational Safety and Health Administration regulations — is a holdout. Amid tractors and combines ramping up for the upcoming harvest season, boys and girls learn the family business, risks and all.
It is a sizable population.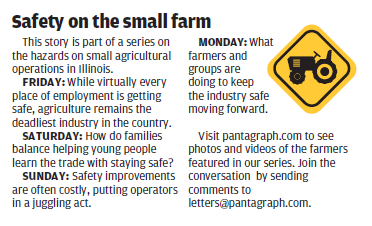 The National Children's Center for Rural Health and Safety estimates about 893,000 youth lived on farms in 2014, and 51 percent worked on their farm. More than 265,600 non-resident youth were hired in agriculture in 2014. Accidents happen in all workplaces, but from 2001 to 2015, 48 percent of all fatal injuries to young workers occurred in agriculture.
Learning on the job begins at a young age, and while many families say​ great attention is given to proper instruction, the fact is, farming is as dangerous an occupation as any.  
"Most family farms, at least the way we grew up and other farmers that I know that are smaller farmers, they do not necessarily go through that formal training," ​said University of Illinois Extension specialist Robert "Chip" Petrea.
"A lot of it (training) is modeling, like, 'Watch me' and this is what happens when I do this, and do not do that.'" 
Grant Noland, who farms on about 6,000 acres in the Decatur area with his family, was raised on his family farm and learned safety procedures early, he said. Noland has small children. His youngest, 2, is fascinated with the farm. Like most parents, Noland wants to encourage his child's interest.
"We try to engage them in what we are doing. The challenge is, how do you provide them the opportunity to be involved," he said. "There is a value at teaching them at a young age."​
Family farms make up 99 percent of America's 2.1 million farms, according to the U.S. Department of Agriculture, and are responsible for 89 percent of agricultural production. The USDA defines family farms as having gross cash farm income of $350,000 or less and the majority of the business is owned by the operator and his or her relatives.
And, injuries do happen, though the situation is improving.
Nationwide, the U.S. Centers for Disease Control and Prevention counted 11,942 reported youth injuries on farms in 2014, less than half the 29,227 reported in 2001. The National Institute for Occupational Safety and Health reported 0.63 deaths per 100,000 in 2015, compared to 2.57 in 2001.
The CDC said injuries might include violent contact with animals, people or objects, falls or during transportation. Of the leading sources of fatalities among all youth, 25 percent involved machinery, 17 percent involved motor vehicles, including ATVs, and 16 percent were drownings, according to the National Children's Center for Rural Health and Safety.
"The accepted figures in the ag safety world are that about 100 children die in ag-related incidents each year, and about 12,000 are injured," said Scott Heiberg, health communications manager for the National Farm Medicine Center. 
He credited the decline in injuries to leadership and funding by the National Institute for Occupational Safety and Health; research on injury prevention; private sector donations to community-based safety programs; a willingness of farm owners and parents to discard unsafe traditions; and the work of his group in establishing voluntary guidelines.
Changing views 
Gary Coffey, an Ashmore farmer, started his children on the farm young. At 3 or 4, they were learning to drive a tractor on their father's lap. He only let them ride around in a tractor with a cab in those early years as they learned the controls and safeguards.
Farmers say one of the biggest safety issues they face is sharing the road with other vehicl…
Coffey often stressed to his children to respect the machinery they used. 
"Maybe I overthought stuff once in a while, but it didn't matter," he said. "We were going to stress it, and overthink it and overdo it to teach our kids to be safe."
Laying the rules out clearly is vital, said Amy Rademaker, farm safety specialist at Carle Foundation Hospital in Urbana, who grew up on a family farm in Moweaqua.​
"When I take my kids back to the farm, we have to think about all the things we did," she said. "We knew the rules and what was safe, but we take it for granted. We have to make sure our kids have those ground rules laid out. It's a great place to play but things can go bad very quickly, and if it goes awry, it's not worth it."​
No training required
Petrea said even if a family farms 400 or 600 acres, if there are fewer than 10 employees, they're not required by OSHA to have a specific training program.
Petrea was seriously injured in a hay baler accident on his farm in 1978 in Iuka, causing both of his legs to be amputated. 
He earned a Ph.D. in agricultural education in 1997, and is currently a client manager with AgrAbility, whose mission is to enhance quality of life for farmers, ranchers, and others with disabilities. He is based at the U of I.
"Speaking as a safety specialist who sees these numbers and children who are killed on farms or injured on farms, I think there is a lot good work that is being done on educating farmers as to the cognitive development of children at certain ages of when they can do things with supervision and when they can do it without supervision," Petrea said.
Before deciding what is safe and what isn't, parents can check cultivatesafety.org/work, which provides checklists for questions to ask when considering if someone is ready for almost any specific task.
​Cory Ritter, who operates a farm on about 2,000 acres of land in Blue Mound, takes the same approach with stressing safety, while encouraging all the natural curiosity that could help his children consider carrying on the family business.
Ritter and his two daughters, who are in the third and fourth grade, have lots of conversations about the work he does on the farm. They've learned about farming since they were young, he said, and have spent plenty of time riding together in the family tractor.
Ritter loves spending that quality time, and hopes his girls eventually show the same zeal for farming that he does. But it's not something to be forced, he said. As someone who grew up on a farm, he understands how important the family can be when it comes to keeping farms successful and sustainable.
"If they want to go off and do something that's not in this field, I'm fine with that," Ritter said. "I just want them to be happy in life. If that comes from being a part of a farm operation, that's wonderful. If not, I've got no regrets."​
This story was reported by Donnette Beckett, Jaylyn Cook, Claire Hettinger, Tom Lisi, Tony Reid, Valerie Wells and Ryan Voyles of the Herald & Review; Kevin Barlow of the Bloomington Pantagraph; and Jarad Jarmon of the Journal Gazette & Times Courier.