NORMAL — Tariffs imposed by the Trump administration last year remain an issue for businesses and industries in Central Illinois a year later, said members of a panel at Thursday's Bloomington-Normal Economic Development Council By the Numbers luncheon.
Agriculture was among the hardest hit sectors, said Mike Doherty, a senior economist and policy analyst for the Illinois Farm Bureau, during the EDC's quarterly meeting at the Bone Student Center at Illinois State University in Normal.
"That is true, especially for soybean farmers," he said. "The tariffs were announced in March of 2018 and McLean County, then had record-high soybean yields — the highest in the state — and record corn yields."
Corn prices didn't drop much because China doesn't import much American corn, he added, but soybean prices fell.
"It wasn't just the tariff, but the Chinese went so far as to basically stop buying any of our soybeans."
That has created problems because many Central Illinois farmers opted to not sell their soybeans, and instead, leave them in storage, he said.
"The result is that we have ended up with the largest inventory we have had in a while," he said. "We are sitting on soybeans which we need to sell, but it was the farmers' decision to sit on them and because we have a large inventory, the prices aren't likely to increase."
If kept away from moisture, soybeans can be stored for as much as three years before they begin to rot.
The tariffs also hit other companies hard as well, such as Westminster Village, said CEO Barb Nathan, who joined Doherty and Midwest Molding Solutions President Joe Diemer on the panel.
"The price per square foot of steel has increased 13 percent, the price for framing and drywall has increased 27 percent and wiring costs have increased more than 10 percent," Nathan said. "There is just a large amount of uncertainty in the construction process."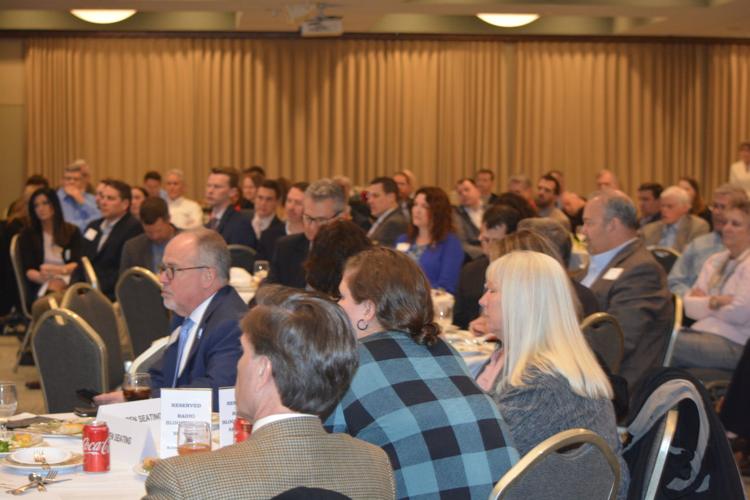 "I think the intent of the tariffs was to balance some of those trade practices and we experience it all of the time," he said. "It costs us a lot more to ship stuff there then it does to ship stuff here. I think the intent was to equalize some of those trade differences so that we could be more competitive here."
Doherty said the key to a better balance for the agriculture industry is to find a way for the U.S. to open more trade with China.
"We have to get back into a restoration of trade with all of our trading partners," he said.
"Companies are also going to have to be more creative," added Nathan. "You also have to have to know how to find the right partners when it comes to projects."