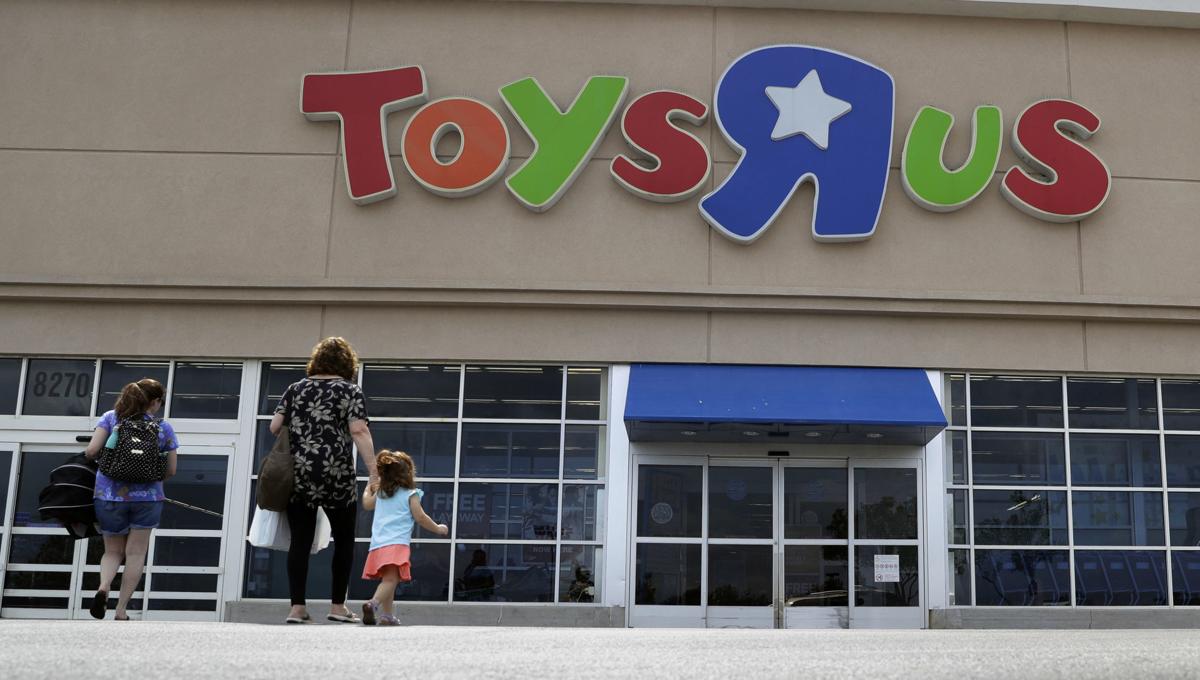 NEW YORK — Toys R Us's management has told its employees that it will sell or close all of its U.S. stores, according to a toy industry analyst who spoke to several employees who were on the call Wednesday.
Jim Silver, a New York-based long-time toy industry expert, says Toys R Us's CEO David Brandon told employees the company's plan is to liquidate all of its U.S. stores and after that, it could do a deal with its Canadian operation to run some of the U.S. stores.
The Wayne, New Jersey-based company, which has 30,000 U.S. employees and a store at 1703 E. Empire St., Bloomington, declined to comment.
The chain, known for its "I'm a Toys R Us kid" jingle and Geoffrey the giraffe mascot, filed for Chapter 11 bankruptcy protection last fall, saddled with $5 billion in debt that hurt its attempts to compete as shoppers moved to Amazon and huge chains like Walmart.
It pledged then to stay open, but had weak sales during the critical holiday season as nervous customers shied away. In January it announced plans to close about 180 stores over the next couple of months, leaving it with about 700 stores.
The company's troubles have affected toy makers Mattel and Hasbro, which are big suppliers to the chain. But the likely liquidation will have a bigger impact on smaller toy makers, who rely more on the chain for sales. However, many have been trying to diversify in recent months as they worried about the chain's survival.
You have free articles remaining.
Toys R Us was also hurt by the shift to mobile devices taking up more play time. But steep sales declines over the holidays and thereafter were the deciding factor, said Silver, who is editor-in-chief of toy review site TTPM.com.
The company didn't do enough to emphasize that it was reorganizing but not going out of business, Silver said. That misperception led customers to its stores because they didn't think they would be able to return gifts.
Now, the $11 billion in sales still happening at Toys R Us each year will disperse to other retailers like Amazon and discounters, analysts say. Other chains, seeing that Toys R Us was vulnerable, got more aggressive. J.C. Penney opened toy sections last fall in all 875 stores. Target and Walmart have been expanding their toy selections. Even Party City is building up its toy offerings.
"Amazon may pick up the dollars, but won't deliver the experience needed for a toy retailer to survive and thrive in today's market," said Marc Rosenberg, a toy marketing executive.
Toys R Us had dominated the toy store business in the 1980s and early 1990s, when it was one of the first of the "category killers"— a store totally devoted to one thing. Its scale gave it leverage with toy sellers and it disrupted general merchandise stores and mom-and-pop shops. Children sang along with commercials about "the biggest toy store there is."
But the company lost ground to discounters like Target and Walmart, and then to Amazon, as even nostalgic parents sought deals elsewhere. GlobalData Retail estimates that nearly 14 percent of toy sales were made online in 2016, more than double the level five years ago. Toys R Us still has hundreds of stores, and analysts estimate it still sells about 20 percent of the toys bought in the United States.
It wasn't able to compete with a growing Amazon: The toy seller said in bankruptcy filings that Amazon's low prices were hard to match. And it said its Babies R Us chain lost customers to the online retailer's convenient subscription service, which let parents receive diapers and baby formula at their doorstep automatically. Toys R Us blamed its "old technology" for not offering its own subscriptions.