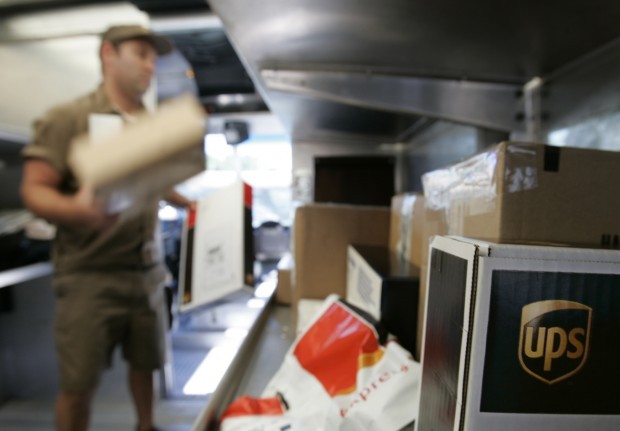 NEW YORK -- When Wall Street collapsed, the paper stopped. Memos, invoices and order forms were left unsent.
At package delivery behemoths FedEx and UPS, last fall's meltdown and the worst recession in a generation has meant a sharp drop-off in the number of documents and packages sent overnight. And it's not just the delivery companies' biggest customers. Small businesses and consumers are opting for slower shipments to save money. In doing so, they're embracing an often-forgotten virtue - patience.
Like with so many things in this new era of frugality, it isn't clear if people will remain practical after the economy recovers. For now, though, the desire to save a buck is leaving its stamp on the country's expansive delivery network.
At FedEx, the loss of millions in overnight documents and packages helped drag sales at the company's express unit down 25 percent to $4.8 billion in the fiscal year 2009 that ended in May. But at FedEx's unit where the slower packages and documents move mostly by truck rather than air, revenue fell just one percent to $1.7 billion.
The average number of packages carried by UPS per day in the U.S. dropped 5 percent to 12,465 from April to June compared with the same period last year. The average amount it collected from each of those packages dropped 8 percent to an average of $8.51, as packages got lighter and moved slower.
The U.S. Postal Service has seen a big drop in the amount of mail and packages being sent overall. But the Postal Service is gaining market share when it comes to the package market, said Gary Reblin, vice president of expedited shipping. The Postal Service's flat rate boxes allow people to stuff as much as they can into boxes for one price, and customers are also opting for even cheaper - and slower -methods of ground shipping.
At the James A. Farley Post Office in Manhattan on Monday, Hung Le, 35, was packaging up stacks of wedding invitations to send to his parents - in a box emblazoned with FedEx's logo.
Le said he has used UPS and FedEx for the past 5 years, but the need to save money drove him to use the postal service.
"The only reason I'm at the Post Office is to save a few bucks," he said. "I think UPS and FedEx are much more reliable, but it doesn't matter how fast these get where they're going."
Thousands of businesses across the country, meanwhile, are taking things slower, and teaching their clients and employees how to adapt.
Bob Brummond, the chief financial officer of SunStar, an Alexandria, Va.-based media relations firm, said he started to look at the small firm's shipping costs late last year. He wanted a way to cut costs so he could avoid shedding any of his 13-member staff.
"The value of our company is in our employees - they are our assets," he said. "And we are trying to keep our assets."
Until last year, the company spent much of its $20,000 annual mailing budget on overnight documents. After evaluating clients' needs, the company began instructing employees to slow things down. The guidelines were simple: Choose e-mail whenever possible. When that's not an option, send materials by way of the slowest postal service alternative. For those employees that use FedEx to ship: Choose two- or three-day service instead of overnight.
The result? SunStar's mailing budget is expected to be $6,000 this year, a $14,000 savings.
And now, Brummond said, he doesn't think the company will ever go back to its spendthrift shipping ways.
"I think our clients have adjusted," he said. "And (our employees) know that our costs are important."
UPS and FedEx are adjusting, too.
UPS spokesman Norman Black said the company is helping its customers "trade down" because it's better than the alternative.
"It impacts our revenue, but we do everything we can to help our customers do that," he said. "We would rather help them do that than lose them as a customer."
But Black expects people to return to the fast lane.
"As the economy recovers and when consumers go back to purchasing more things online, they are going to go back to being guided by when they need something to arrive. And when they need it the next day, they're going to pay for that."
Some experts aren't so sure.
National Retail Federation spokeswoman Ellen Davis said offers like free shipping for online retailers are becoming even more important. And because ever-growing free shipping isn't usually fast, people are learning to better time their purchases to account for slower shipments.
"When every penny counts, people aren't as quick to rush shipping or to buy it in the store if it's more expensive than over the Internet," she said. "In a recession, that instant gratification component often takes a backseat."
The business news you need
With a weekly newsletter looking back at local history.