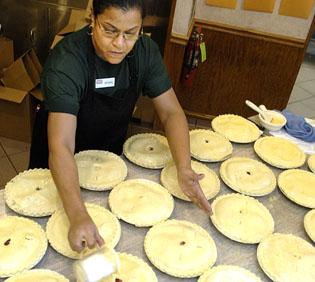 NORMAL - Sylvia Cooper brushed an egg mixture and sprinkled sugar over the top of about two dozen fruit pies.
But they were just the tip of the iceberg of the Thanksgiving pie business at Normal's Bakers Square.
"The phones have been off the hook today," General Manager Shelly Hartig said Monday afternoon. "As soon as you hang up, the phone rings again."
Thanksgiving is the restaurant's top holiday, with more than 2,000 pies ordered by cooks too busy with turkey and children asked to bring dessert to the family meal.
"It can be overwhelming at times," Hartig said. "We have to keep going. It's pretty much nonstop."
By Tuesday afternoon, the restaurant, known for its popular variety of fresh pies, had already taken reservations from 929 customers for 2,282 pies to be picked-up from Tuesday through Thursday. Hartig knows she'll get more orders before Thanksgiving.
Employees also expect to bake 400 to 500 fruit pies today, in addition to a daily crème pie delivery, in hopes of meeting last-minute orders and walk-in demand, she said.
Wednesday will be the busiest day of the year for walk-in pickups and sales, Hartig said. But the spike in business will continue through the weekend. Hartig already has about 180 pie orders for Friday and Saturday. The restaurant typically sells 100 pies a day.
At an average price of about $9.50 per pie, that's a total of more than $23,000 in pie sales from families looking to add an easy treat to their Thanksgiving menu.
"It's that much less work for them. They're already slaving over the turkey, the stuffing," Hartig said. "We prepare the pie."
The busy holiday means all staff, except for some college students, will be at work on Thanksgiving and the two days before, Hartig said. On a typical Thursday, about three or four servers will wait on customers; that number doubles to eight on Thanksgiving, Hartig said.
"Thanksgiving Day, the dining room is just as busy as it is on a Sunday," Hartig said.
As for baking pies, Hartig handles much of those duties during the year and calls on employees like Cooper for help as needed. During Thanksgiving week, Cooper, who typically is a hostess at the restaurant, acts as a baker.
Early birds began to order pies a month ago, but most people started to call or order online last week, Hartig said. To handle the massive amount of pie requests, one person's sole job now is to answer the phone and take reservations, Hartig said.
Earlier this week, the store's freezer was lined wall-to-wall with boxes of pies. A freezer truck outside held still more pies. Every-other-day pie deliveries become daily visits from the Friday before Thanksgiving to the Sunday after the holiday, Hartig said. All pies are prepared at the company's Oak Forest site, and the fruit pies are baked on-site in the Normal restaurant.
Though Cooper has been warned of the holiday rush, she says she's a calm person and finds joy in creating something people will enjoy on Thanksgiving.
"It's such a family time," Cooper said.
After she's done preparing the pies, she loads them on four rotating trays in an oven Hartig compares to a rotisserie. The load of about 50 fruit pies cooks for 50 minutes before Cooper and Hartig check them. This group needs a little more time to brown, so Hartig sets the time for another seven minutes.
Once these pies come out of the over, Cooper's second batch is ready to go.
"Basically, that's our holiday in a nutshell - or a pie shell," Hartig said.