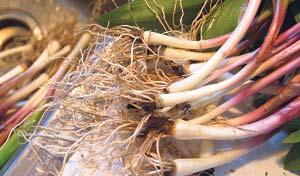 FAIRBURY - As the shovel slices into the moist earth, Marty Travis pauses to listen to the sharp screeches of a Downy woodpecker flitting through trees ready to burst into leaf.
A cluster of trillium and other wildflowers boast the promise of colorful flowers all around his feet. The farmer lifts a clump of lily of the valley-like plants from the forest floor, sending a fresh burst of onion aroma across a gentle spring breeze. He readily admits the experience is priceless n at least most days.
Every year for the past four, mid-March through mid-April has marked ramp, or wild leek, season for Travis and his wife, Kris. They never fail to see the irony in the fact that they're harvesting when most of their neighbors begin to plant corn and soybeans.
"We harvest about 4,000 pounds of ramps every year. We could sell 10,000 pounds," said Travis, who with his wife serves as steward of Spence Farm near Fairbury. "It's the first thing that grows in the spring. That's one of the reasons our chefs like it."
Spence Farm, founded in 1830, is the oldest working farm in Livingston County. It doubles as an educational operation focusing on building preservation, county history, trades, crops and natural areas.
Ramps represent just one of many alternative crops grown on the farm. And it's one of the more lucrative crops, with restaurant owners paying $8 per pound for the crop that grows wild on 26 acres owned by Travis' cousin, Dick Phelps.
"We deliver to more than 40 restaurants in Chicago and Champaign-Urbana. We're asking each one to give us two more references for next year. And we plan to raise the price to $10 per pound," said Travis.
Garlic Press Café occasionally serves Spence Farm ramps in their dishes. They are also available in the produce aisle at Dave's Supermarket in Fairbury.
Thad Morrow, owner and chef of Bacaro in Champaign, got hooked on the unique flavor of ramps while working in a New York restaurant. He began buying Spence Farm ramps when the Travis' came calling four years ago.
"The flavor profile is great. You can use ramps in anything. My favorite dish now is grilled ramps served over wild, striped bass. When they arrive, you know spring is here. It's a signal for us that next we'll have morel mushrooms, asparagus and other fresh produce," said Morrow, who attended a chef's day recently at Spence Farm.
Morrow prepared a frittata at the farm containing morel mushrooms, ramps and locally produced goat cheese from Kilgus Dairy at Fairbury. The experience proved inspirational, so Morrow returned to the farm two days later to dig ramps with the Travis'.
Until four years ago, Travis and Phelps shared a love-hate relationship with ramps. The perennial plants spread quickly via bulbs and seeds. Large, green clumps of ramps pop up from the forest floor throughout the 26-acre woodland.
The two men discussed ways to stymie their invasive nature, which squeezed out native wildflowers. Travis experimented by spraying a small patch with Roundup herbicide. The ramps weren't fazed.
He then wielded a weed whacker on a patch the following year. The shaved ramps responded by rejuvenating themselves, albeit in shorter form.
In a classic case of if-you-can't-beat-them-join-them, Travis and Phelps decided to view the plants as an asset. If they harvested a few areas every year, they theorized, wildflowers would revive and comfortably coexist with the ramps. The plan has worked.
"I started researching ramps and found ramp festivals in West Virginia. That led me to a U.S. Forest Service researcher, who told me about a distributor," said Travis. "Kris and Mom (Willa Virkler) and I harvested 3,500 pounds the first year by ourselves in four weeks."
Now the Michigan distributor arrives at the farm every Saturday for pickup. On Sundays, the Travis' ships ramps from Central Illinois Regional Airport to an Oregon distributor. Wednesdays find the couple on the road to deliver to Chicago restaurants, while Thursdays mark a weekly trip to four Champaign-Urbana restaurants. Those include Bacaro, Crane Alley, Silver Creek and Great Impasta. Orders typically consist of 20 to 30 pounds per week.
Friends and neighbors serve as harvesters. And a group of hard-working Prairie Central High School students have proven invaluable this season. They receive $8 for every box of dug and washed ramps they harvest.
Ramps are dug with roots intact, so they remain hydrated. Harvested ramps get transported via van to the Spence Farm garage where the outer sheath is removed. Ramps then get washed and repacked. The plants will soon go dormant for the season.
The Travis' also harvest and sell ramp seed. The back-breaking work typically yields a pound of seed per hour. It sells for $300 per pound.
"All our vegetables are sold locally. We're producing about ½ acre of garlic," said Travis. "Quality and personal contacts are everything. You've got to be good at marketing. Not everyone wants to go to a farmer's market or deliver to Chicago. Producing and selling local food locally is the way to go."