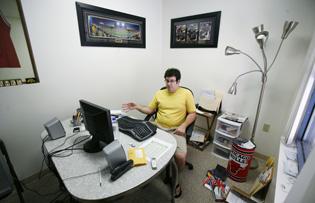 IOWA CITY, Iowa - Video gamers crave authenticity, and for the most part NCAA Football '09 delivers. From the famed hedges of Georgia's Sanford Stadium to the iconic yellow stripes on Michigan's helmet, the game is as real as fake can get.
There is, however, an exception.
Game maker EA Sports isn't allowed to use players' real names because the NCAA prohibits the sale of items that include a student-athlete's name, picture or likeness. So even though virtual Florida is led by a spitting image of Tim Tebow - right down to the cannon arm and brute running style - he's known in the game simply as "QB À15."
Enter Brian Kaldenberg, the 25-year-old whiz kid president of Gamerosters.com.
Tucked away in a small, disheveled office in the shadow of Iowa's Kinnick Stadium, Gamerosters.com is a leading provider of college video game rosters, a cottage industry few know exists. Gamerosters, launched by Kaldenberg from his dorm room at Iowa State in 2004, is expected to bring in about $200,000 in revenue this year against $70,000 in expenses simply by putting names to virtual faces.
Customers who otherwise would have to spend untold hours typing in more than 10,000 names can just buy a memory card from Gamerosters, plug it into their console and presto: every Football Bowl Subdivision roster comes to life. All for a fee of anywhere from $11.95 to $44.95 - at the high end, that's nearly as much as a game itself.
"We really capitalize off of convenience," Kaldenberg said.
And business is better than ever. Gamerosters has grown from roughly 700 customers buying rosters for one game, NCAA Football by EA Sports, to about 5,500 customers and plans to provide rosters for three games - NCAA Football '09, College Hoops 2K9 and March Madness '09.
The reason there's a market for completed rosters is because few people have the time or patience to fill them in themselves. It isn't any easier for Gamerosters.
Kaldenberg first works sources within the gaming industry to get advance copies of the games, which his company needs to create the original file. Game in hand, Kaldenberg and his team begin a decidedly tedious process that is usually completed after six 18-hour days.
Using the Web to formulate as complete and accurate a roster as possible, Kaldenberg, colleague Spencer Kerr and a handful of part-timers methodically type in every FBS player's name into a single game for XBox 360, Playstation 2 and Playstation 3.
Blank memory cards are then put into a console, loaded up and shipped all over the world. Customers can also download the rosters from Gamerosters or mail in their own memory card to have filled.
Kaldenberg says that although hard-core gamers make up a large portion of his customers, he's also seen mothers buy the rosters for their kids and wives buy them for their husbands. Professional athletes like Houston Rockets forward Shane Battier, former NFL star Curtis Conway and a number of college athletes also snap up the cards, and many of Gamerosters' customers come back year after year.
"When selling a product over the Internet, trust is a huge thing. Once you gain trust from someone, they will pay for your product the next year, even if it's more expensive," Kaldenberg said.
Until recently, it faced competition from companies that offered free rosters. But Kaldenberg managed to push Gamerosters to the top of the page on Google.com - much like AAAA Plumbing does with the phone book - and put faith in his belief that people would pay for a product with a professional feel and quality customer service.
"People, if they're paying for it, they feel like it's better," Kaldenberg said. "People are leery of just downloading a free file or mailing their memory card off to someone who says it's for free."
He was right, and the competition has since relented. Kaldenberg said he's spent $12,000 over the past eight months to buy out two competitors, FKrosters.com and PSXSports.com, and claims that both moves have already paid for themselves many times over.
That hasn't stopped Gamerosters from feeling the heat from those in the gaming world who vent their frustrations on, you guessed it, message boards.
"There's a number of people out there who feel like I'm breaking the law," Kaldenberg said. "They just don't like us because we make money."
There's also the matter of the NCAA, an organization whose rules aren't always clear. But Kaldenberg said he's never heard from the NCAA or EA Sports about what he does.
EA Sports spokeswoman Julie Michel said in a written statement that the company does "not support, endorse or approve the selling of third party rosters for our licensed NCAA Football games from EA Sports."
Phone messages left for the NCAA were not returned.
Kaldenberg said the reason he believes that the NCAA and EA Sports haven't given him grief is because they wouldn't have much of a case. After all, the game already has a built-in function that allows gamers to fill in the rosters themselves.
Gamerosters just makes the whole process effortless.
"They want to have the names and they want to have it hassle-free," Kaldenberg said. "They use us because we provide great service for them and they don't have to be tech-savvy at all."
The business news you need
With a weekly newsletter looking back at local history.