"if we are to believe what our new governor has said and where he wants to take the industry ... we're very excited about it, and we're preparing as best we can," said CEO Mark de Souza. "Our expansion plans in this acreage alone exceed a hundred million dollars."
The Elmhurst company hopes to blossom from a $23 million, 75,000-square-foot facility on 10 acres to as much as 600,000 square feet over 70 acres to take advantage of new opportunities if recreational marijuana becomes legal under Democratic Gov. J.B. Pritzker and a blue state Legislature.
That could happen as soon as 2020, giving Revolution additional urgency to ramp up a Delavan expansion project that started last summer and will last at least 18 to 24 months, said de Souza.
The expansion would add as many as 250 employees, from 56 to more than 300, and a separate recreational cannabis operation set off for regulatory reasons. That's on top of a busy medical cannabis growth and processing hub that Revolution showed off to reporters last month.
During a tour, Eric Diekhoff, the Delavan native who runs the facility, showed off the areas where Revolution not only grows marijuana — in some rooms, as many as 2,000 plants at a time — but dries it, packages it for traditional use, turns it into edible products and develops new varieties and products.
"It all has to be climate-controlled, air-quality (controlled), biosecured type of environment," said de Souza of growing areas. In those areas, several strains of cannabis can be grown in proximity, with clippings taken from mother plants to reproduce and create new flowers.
Diekhoff, whose official title is executive vice president of operations, said the company is careful to comply with state regulations for growth — including notifying regulators days in advance before burning off excess material — and he's confident Revolution will be able to adapt for new regulations for recreational cannabis growth.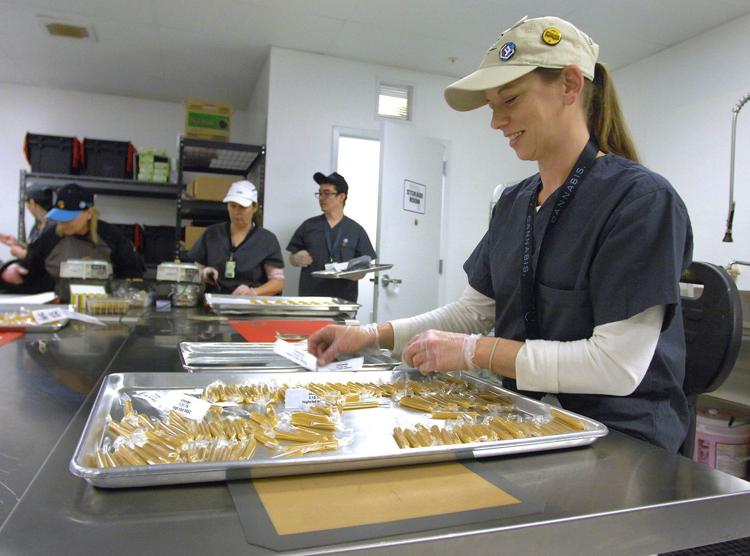 Much of the center's staff, however, is in some kind of processing role, said Diekhoff. That includes the people who label and sort packaging; those who roll marijuana into cigarettes or sort it into small containers; and those who use it to make medicinal food products, including caramels and drink mixes.
You have free articles remaining.
For Jason Spaulding, being the facility's formulation manager is an exciting twist on a food industry career that included running an Avanti's restaurant in Bloomington. Spaulding still lives in the Twin Cities and said about a dozen of the center's employees do, making a 40-minute commute every day.
"I was looking for a new challenge, and it was an opportunity to do something that literally nobody had done yet, using all the familiar ingredients I've been using for 25 years (in restaurants) in different ways," he said. "It took me maybe a year to get ... the complexity of cannabis and what it can and can't do."
Spaulding said his department could see major changes in scale and process if recreational marijuana were legalized.
"With recreational we'll move from pots and stoves and handwork to full line production, candy equipment where raw ingredients are coming in humidity-controlled, and they're cooked in a closed environment and packaged with nobody touching them," he said. "We've been planning for that sort of production since I was hired on."
Spaulding said a persistent challenge is communicating the medicinal value of cannabis — not only to skeptics but also to patients.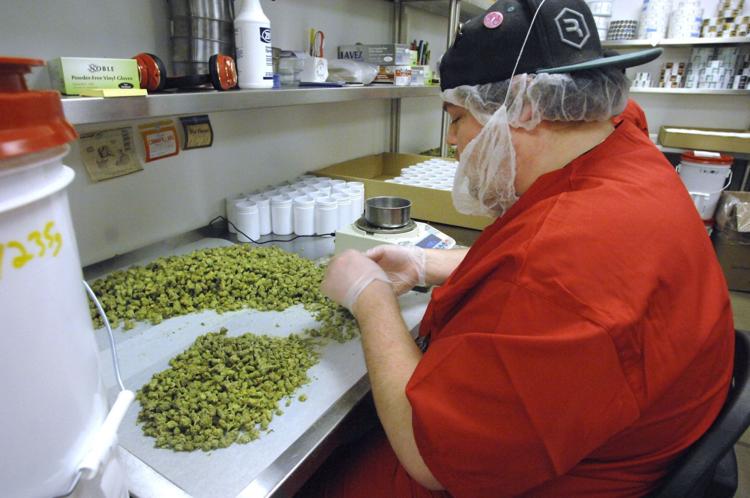 "One of the big challenges is there's ... a lot of great people in this building that understand this medicine and passing that on to dispensaries and then patients on how to use it and why," he said. "It's not all about the highest THC (the psychoactive element in cannabis) that you can get. It's about specific antibody profiles, specific things about the cannabis plant that will get specific symptom relief."
Diekhoff said that although recreational marijuana, and the associated expansion, could change how the community feels about the facility, response has been positive so far — thanks in part to the jobs and tax money Revolution brings.
"I don't think it's going be that much of an issue in Delavan because it's going to mean more jobs and economic benefit," he said.