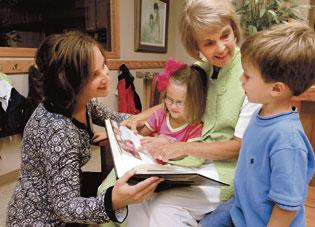 Barb Broach has been called June Cleaver a few times. And in talking with Broach and her daughter, Amy Broach Moser, and daughter-in-law, Rachel Broach, you can see the similarities.
As the executive directors of the Montessori Children Center, the three have extended their family to the school, the students and the staff.
"There's almost no separation between this business and the family," Barb said. "Respect, manners, love. The love part quite honestly comes from our family. You will find in any Montessori school that emphasis on respect and kindness."
"We're a family that runs a business and owns a business together and our staff and our parents feel like we are a family operation," Amy said.
The preschool has three classrooms and 60 students, which all agree, laughing, is as big as they want it to be, no matter how much parents beg or bribe. The year-round preschool uses the Montessori education method, developed by Maria Montessori, the first female doctor in Italy in the 1890s.
"Maria Montessori recognized that children are capable of far more than we give them credit for," Amy said.
Montessori developed a system that covered five areas - life, sensorial, mathematics, language and culture. With tools referred to as apparatus, children are taught concepts progressing from concrete ideas to abstract ideas. Children learn and progress through the lessons at their own pace and independently after thorough instruction on each lesson.
"It fosters independence. It helps create self-esteem. Because the children are working independently so they are mastering the work themselves," Rachel said. The curriculum goes beyond the academic as well.
"They know how to sew a button, they know how to hammer a nail," Amy said. They learn how to pull out chairs and lessons in manners. One of the important things the school tries to instill in the children is a love of learning.
"If children can leave and think I just love school. I love math. I love reading. I can do multiplication. I've done that already. If they can leave with confidence and that positive experience, that will determine the success of the future education," Amy said.
Amy and Barb realized a lifetime dream - well at least Amy's lifetime - when they opened the school in 1997.
"I started teaching at a Montessori school here in Bloomington and Amy and her brother were in grade school. I would come home and tell stories around the dinner table and really and truly, it was something the whole family loved, my job, because it was such a wonderful thing working with little children," Barb said. "Amy, at that age, would say, 'Mom, someday we're going to do this together. We're going to be teachers together.' She said that all of her life."
Amy had had a year and half left in school before she got her degree in elementary education. She reminded her mom that if they were going to start a school, they'd better get started.
"I asked if she was sure and she said 'Have you not listened to me all these years?'" Barb said.
Four years later, after a career change for both herself and her husband, James, Rachel joined the Broach women at the school. After a few years and a couple of children apiece for Amy and Rachel, the family has transitioned out day-to-day classroom work, but that doesn't mean they've left the classroom.
"If we weren't in that classroom, we wouldn't be doing this stuff," Amy said. As the executive directors, each has taken on certain duties and responsibilities. And one of the three is at the school everyday. The situation allows them time to spend time helping out with the older grandchildren in grade school. The youngest are students at the center.
"It helps have a really balanced life. It's a perfect scenario," Amy said. "We really feel blessed that we can have the best of both worlds."
"I really relish my role now," Barb said. "I've totally transitioned now from the teacher image to a grandmother image." Barb knows all the children and dotes on each of them. In addition to handing out hugs, but she also handles the enrollment, while Amy and Rachel work more with the teachers and the students.
Amy and Rachel develop curriculum, train their six classroom teachers and work with the children individually. They especially work one-on-one with children during the second semester to get them ready for kindergarten.
But when decisions about the business need to be made, it's one for all, all for one.
"We have three-way calling which is a godsend because we make about every decision together," Amy said. "We just make a three-way call. We're usually on the same page, but if we're not we discuss our opinions and come to a decision."
They rely on their administrative director, Kelly Wilson, to handle many of the day-to-day duties.
"We really take care to get teachers and certainly our director - she's been with us going on 8 years - who we know will embrace our philosophy and that love," Barb said.
Some credit also goes to the men in their lives. "It's their family business, too," Amy said, though the women retain veto power.
"There are times where the boys will have an opinion and I'll tell them no, you aren't in the classroom so you don't understand," Amy explained.
The men handle a lot of the maintenance and upkeep of the facility. "We call them the heavy lifters," Amy said.