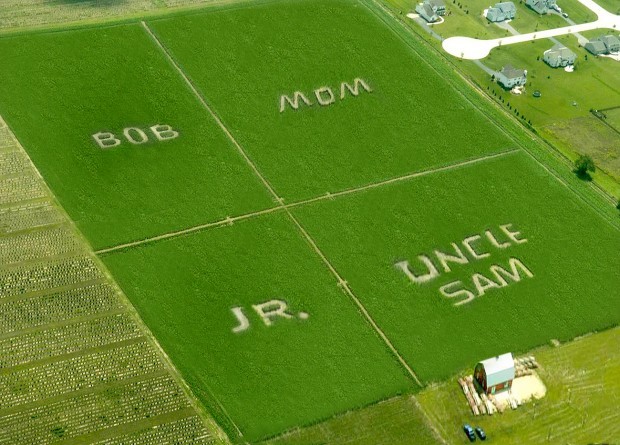 It's said that nothing is certain except death and taxes. The "death tax," however, is a different story.
There is no federal estate tax this year, the final step of a 2001 law that gradually scaled back the levy, which is applied to the transfer of assets after death. But unless Congress acts, the tax kicks back in for 2011, at a level that would ensnare smaller estates than in previous years.
The tax's uncertainty is uniquely important to farm families, who are more likely to owe it than the general public as farmland values rise. In 2009, when estates under $3.5 million were exempt, only about 600 U.S. farm estates were expected to be large enough to be taxed.
But in 2011, when that exemption sunsets back to $1 million per decedent, it's estimated that one of every 10 farm estates would owe, according to the U.S. Department of Agriculture.
"This is a year when it's particularly important for everybody to look at (their estate plan)," said Tom Jennings, a Bloomington attorney who works on estate-planning issues with farm families.
Farms present their own estate-plan challenges, along with the general discomfort of talking about death. Farmland is often in families for 100-plus years. And there could be special considerations if, for instance, all but one sibling has left the property for other careers: How do parents split that estate fairly?
"Fair is not always equal, and equal is not always fair," said Jim Endress, financial planner and educator at the University of Illinois Extension Center in Rockford. "Everybody's situation is a little bit different."
Mark Alig, 44, recently attended Endress's estate-planning workshop in Eureka as his family tries to solidify a plan for their parents' small farm in rural Metamora.
One of five children who have left the farm, Alig said he's asked his parents to complete a self-assessment and identify assets. Then, the family will meet, set some goals and talk to a professional, he said.
"I think we're all very much realists who would rather look at this and discuss this at a time when we're all sane, for lack of a better word," he said, referring to the strain of sudden illness.
While uncertainty means it's a good time to revisit an existing plan, Jennings said it also makes it hard to lock in changes. "It's hard to draft for someone without any kind of guideposts," he said.
You have free articles remaining.
And the cost of paying a lawyer or financial planner can add up if repeat visits are required due to uncertainty, said Adam Nielsen, director of national legislation and policy development at the Illinois Farm Bureau.
The American Farm Bureau Federation last week told Congress it wants an exemption of at least $5 million, a lower top tax rate and the return of a key provision for capital gains taxes. Without action, it warned, more heirs will be forced to sell off farm resources to pay taxes.
A key demand, Nielsen said, is that the exemption be tied to inflation.
"There's been an escalation in farmland value, and so when that occurs, if you've got a static personal exemption level, you'll cover less and less of that land," he said.
U.S. Reps. Tim Johnson, R-Urbana, and Aaron Schock, R-Peoria, support versions of a permanent repeal of the tax. U.S. Sen. Dick Durbin, D-Ill., wants a higher exemption level for farms that are passed on within the family. U.S. Rep. Debbie Halvorson, D-Crete, supports the Federation's position. (U.S. Sen. Roland Burris, D-Ill., did not return a call seeking comment.)
"I'm just hoping they're not going to take us down to the wire," Jennings said.
---
What they're saying
A look at what Central Illinois' congressional delegation is saying about the estate tax issue:
U.S. Sen. Dick Durbin, D-Ill.: "Last year, less than one-half of one percent of all estates were subject to the estate tax. A permanent repeal of the estate tax would cost as much as $1 trillion over 10 years. Durbin supports reforms that would protect family farms and small businesses by increasing the exemption level for small businesses and family farms that are passed on within the family, while continuing to call on the wealthiest people in our society -- who often have successfully avoided taxes on much of their income while they are alive -- to pay their fair share in estate taxes," said spokeswoman Christina Mulka.
U.S. Rep. Debbie Halvorson, D-Crete: "Family farms and small business simply should not be lost to the estate tax. I've co-sponsored legislation to raise the exemption level to $5 million, index it to inflation, and lower the tax rate to protect family businesses and farms, and that's the direction we need to go before the estate tax reverts to even higher levels."
U.S. Rep. Tim Johnson, R-Urbana: "He has a very firm position, that it ought to be done away with entirely," said spokesman Phil Bloomer.
U.S. Rep. Aaron Schock, R-Peoria: "To truly minimize the impact the death tax has on family farmers we should pass a bill that waives payment of this tax, provided the land stays within the family."
U.S. Sen. Roland Burris, D-Ill., did not return a call seeking comment.