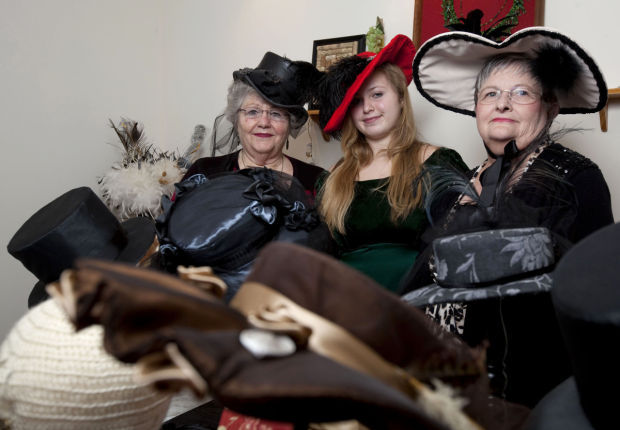 LATHAM — If you want to get ahead, get a hat.
That jaunty ad slogan from the 1930s is now in the Advertising Slogan Hall of Fame and was brought to you amid the joys of the Depression by the Hat Council.
In more recent generations, however, it's pretty much been a case of hats off for everyday wear for both sexes, as fickle consumers preferred their heads to go naked. Now, ac-cording to two women from the small town of Latham in Logan County, it's high time we doffed our negative attitude.
Cousins Carroll Meyer and Marle Bond created a business called "Fancy Hats Galore," claiming that somewhere out there is a hat with your name on it.
They are wickedly good with needles and scrap materials and can fabricate hats for men and women, although the distaff side gets most of their attention. They do custom work, but they also like to spontaneously create fancy hats just for fun.
Then they sit back and wait for the right head to show up in a kind of millinery karma. It sounds as mad as a hatter, but the Fancy Hat partners say it works like a charm.
They both believe hats are on the way back because of our relentless urge to pull on new looks by mining the forgotten past. The women got a head start three years ago when they were looking to do something as part of a historical celebration in Mount Pulaski. Their intended customers were costumed re-enactors, and spectacular Victorian and earlier hats and bonnets are still a big part of their repertoire and good sellers.
Then they began to discover a market for hats that weren't tied to the past.
"We got our feet wet to see what was going to happen, and the response was absolutely amazing," Bond says.
"Women would come up and say, 'Oh, I love hats, but I can't wear a hat' " Meyer adds. "And we'd show them what they looked like in one of our hats, and they just love 'em."
Prices range from $35 to more than $100, and the partners typically sell at summer local history celebrations and fall events such as the Apple 'n Pork Festival in Clinton. They offer other fashion accessories, too, but it's the sheer variety of their hats that really turns customers' heads.
Meyer's 16-year-old granddaughter, Mikayla, regularly helps model the hats to boost sales, and the Fancy Hat creators try to define that strange alchemic thing that happens when someone puts on a knockout hat. "It just makes you a different person," Meyer says. "And for women, it makes you more feminine."
Her business partner goes further: "The hat goes on, and it transforms our customers; you can watch it happen," Bond says. "Women put their shoulders back, they get a little attitude and they look younger, sexier, actually."