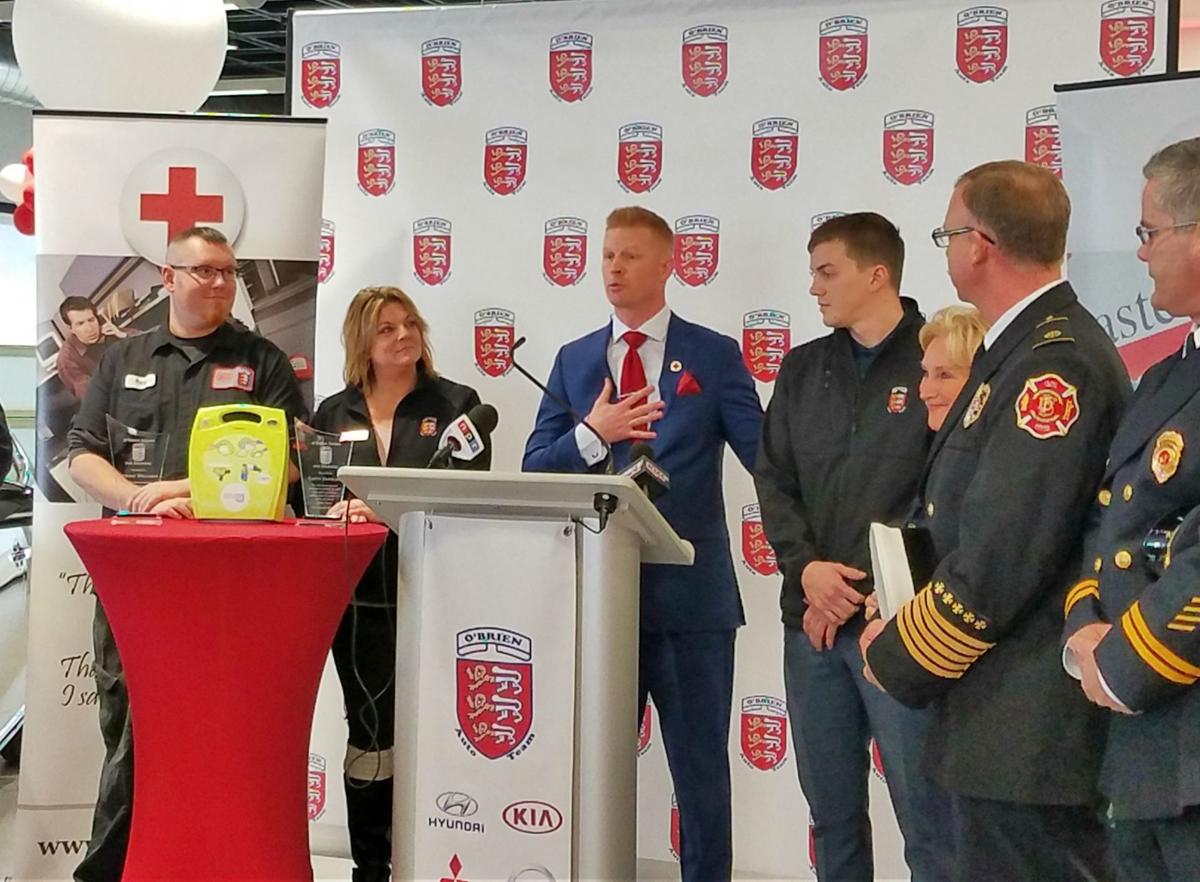 BLOOMINGTON — One minute in October, Jordan Turner was cleaning a car for delivery at the O'Brien Kia dealership in Bloomington, the next he was waking up in a hospital bed.
"I thought I had fallen asleep," said Turner, 20, of Minonk.
His co-workers — Jeromy Williams, a service technician, and Cathy Napoline, a warranty specialist — rushed to Turner's side where they found his breathing and pulse to be very faint.
The two employees called 911 and began cardiopulmonary resuscitation (CPR) — Williams is a volunteer firefighter with the LeRoy Community Fire Protection District and Napoline is a former employee with the Mayo Clinic.
Soon, Turner's breathing and heartbeat stopped.
"We just kept going. We could hear sirens in the background, so we knew we wouldn't have to do it much longer, but it seemed like an eternity," said Napoline.
First responders with the Bloomington Fire Department arrived and transported Turner to OSF HealthCare St. Joseph Medical Center in Bloomington.
"He had no past health conditions. He was a healthy young guy and a hard worker. We were all in a panic, but everyone was maintaining their composure," said Ryan Gremore, president and general manager of the O'Brien Auto Team.
You have free articles remaining.
In the ambulance, Turner's pulse returned and he was stabilized in the intensive care unit.
"They put him in the ICU and we got him back," said an emotional Gremore. "I'm blessed this kid is still here with us."
After a month of recovery, Turner returned to O'Brien where he was promoted as a member of the sales team.
"Right before (going into cardiac arrest), I had been taking cars out into the field to wash them. I could've collapsed in that field and no one would've known," said Turner. "I'm especially grateful for Cathy and Romy (Jeromy) for saving my life."
On Thursday, Gremore gave awards to Turner's heroes and thanked the Bloomington first responders.
He also is using what happened to make a larger impact, announcing plans to team up with the American Red Cross in Central Illinois to provide CPR and first aid training for 75 percent of the 135 employees with the four local O'Brien dealerships.
Training is beginning immediately and will be completed within the next 90 days.
"Sudden cardiac arrest can happen anytime, anywhere. The timeline for responding is 10 to 12 minutes. For every minute defibrillation is delayed, the chance of survival decreases by 10 percent. Everyone should be trained," said Lyn Hruska, CEO of American Red Cross Central and Southern Illinois Region.
Gremore said the employee training ensures "our staff will be our own first responders if this ever happens again."
"As well as outside our dealership, in the home, at your church or a sporting event," he added. "If something was to happen, we'll have trained people throughout Bloomington-Normal who will be able to perform these duties."
Follow Julia Evelsizer on Twitter: @pg_evelsizer