BLOOMINGTON — After a "glorious journey" that lasted 37 years, Brad Barker is selling his Honda dealership in Bloomington to the O'Brien Auto Team.  
The sale ends the Barker family automotive dealership legacy that his grandfather, Alden F. Barker, started in Danville in 1915 and moved to downtown Bloomington more than 70 years ago.
"It's been a glorious journey ... but I'm ready to do something different," said Barker, 67.
"It won't be all golf," added Barker, a well-known fixture on the Twin City golf scene. "I'm on two charitable boards and I will be more active in my church."
"Will it be a tough last couple of days? For sure," Barker said last week as he prepared to move out of his office in anticipation of the sale being finalized at the end of business on Thursday.
On Friday, the dealership will open under the new name of O'Brien Honda of Bloomington.
"The Honda brand is one of the highest sought after brands in all of automotive retail. And on top of that, Brad has run a very reputable business in town and has really good employees."
But Brad Barker, his father and uncle retained ownership of the Honda dealership that moved in 1987 into a newly-constructed facility at its current location. That building was remodeled in 2001.
"My dad passed 10 years ago and I inherited his stock. I bought Al out three years ago, so I've been the sole owner since then," said Brad Barker.
Telling his mother and his uncle that he was selling the business were "two of the most difficult conversations I've had," but his uncle understood why he wanted to retire, said Brad Barker.
"I think the long-range plan was for my son, Matthew, to take over the store to keep the legacy going, but he's only 16 years old, and realistically speaking it would be at least seven years before he is even ready to do it. And it's a lot of pressure on him to tell him that is something he has to do, and I didn't really want to wait until I am 75 years old to retire."
The Honda brand made selling the dealership a lot easier, he said.
"I could have sold it to anybody, but I wanted to sell to somebody who had similar business ethics that I had for both the customers and our employees," said Barker, adding he found the "right buyer" in the O'Brien group.
"They are keeping all of my employees who want to stay," said Barker.
Barker's customers will "see the same smiling faces when they come in and get their oil changed or want to buy a car," said Gremore. "They may see a few new ones because we plan on growing the business."
Counting the three years Brad Barker worked as a janitor in high school for his father and uncle, he has been in the car business for nearly 50 years, and selling cars for 44 years.
"To be honest with you I had no intention of going into the car business," he said.
Barker was working part time at a bookstore in 1974 and he didn't have a car. 
"Ironically, Uncle Al leased me a 1974 Cutlass, which was the best car Oldsmobile made at the time," Barker recalled. "My payments were like $300 a month and I was only making $200 a month. I had to find a full-time job, so I started selling cars in 1975."
"I figured out it wasn't meant for me. I spent $50,000 and made $7,000," he recalled.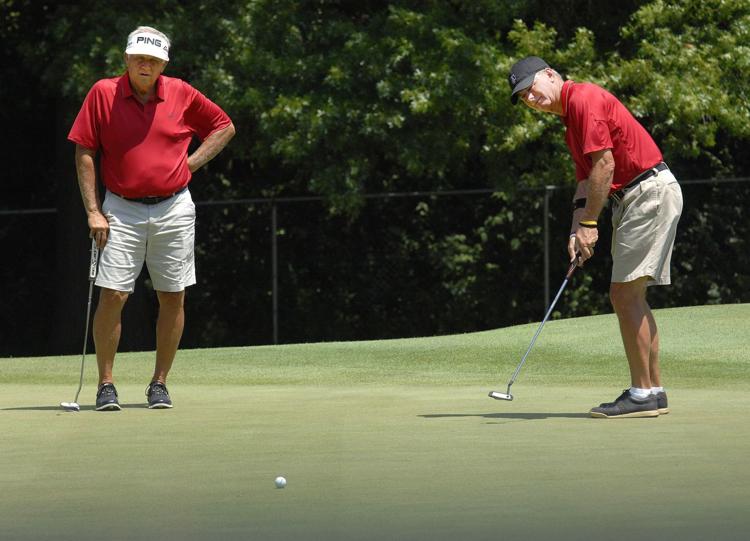 "The hardest part will be missing the relationships with customers and employees," said Brad Barker. "I have some employees who have worked for me for 40 or more years. When I told the employees ... I was teary-eyed. It was difficult."
"I'm heartbroken," said mechanic Alex Matthews, who has worked for Barker for 42 years. "When you've worked with somebody that long, it's hard to see them go. He's been really good to us."
When he leaves, Barker said he will have do something he hasn't done in 44 years — buy a car.
"I had a demo all those years," he said.