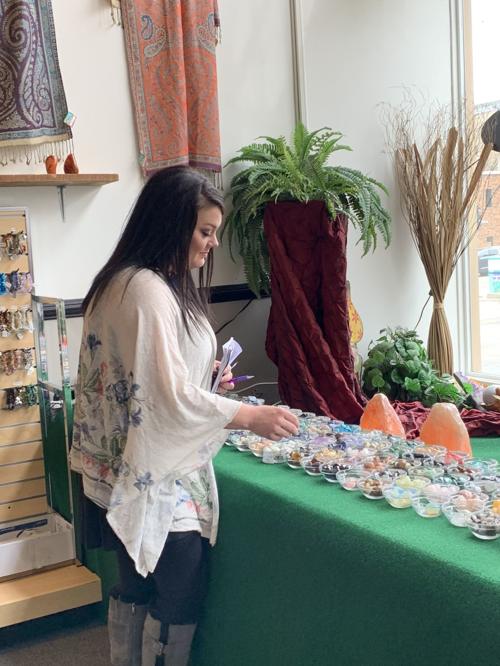 BLOOMINGTON — Rock and jewelry enthusiasts have a new destination in downtown Bloomington.
Rock Soul Love, 424 N. Main St., introduced itself with a soft opening over the weekend.
The store, which also sells clothing, jewelry and other items, is among several new businesses that are opening or that have expanded downtown.
"Full of crystally goodness and good vibes" is  how owner Amy Pilz describes her store.
"We carry different gems and minerals from all over the world," she added. "We carry amethyst cathedrals (large rocks filled with the purple crystals) from Brazil. We carry petrified woods from Madagascar, malachite from the Congo."
Tumbled stones, for which she developed a passion as a child, are a huge staple at Rock Soul Love.
"As a child I was drawn to any rock or shell on the beach," said Pilz. "As I went into business for myself it just kind of carried on from my personal life into business the things that I truly love."
A variety of Pashmina shawls from India are displayed on the store's walls and racks. Salt lamps, candles, incense, clothing "and a lot of jewelry" round out the store's inventory, she said. 
The store is open 11 a.m. to 6  p.m. Wednesday through Friday, 11 a.m. to 5 p.m. Saturday, and 11 a.m. to 3 p.m. Sunday.
"I am all about waiting to kind of see what the community is interested in and then we shift our products and our business hours to fit what the community wants," said Pilz.
Rock Soul Love also has stores in Morris, Ottawa and Lockport.
New businesses that will be opening soon downtown include Flourish Home and Gardens at 103 W. Monroe St.; Say Anything Studio and Premiere Lux Media at 315 N. Main St.; an ice cream parlor at 403 N. Main St.; Bloomington Spice Works at 507 N. Center St.; and Smokehouse Restaurant in the former Pub America space at 602 N. Main St.
After opening 2FruGALs at 415 N. Main St. about 18 months ago, owner Carol Wilson has expanded next door into 417 N. Main St., where she is renting out booths to artists, artisans and others.
The booth space ranges from "the smallest being a bookcase all the way up to whatever size they want," said Wilson.
Two artists and another on the way, a candlemaker, a custom-jewelry maker who uses repurposed materials, and another person who makes T shirts and coffee mugs have rented some of the booths.
Also in the added space, Wilson is selling small furniture and expanding "the man cave," which sells tools, ball caps, fishing and grilling equipment, "and anything that entices the men to come in," said Wilson.
Contact Maria Nagle at (309) 820-3244. Follow her on Twitter: @Pg_Nagle
The business news you need
With a weekly newsletter looking back at local history.