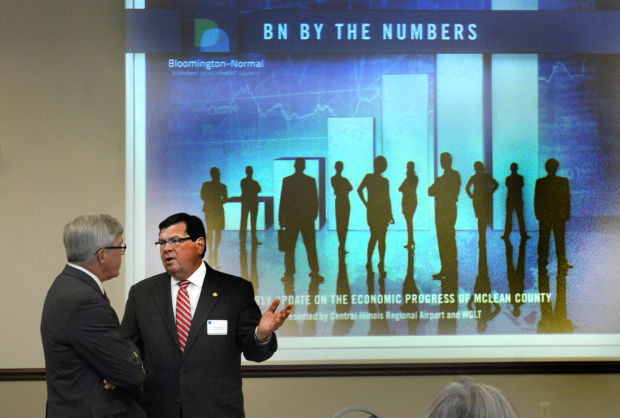 NORMAL — Economic development and higher education have a similar goal: attracting and retaining talent.
The two sectors gathered Thursday to discuss ways to do just that at the Bloomington-Normal Economic Development Council's BN by the Numbers lunch at the Illinois State University Alumni Center in Normal. The quarterly event included a panel discussion of four college and university presidents and an update on the local economy.
"We're seeing an increasing number of people coming to college that want to engage in the community. They're telling us that civic engagement is important to them," said Richard Wilson, president of Illinois Wesleyan University.
One of the most successful ways of bridging higher education and the business community is through internships, he said. That often leads to keeping those students in the community after they graduate.
"Higher education forms the fabric of a community's identity," said Ken Springer, EDC vice president.
Another major way to attract workers to the area and keep students after graduation is quality of life features in the community, said J. David Arnold, Eureka College president.
For example, he said, in Peoria developers are working to create a "warehouse district" that would appeal to young professionals.
For higher education institutions, it is also important to have an attractive community to potential faculty members and their spouses, said ISU President Larry Dietz.
"They're looking for good schools and parks, and opportunities for jobs for their spouse," he said.
Keeping graduates can have a lot to do with the impression that the community leaves on them, Dietz said. ISU graduates are also looking for transportation systems to Chicago, he said.
At Heartland Community College, many of the students are already living in the community, said Robert Widmer, Heartland Community College president.
"What we continue to focus on is giving them the skills they need to get along in the workplace," he said, adding that the college works with local employers to line up curriculum with job skills.
Training students with basic skills including critical thinking, problem solving and teamwork, can help prepare them for a variety of jobs, he said.
"Working with business and industry is key," Widmer said.
Having opportunities to create businesses of their own is another important part of retention, Springer said.
"I'm getting the sense that more students are coming in with the idea that they want to be an entrepreneur for a living," he said.
At IWU, faculty members are developing an entrepreneurship program where students could take courses focused on implementing their business ideas, Wilson said. They are still figuring out details on the program, called Entrepreneurship by Design, but plan to announced details in the next few months.
ISU has several programs and events to encourage new business ideas, Dietz said.
"A lot of students today are very interested in entrepreneurship," Dietz said. "We're doing quite a bit, but we could always do more."