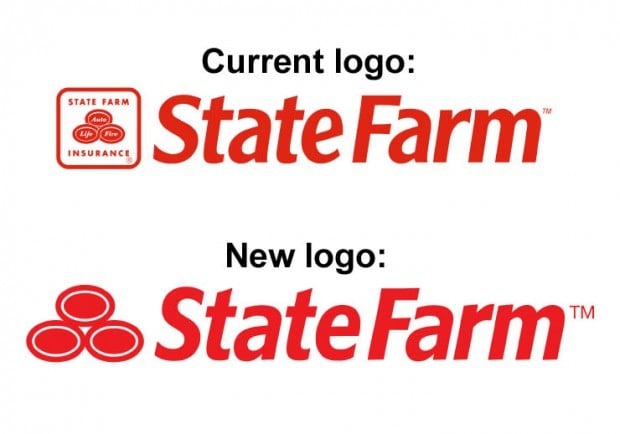 BLOOMINGTON -- For the first time in nearly 60 years, State Farm's iconic logo is getting a new look. Starting Jan. 1, the company will phase-in a sleeker, simpler identifier, applicable to the broader range of services it now offers and easier to use with today's digital media.
"We certainly didn't change it lightly," said Pam El, marketing vice president at State Farm. "We believe that it's clearer. It's a little bit more contemporary; it's a bit more user friendly."
The refresh is both distinct, yet familiar.
Gone are written references to auto, life and fire now seen in the current square logo's trio of interlocking ovals, as is the word "insurance." The ovals remain, a design element in homage to that history. Adjacent are the words "State Farm" in a bold, hand-drawn font developed for the logo and similar to a word mark in use since 2007.
The familiar red -- Pantone 485 -- remains.
"I've got 26 years here," said Joe Strupek, State Farm's assistant vice president of public affairs. "I've been looking at the same logo for 26 years, but the company has changed tremendously."
When the current logo was developed in 1953, the company had about 4,900 employees and 7,000 agents, and did just print and radio advertising. There were about 3.75 million policies in force and its only Twin City office was in downtown Bloomington.
Today, State Farm has 65,000 employees, 17,800 agents and touts its message on multiple platforms, including social media websites and mobile apps. It markets a range of financial services not seen in the 1950s, including securities, annuities, mutual funds and State Farm Bank. About 81 million policies and accounts are in force, and the company has two additional Twin City campuses.
The logo announced Thursday acknowledges that growth, and its use will allow State Farm to "maintain consistency across all platforms -- print, digital, online, television," said Strupek. As a practical matter, the current logo also can be difficult to clearly reproduce in the company's four mobile apps and for other digital uses.
The two-year project is only the third major retooling of the State Farm hallmark and is being done in tandem with its 90th anniversary in 2012. The company worked with the storied New York graphic design firm of Chermayeff & Geismar -- which has developed such familiar icons as the NBC peacock, the Chase octagon and the stylized PBS profile.
In creating a logo, the firm works to develop something simple and flexible, as well as memorable and appropriate, said Sagi Haviv, a partner and designer at Chermayeff & Geismar involved in the State Farm project. It's a change that should be needed, he continued, perhaps because a company's mission has changed, or there has been a merger, or an existing logo is too fussy for today's media.
Decades ago, simplicity was important to communicate in mediums like black and white newspapers and large signage, Haviv said. Today, it's just as important in the digital age.
"We try not to be fashionable. We try to be out of fashion," said Tom Geismar, a founding partner at the firm who also worked with State Farm.
State Farm declined to discuss the cost of the project, or the subsequent changeover of everything from signs to stationery. The latter is expected to take two years, as materials are depleted and replenished.
In addition to the logo, a proprietary font, State Farm News Gothic, was developed for use in supporting materials.
However, there are no plans to change another company icon, the "Like A Good Neighbor" jingle.