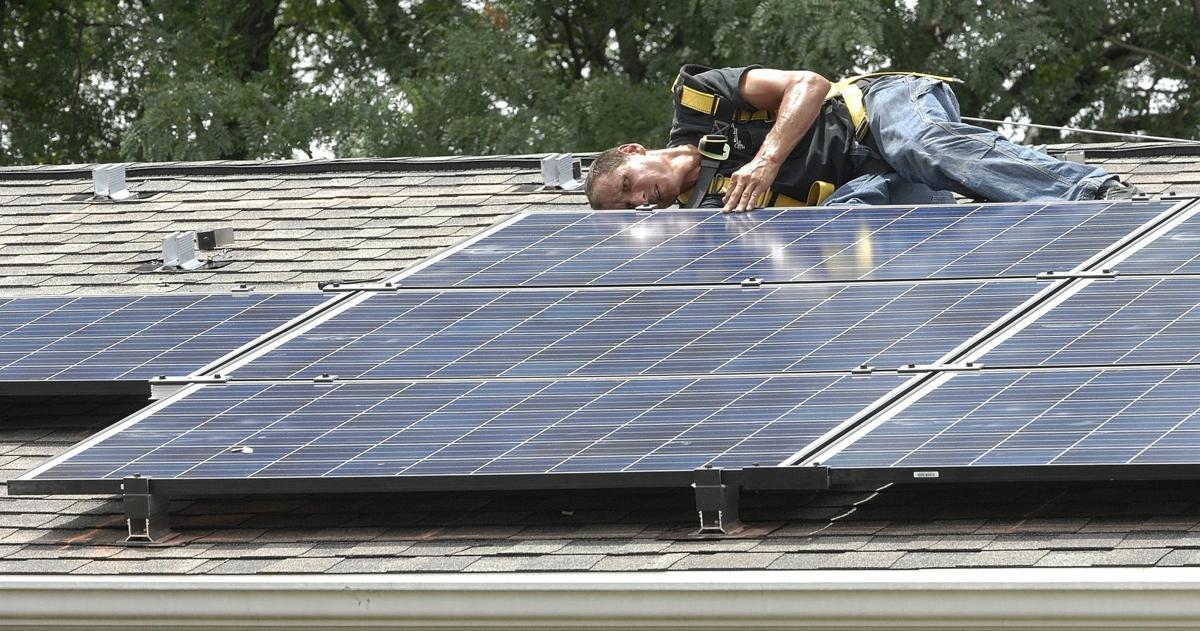 BLOOMINGTON — Several months in, Mary Campbell of Normal still loves her solar panels.
"It's a really simple and clean system for producing energy. ... You don't even see them from the road unless you look straight at the house," she said of 23 panels, totaling 6.325 kilowatts, installed in January on her roof at 2319 Mabel Road. "We've already seen a dramatic change in our utility bills."
Campbell and her husband, Hank, signed up last year for Solar Bloomington-Normal, a group-buy program that led to 30 local homes and businesses installing solar panels over the last 18 months — and they'll show off their new system during the 11th annual Illinois Solar Tour on Saturday.
Families and businesses with solar panels can volunteer to participate in the tour, which invites the public see the systems and consider investing in one. This year's tour is the first to include Solar Bloomington-Normal buyers, who installed panels with about 430 kilowatts of capacity.
That investment has translated to $50,000 in saved utility costs so far, estimated Emma Gilmore, assistant director of marketing for St-Louis-based panel installer StraightUp Solar. A system can cost $15,000 but pay for itself through incentives and 20-plus years of utility savings.
"It's been incredible growth in the last year through Solar Bloomington-Normal and ongoing community awareness that solar is possible for everyone," Gilmore said. "The solar boom has created many jobs in renewable energy and brought down the cost tremendously."
The Campbells paid about $20,000 for their panels, which have reduced their monthly electric bill from $140 to $20, said Mary — in addition to helping the environment, which is a priority for the two retired Illinois State University professors.
The Cambells also have received about $1,300 in credits, not only from the group-buy program but also state and federal governments. Those could reduce the cost of a system from $15,000 to $5,000, said a 2016 StraightUp Solar presentation.
State and federal incentives have changed but are still available, said Gilmore, and the cost of installing a system continues to fall.
Other local homes on the tour, from 10 a.m. to 3 p.m. Saturday, include Heather Evert and Andrew Shallue's home at 1317 Towanda Ave. in Bloomington and 542 County Road 2500 East in El Paso, the home of StraightUp Solar Director of Business Development Shannon Fulton.
In total, 27 homes and three businesses participated in Solar Bloomington-Normal, including Professional Self Storage at 102 S. McClun St. in Bloomington, which installed a 125-kilowatt system it shares with Bloomington Cycle and Fitness and Green Top Grocery in The Foundry.
Follow Derek Beigh on Twitter: @pg_beigh