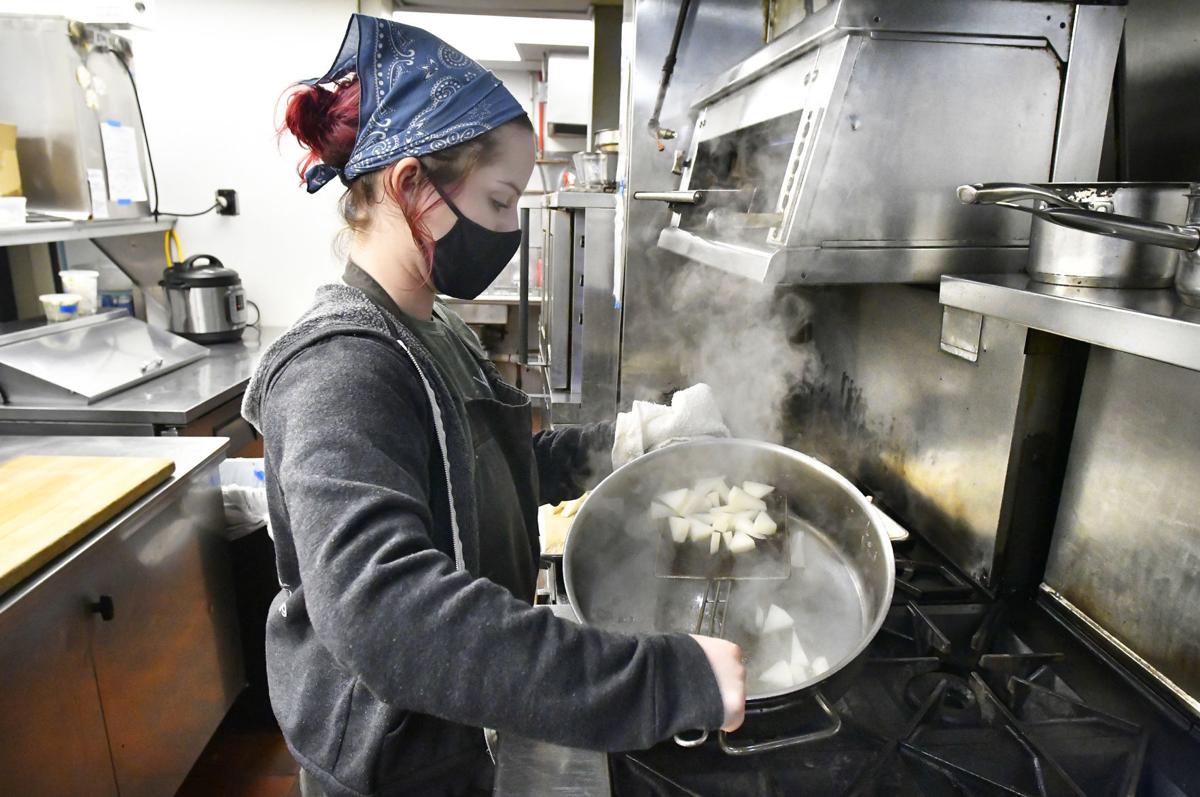 BLOOMINGTON — The buzz Ken Myszka felt when he learned that people could be seated at tables inside his restaurants again didn't last long.
"I'm not really sure how the community is going to react," Myszka, the founder of Epiphany Farms Hospitality Group, said Monday afternoon amid preparations to open Epiphany Farms Restaurant and Anju Above for indoor dining that evening — the first time since March.
"I know our chefs — they miss placing food on porcelain," Myszka said of the downtown Bloomington farm-to-table restaurant, at 220 E. Front St.
Under Tier 1, indoor service is limited to 25% capacity of a restaurant or bar that serves food or 25 persons per room; and no tables exceeding four people indoors.
Outdoor, delivery and takeout service continues under updated hours.
For Myszka, as with most good news delivered during the pandemic to hospitality players, almost immediately his hope was replaced with a familiar anxiety: Once the mitigations are lifted, will locals — kept masked and apart from servers and other patrons since the spring to stop the spread of the virus — come back? And would servers, some laid off to keep afloat his business, return to an industry kept in limbo by changing rules?
"We know how to care for our guests and keep them healthy," Myszka said. "Tonight we're not turning anyone away. If someone wants to be seated, we'll seat them."
The state has been under various COVID restrictions since March to contain the number of infections, a process that has caused deep economic losses in many sectors, especially restaurants and bars. On Monday, state officials announced restrictions in most parts of Illinois would be loosened but warned they could reverse plans if cases spike again. 
Although he's grateful for the move to less-strict clampdowns on bars and restaurants, Myszka said he's also nervous that patrons won't immediately flood into the places public officials have for months prevented them from using.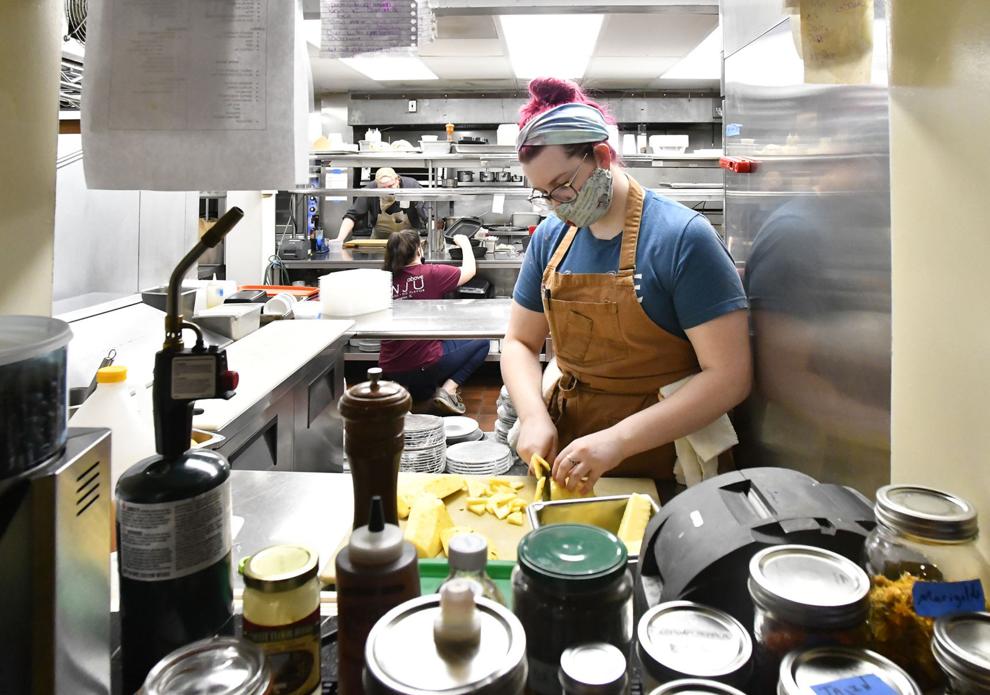 "There's just nobody walking around anymore on Friday night, on Saturday afternoon. I have a feeling it might be hard for downtown to get back and up and running," Myszka said. 
Myszka's anxiety about a return to his closed-for-months restaurants — Bakery and Pickle, in downtown Bloomington, and Old Bank Restaurant, in LeRoy — also extends to his employees.
He had to lay off 32% of his staff in 2020 because of virus-caused losses in revenue. Some used the opportunity to leave the city and the industry to go back to school. Others left the state altogether.
"If we can open for indoor dining today, how do I know we're not going to be locked back up in two weeks?" Myszka said. "If I start hiring people back, how do I know that I won't have to let them go again in a month?"
Until he knows the new mitigations are here to stay, Myszka plans to phase-in the reopening of his locations. Once it's clear the community is comfortable with indoor dining at one location, he'll open the doors to another.
Other local bars and restaurants are following suit, asking patrons for patience as they switch-back to indoor dining.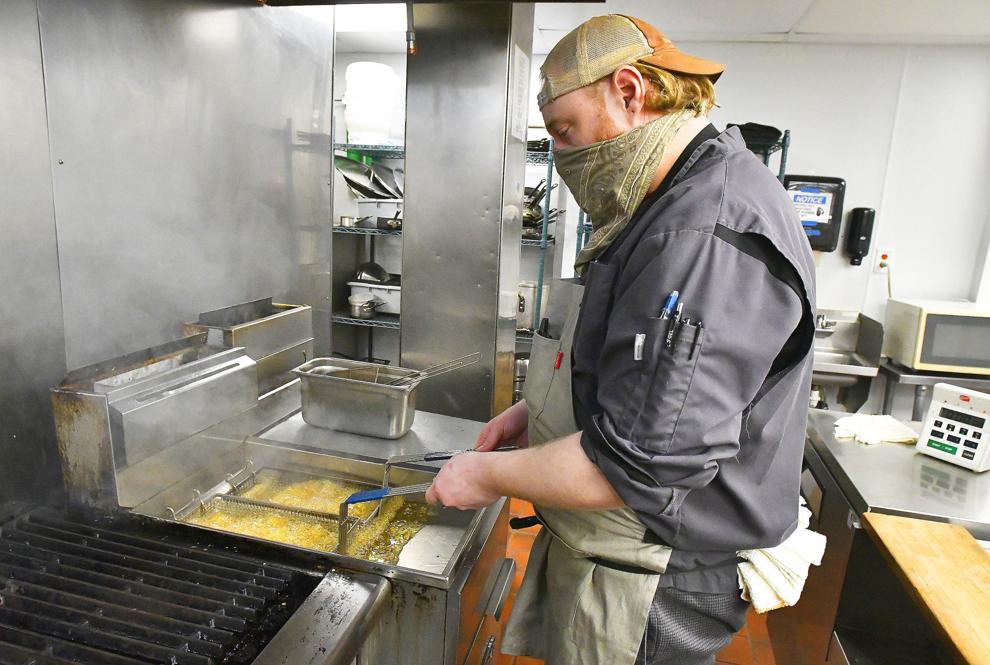 Bloomington-based Lil Beaver Brewery announced on social media that it plans to wait to reopen for indoor service until Friday to "get everything in order to make for a better reopening experience while at the same time making it safe for our patrons."
Shannon's Five Star Restaurant also announced that it had to delay the switch to indoor service on Monday because it "won't have enough staff to do so."
A pair of pubs in uptown Normal – Pub II, 102 N. Linden St. and Maggie Miley's, 126 E. Beaufort St.  – revealed on Facebook plans to reopen Tuesday.
Both closed outdoor seating areas and suspended carryout options until further notice, citing financial struggles brought on by the pandemic, after Pritzker closed indoor dining for a second time in November.
"Without having any indoor dining, we didn't see any feasible way to stay open," Pub II General Manager Luke Rokos said about the decision to suspend operations. "Unfortunately, closing was the option to choose to lose the least amount of money."
Rokos said the pub plans to reopen at 11 a.m. Tuesday with the same limited menu used over the summer. While he is happy to return to business, Rokos said the 25% capacity limit is "very stringent" and changes some of the business' operating plans.
"For us, this is very different," he said. "We're just happy to get people back in the doors."
Jack's Restaurant had just opened its doors a week prior to Prtizker closing all restaurants and bars on March 17. The new Mediterranean restaurant, 1600 Visa Drive, Normal, has struggled to maintain business since, offering curbside carryout through the spring and operating limited indoor dining over the summer.
"We serve everything fresh, so we trash a lot of stuff every time we close," owner Diyora Hayzarova told The Pantagraph. "The main thing I have concerns regarding restaurants is, when we are closed, we still have to pay the bills, rent and everything. There are still expenses even if we stay closed."
Jack's Restaurant shuttered operations until further notice on Dec. 19, but now plans to reopen Tuesday at 11 a.m.
When the state allowed indoor dining briefly over the summer, Diyora said it helped maintain business for a while. Now, she said while wishes the state would allow a little more than just 25% capacity, "this is better than nothing."
"Curbside and delivery, it doesn't cover the expenses," she said. "The 25% dine-in will help to stay open at least."
---
What is Illinois known for? Here are 9 things — good, bad and in-between