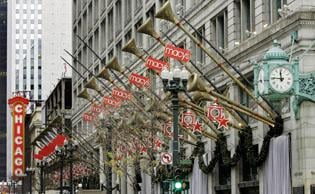 CHICAGO - The bronze signs on the department store's exterior walls still read Marshall Field's, but to Rick Roche, the transformed 10-story Macy's on Chicago's State Street is an unwelcome invader.
"They're not going to get any of my business," huffed Roche, 52, a reference librarian from Downers Grove. He unceremoniously cut up a Macy's credit card after the retailer acquired Field's and other regional department stores as part of an $11 billion buyout of May Department Stores Co. in August 2005.
In September, Federated Department Stores Inc. took its Macy's brand nationwide, when longtime retailers with regional appeal such as Filene's, Kaufmann's, Robinson-May, Strawbridge's and Foley's were transformed into Macy's locations.
With Christmas and its voluminous sales around the corner, the most New York of department stores - with its "Miracle on 34th Street" fame and nationally televised Thanksgiving Day parade - needs to prove to shoppers in the rest of the country that it has improved the shopping experience at the local department stores.
To woo customers, Federated executives are launching an all-out offensive of holiday cheer, blanketing stores coast-to-coast with lavish displays and emphasizing over-the-top Christmas traditions of its predecessor stores.
"This is really the year that Macy's will have that one shot to show the markets that they've replaced the traditional retailers with a new and improved Macy's," said Marshal Cohen, chief industry analyst for the market research firm NPD Group.
Already, the task is proving difficult.
During Cincinnati-based Federated's third-quarter earnings this month, executives acknowledged sales in the former St. Louis-based May stores were weaker than expected, especially among home goods. The category, which includes items from furniture to linens, accounts for 15 percent of Macy's sales.
Executives said home goods sales are lagging nationally, but have been particularly tough in former May stores where employees are still learning about the new products.
But they're still optimistic, especially as Macy's shoppers - new and old - gravitate to the store's private label clothing lines, such as Alfani and I.N.C.
"Change is hard for many people, but also change is exciting, so that's how we feel," said Susan Kronick, vice chair of the nation's biggest department store retailer. "I think we'll have lots of people experiencing the magic of Macy's."
The transition has gone smoothly in some communities. But nowhere has the task of luring shoppers proven more vexing than in Chicago, where fiercely brand-loyal protesters still pass out anti-Macy's fliers and thousands have signed petitions asking Federated to keep the 154-year-old Field's moniker.
A survey released Nov. 14 by consulting firm Deloitte & Touche USA showed a quarter of Chicago-area shoppers said they would shop less at Macy's this year than they did at Marshall Field's. Nationwide, only 9 percent of customers said they'd shop less at the new Macy's stores than they would when the sites were operated under a May name.
Complicating the problem in Chicago is a perceived change in the quality of merchandise available at Macy's compared to the once-upscale Field's.
Macy's bruised even more Chicago egos when it posted in-store signs at the State Street site that incorrectly named three of the four surrounding streets. (The signs mistakenly referred to streets as avenues and avenues as streets.)
"There are people who won't even go in the stores at all," said Jim McKay, a 43-year-old architecture professor who runs the Web site www.FieldsFansChicago.org. "A lot of them feel like their Chicago traditions have been taken over by a New York name and that it can't be Christmas under that name."
In Pittsburgh, where Macy's replaced the 120-year-old Kaufmann's chain, the city's flagship store has been painted, remodeled and covered with new carpeting.
To honor tradition, Macy's is using Kaufmann's arched plastic pine boughs and Christmas trees and kept the store's traditional Thanksgiving parade.
Federated executives are banking nostalgia-hungry shoppers continue their holiday traditions.
In Chicago, that means being served by tuxedo-clad wait staff in the 7th-floor Walnut Room, dining under a 45-foot "Great Tree" and browsing for gifts. The company has also added valet parking and reopened a vintage entrance to the store - flanked by a doorman and a private elevator - that leads to a high-fashion section inside the flagship location.
"It's very important that we make a great first impression," said Ralph Hughes, Macy's regional vice president who spent 14 years working for Marshall Field's before the fall transition. "Those are the ones that last, and we know that."
To soothe shoppers, Macy's also added clothing, handbags and accessories made by nearly 50 Chicago designers to its State Street store in September.
The plan to crack even the most entrenched shopper may be working.
"I have been a die-hard Marshall Field's fan, but I still like Macy's, too," said Julie Emil, a 38-year-old Chicago resident who said she thinks Macy's clothes are more fashionable than those at Marshall Field's. "Taking over Marshall Field's, it doesn't always seem right. But I'll get used to it."
AP business writer Daniel Lovering in Pittsburgh contributed to this report.