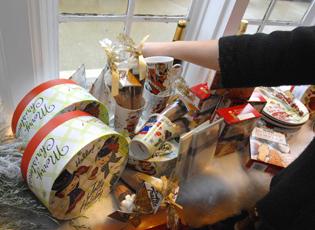 BLOOMINGTON - Amy Calhoun's Thanksgiving includes many of the common traditions - food, family, relaxation - but with one twist.
Unlike many people who will continue to snack on turkey and watch TV well into the evening, Calhoun will go to work. By 5 p.m. today, it will be time for the small-business owner to officially turn her downtown Bloomington store to the holiday shopping mode.
"We stay until every holiday decoration, every holiday product, every tag, is up, until we feel we're ready to go," said Calhoun, co-owner of specialty store A. Renee.
Calhoun doesn't expect the massive crowds larger retailers will experience on the day after Thanksgiving - her shop picks up speed closer to Christmas. Nonetheless, Calhoun joins other Central Illinois retailers who have been working to be as prepared as possible for Black Friday, the first day of a weekend during which as many as 133 million Americans will shop, according to the National Retail Federation.
One of the biggest shopping days of the year, Black Friday earned its nickname because it traditionally was a day retailers' books typically shifted from "in the red" to "in the black," meaning profitable, for the year.
"It's a big day for any retailer. It's always traditionally been the kickoff day for the holiday season," said Steve Lawson, store manager of Pontiac's Wal-Mart Supercenter, which is open 24 hours a day but won't start sales until 5 a.m. Friday. "We'll have some really good deals."
Employees have spent several days on Black Friday preparation work, including sales displays in the store's back room, Lawson said. Overnight workers will put the merchandise out on the floor tonight, and associates and cashiers will be ready to serve the customers as sales begin, he said.
"The displays are staged. At 5 a.m., (employees) unwrap them, and customers have access to these great deals," Lawson said. "It can be hectic, but it's a lot of fun at the same time."
Black Friday is pretty much the same story every year, with early store openings, giveaways and customers who even beat staff to work, said Gayle Gleespen, marketing director at Eastland Mall in Bloomington.
"Last year, I pulled up at 3:30 (a.m.); there were people waiting outside the entrance," Gleespen said.
But Gleespen doesn't expect huge crowds when the mall opens at 6 a.m. Friday. Businesses outside of the department stores will see more shoppers arrive between 6:30 a.m. and 7 a.m., after they've already hit their first destinations, she said.
Since the mall is closed today, many store managers might have finished preparation work Wednesday night, though some may choose to switch signs or finish displays today or before Friday's opening, Gleespen said.
At A. Renee, Calhoun has received 85 boxes of holiday merchandise in the past two weeks. As her business has grown, she's run out of storage space, so she's been unpacking, pricing and stocking merchandise as it's arrived this year.
Staff also has been busy making pre-made gift baskets in the shop. This year, Calhoun also rented space on the building's fourth floor to create an assembly line for individual and corporate customers' custom gift basket orders.
She and her mother likely will be in the store late tonight - likely midnight or 1 a.m. - and will make any last-minute adjustments before Friday's 11 a.m. opening. Other family members likely will stop by to hang a wreath and watch as the shop evolves into its icy holiday theme.
"It's actually officially the holiday season," Calhoun said. "It's a lot of fun."