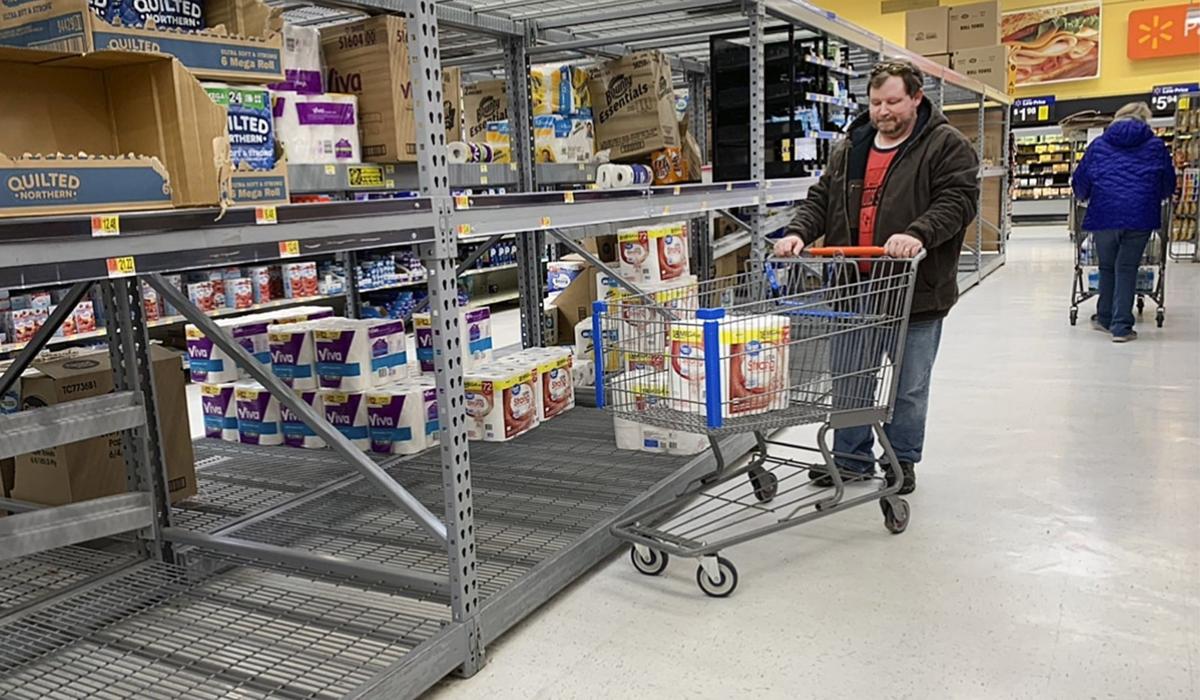 NORMAL — Shoppers knew they weren't going to find hand sanitizer and other disinfectants at local stores because the coronavirus has caused a run on those products.
"I just came out today because we're out of toilet paper," said Jeremy Kurse of Bloomington, as he stood in front of empty shelves that normally would have been filled with various brands of toilet paper at Walmart, 300 Greenbriar Drive. "It's not what I normally would get, but it will do," as he placed a generic brand in his shopping cart.
At Meijer, 1900 E. College Ave., some shelves were a bit bare.
In an emailed statement, Meijer Inc. said: "Finally, we're seeing a significant increase in demand on key products you need to keep you and your families safe. Our team members are working to address any inventory issues that arise as a result of this virus. We're working to secure additional quantities of items that families need most at this time, and we appreciate your patience as we do our best to keep our shelves stocked for you and your families."
Nationally, several chains have reported a large number of customers stocking up on basics.
At Target stores, signs say, "Due to high demand and to support all guests, we will be limiting the quantities of disinfectant wipes, hand sanitizers and hand and face wipes to six per guest."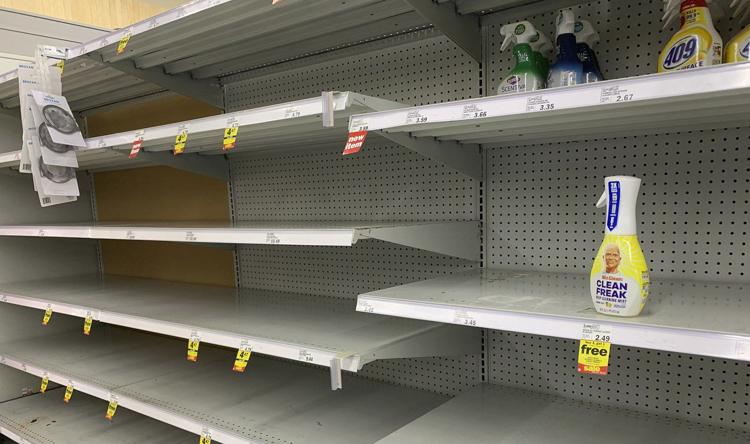 Kroger Co.'s mobile app said the store is limiting the sale of sanitation and cold- and flu-related products to five per order. 
"As one would expect, paper products, cleaning supplies and other items are in high demand as customers prepare for the possible impact of COVID-19," Walmart Corp. said in a statement. "We are working to replenish those items quickly ... and have also authorized our store managers to manage their inventory, including the discretion to limit sales quantities on items that are in unusually high demand."
"I've been surprised at the rate at which public sentiment is getting more worried about what is happening and I am trying to follow suit with protecting myself and my family," said Navickas.
"I am still going to work at this time, my kids are still in daycare, my wife is still going to work," he added. "When it comes to the social distancing thing, it's probably not that extreme yet, but we're also keeping our eyes on the news and making sure that if there are developments we are acting safe."
Christin White of Bloomington said she's not really worried "because I know it's preventable, just like the flu. We've already been washing our hands, things like that, all during the flu season. We are taking precautions. I honestly am not worried, but it never hurts to be prepared."
White has stocked up on a few extra products "but how many is really enough?" she said. "I am just trusting that God will protect us, but I'm not worried."
Klump sees a lot of similarity between seasonal flu and COVID-19, "and a lot of trepidation and fear because of the public publicity involved."
But he is taking coronavirus seriously: He and his wife cancelled a trip they planned to take later this month to New Orleans.
"With that (COVID-19) in mind we didn't want to be in the crowds down there," Klump said. "But a few people in the grocery store, I don't see how you're going to avoid that kind of thing and I'm still going to church."
---
---
COLLECTION: Pantagraph coverage on the coronavirus
Contact Maria Nagle at (309) 820-3244. Follow her on Twitter: @Pg_Nagle
Concerned about COVID-19?
Sign up now to get the most recent coronavirus headlines and other important local and national news sent to your email inbox daily.