---
Our previous coverage ... 
---
BLOOMINGTON — State Farm's downtown building, its original headquarters, is moving toward its future as a high-rise, residential complex with more than 200 luxury loft apartments, fitness center, tenant lounges, communal space and ground-floor café.
The building has formally changed hands and now is owned by Rockford-based developer Urban Equity Properties, LLC, which intends to use it for the development, called Bloomington Lofts. The purchase and sale agreement, signed in September, formally closed Thursday afternoon, the insurer said in a statement issued Friday morning.
"The sale preserves the building for the community. It also ends the long-term financial obligations for maintenance and upkeep, and avoids demolition expenses for State Farm," the company said in its statement. "The sale of the property qualifies as tax exempt which allows UEP to focus investments on adapting the building to meet their needs and the needs of the community."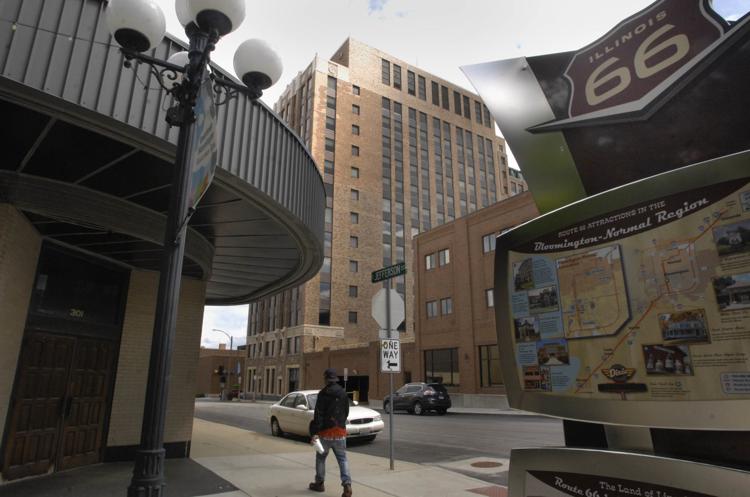 "Urban Equity Properties is excited about this project and the opportunity to be part of the great things happening in downtown Bloomington," Founding Principal Justin Fern said. "We knew the redevelopment would be a wonderful fit for us. When it looked like we could save the property, we contacted State Farm directly, and they have been terrific to work with." 
State Farm previously removed and preserved business items of historical significance from the building for future display at its corporate headquarters. 
Urban Equity spokesman Jim Hagerty said the sale had closed without any complications. "Everything is on track," he said.
That news was met with elation from downtown business owners and city officials.
"It's an excellent day for Bloomington-Normal," said Bloomington City Manager Tim Gleason. "Urban Equity's vision for the building as residential living is going to be huge for our hub, Bloomington's downtown."
You have free articles remaining.
"For the last few weeks people have been congratulating us on the sale. I said: 'No. We need to wait until it's signed, sealed and delivered.' It appears it is," said downtown business owner Vicki Tilton.
"First and foremost, it brings validation that we have a wonderful downtown and we've all worked hard to get it to that point," she added. "If it had sat empty or had been torn down, to me, it would have been a black mark against the downtown that was unfair and not justified. Yes, more people living downtown will make a huge difference. We've always said you have to have a mix of residential, businesses, food and entertainment to have a successful downtown. This will bring more to the residential side of that mix."
Tilton said she does not know what the status is for the parking lots linked to State Farm's downtown building, but she does not think parking will be an issue with the addition of at least 230 more people living downtown.
"I think that can all be worked out. People live in major metropolitan areas without a lot of parking next door or in front of their residences," said Tilton.
She thinks Urban Equity will not have any problem filling its apartments.
"I believe that you will see people really wanting to be in that building," said Tilton. "We have no problem keeping our nice loft apartments rented and filled in the Monroe Centre. Nearly all of the downtown quality residential space is kept full."
"I am absolutely thrilled that this happened," said Mayor Tari Renner. "Obviously, we expected this to happen given the events of recent weeks. This is a great day for downtown and our entire community because this is a shot in the arm and boost of confidence in downtown investors."
"It's what should have happened from the beginning," said Jamie Mathy, owner of Red Raccoon Games downtown and Ward 1 alderman. "There never should have been a doubt. There never should have been these baseless threats of demolition of the building. If the company (Urban Equity) is successful and they open up the extra 230 apartments, there is no way it wouldn't be good for downtown."
Renner said Urban Equity has not asked the city for any incentives to help pay renovation costs.
"We are certainly eager to help them with whatever changes they need in terms of (building) codes," said the mayor. "Whatever improvements they need to make, we want to make sure they happen as expeditiously as possible."
"What this means for Urban Equity Properties is we're going to be busier than we we currently are the next few years," Fern said. 
Fern said his company took possession of the building on Thursday.
"As far as the next step and when renovations will take place, we have about a solid six to nine months of pre-development, pre-construction work of putting together our financial stack with all of the funding tools that we use to make projects like this possible," said Fern. "We are going full steam ahead to hopefully be able to break ground on this by June or July of next year.
Because the property is a contributing building in a historic district, it is eligible for federal historic tax credits, which Urban Equity has said it plans to use in its financing.
As far as asking for incentives from the city, "at this time I can't even comment on that because we just purchased the building and we're not that far down the road yet," said Fern.