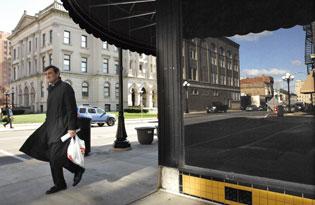 BLOOMINGTON - Downtown Bloomington patrons want more upscale restaurants, chain stores, non-college hangouts and retailers open after 5 p.m.
In a survey conducted by the Downtown Bloomington Association, respondents also said scarce parking, undesirable hours and a boozy nightlife deter them from shopping downtown.
The results didn't surprise many, but the association only collected responses from people who actually visit the city's center core.
Since the U.S. Cellular Coliseum and the Bloomington Center for the Performing Arts began drawing added foot traffic downtown, restaurateurs have lined up to locate nearby. Retailers, however, have seen minimal benefits and several have gone out of business in recent months.
Those closures led the association to conduct a survey to determine what daytime businesses could survive, flourish and draw traffic.
"There is going to be a balance here in first-floor occupancy of retail and entertainment. We have to find that balance and that's a challenge," said Greg Koos, executive director of the McLean County Museum of History and vice president of the Downtown Bloomington Association.
"Our concern is that if we get entertainment heavy, it will destabilize the downtown residential component," he said.
According to the survey, most people visit downtown for entertainment, whether it's eating, drinking or watching a game at the Coliseum. Banks and professional services are also a draw.
To expand that mix, survey respondents called for "affordable" boutique clothing, restaurants serving breakfast, furniture, department stores, doctors' offices, ice-cream shops and organic food stores.
Some of those services are already offered.
"We need to do a better job of marketing what we do have downtown to people who don't come to the area," said Peggy Flynn, the association's newly hired executive director. "People don't really know what downtown has to offer."
The rise in condominium space could create the need for other services as well, such as a larger grocery store that may attract residents from nearby neighborhoods like Dimmitt's Grove, Koos said.
Those condominiums, particularly the soon-to-open Ensenberger Building, could bring wealth that would attract retailers with name recognition, Koos said. Big boxes are out of the question, Koos said, but smaller stores like Pottery Barn or Crate and Barrel are not.
While those chains are welcome to help draw foot traffic to unique-to-the-area specialty shops, downtown should remain the "old roots area of the community," said architect Russel Francois, an association board member.
While retailers have closed, downtown remains a viable place for small business owners to set up shop, he added.
"People have been making money in downtown Bloomington since 1850 now," he said. "We just have to be patient."
The association sent surveys to 1,500 people belonging to e-mail lists of downtown groups and businesses.
Just 165 people responded, and all already visit downtown.
In the future, possibly next summer, the association wants to hire a professional marketing research firm to gauge the opinions of those who don't regularly patronize downtown Bloomington, Koos said.