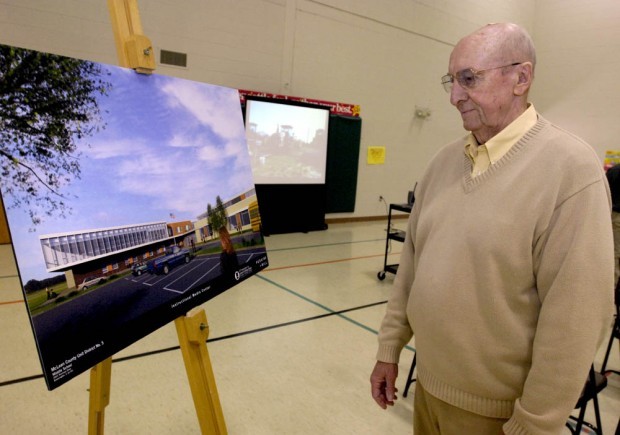 NORMAL -- Unit 5 students will have their feet on the floors and books on their desks at two new elementary schools this fall.
Little more than two years after voters in the Normal-based district approved a $96.7 million referendum, children will start classes in two of three new schools, despite weather-related construction delays.
Construction at Benjamin and Cedar Ridge elementary schools in Bloomington is expected to be complete later this spring and be ready for students in August.
George L. Evans Junior High School, also in Bloomington, will be delayed until fall 2011.
"It's a big deal for me to be around on the first day of school to see the looks on their faces. It makes all the hard work worthwhile," said Richard Ach, senior project manager with Chicago-based Turner Construction Co.
Ach's regular reports to the school district about its three new schools, the addition to Sugar Creek Elementary School, and renovations have contained both good and bad news.
Renovations to the existing schools have moved along well, with most work done last summer.
This summer, Brigham and Colene Hoose elementary schools will be the last of nine elementary schools getting new windows, carpeting, Smart boards and renovations, said Superintendent Gary Niehaus.
The schedule for the new schools wasn't as smooth for the renovations.
The district became dozens of days behind in new school construction because of rain delays.
Wind also slammed the construction trailer at George L. Evans Junior High School site on U.S. 150 in Bloomington, soil problems added complications, and a contract dispute delayed geo-thermal work. Earlier, a good start prompted the district to consider opening the school before 2011, the date state in the referendum, but the delays pushed the opening back.
On the other hand, the district got good news last spring that it was $13 million under budget for the referendum construction projections.
Much of the savings came from competitive bids during the recession and good timing in selling bonds.
"Yes the $13 million is real money," Niehaus reassured.
The board allocated a portion for upgrades to gym and hallway floors, better windows and the purchase of emergency generators.
Some board members said they would like to see the savings returned to taxpayers. But referendum funds legally can't be switched to other budget areas where there are deep shortfalls, so the board will discuss what to do with any additional money.
Meanwhile, the district, like others across Illinois, has struggled with missing and late state payments. The state owed the district more than $5.5 million in February.
Unit 5 also tackled $3.3 million in errors found by auditors in the 2008-2009 budget.
To correct this problem, primarily caused by overspending on salaries and benefits, the district is holding line on its spending this year and trimming costs in 2010-2011.
Martin Getty, the district's interim chief financial officer, estimates expenditures in the education fund will be $93.5 million this year, creating a deficit.
The fund, which pays salaries and benefits, is the school district's largest.
In order to balance the budget in 2010-2011, Unit 5 has proposed cutting $7.5 million from the education fund.
When budget reductions have to be made, jobs are in jeopardy. Last month, Niehaus estimated about 40 jobs could be lost -- including teachers, administrators, teaching assistants and secretaries -- in the upcoming school year.
In March, Unit 5 school board gave reduction in force notices to about 220 teachers and teaching assistants in the district, as a result of the statewide financial crisis. Some of those teachers and teaching assistants may be rehired later this year once the state budget and funding is more certain.