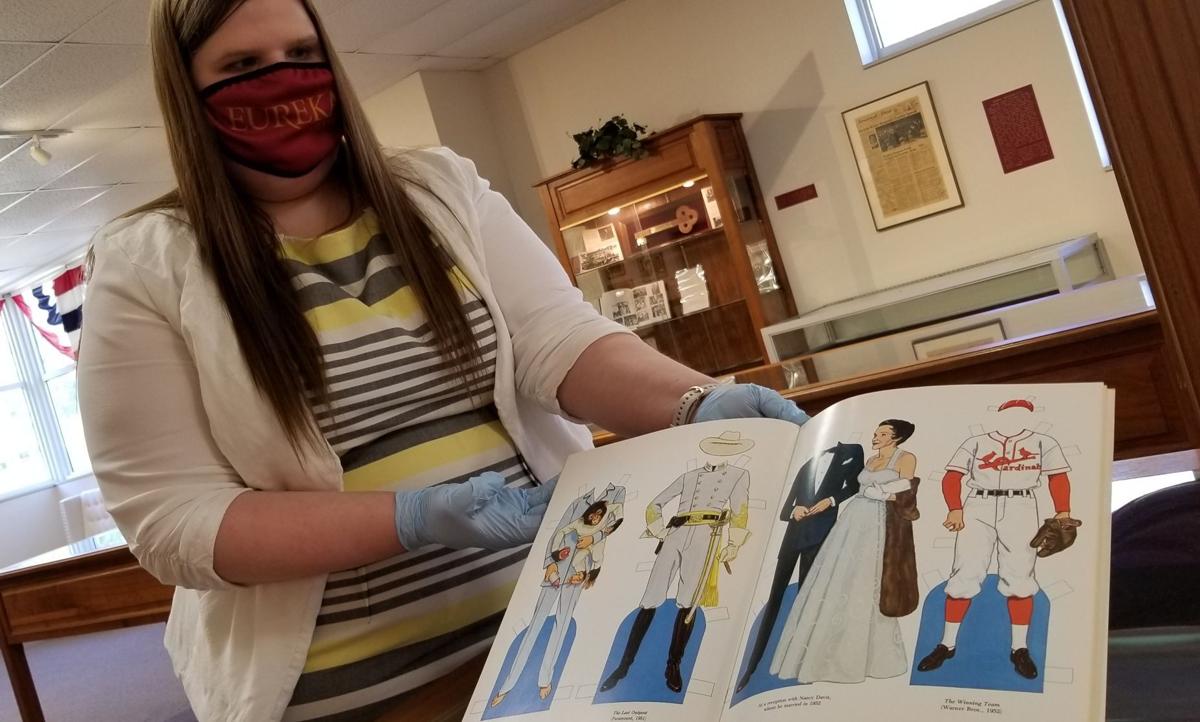 EUREKA – As President, Ronald Reagan was the leader of the free world. But, he was also a man with a self-deprecating sense of humor.
So what would he think of a new temporary exhibit at the museum that christens his name on the campus of his alma mater, Eureka College?
 "I think he'd get a good kick out of them. He would find them comical," said Cassandra Chapman, EC's museum curator and Reagan archivist.
 "I've seen different clips of him telling jokes about his own age," she said. "We do have a video that runs here in the museum that's called 'Stand Up Reagan' that has different little clips of him telling jokes. … He had a really great sense of humor."
There's a Reagan bobblehead by Royal Bobbles and a Funko-Pop collectible figurine from 2020. There are two books of paper dolls from 1983 — one featuring Reagan and the other focuses on First Lady Nancy Reagan.
The outfits included for the Reagan paper doll cover various aspects of his private and political life from Hollywood to the White House. Yes, there is a costume from "Bedtime for Bonzo."
The Nancy Reagan paper doll book contains 31 different ensembles, including gowns and suits by designers such as Bill Blass and James Galanos.
There's even a "talking" Reagan doll. Unfortunately, this particular version of the Great Communicator has lost his voice. Among the phrases, the doll said, according to the box, are "I have only one thing to say to the tax increasers: Go ahead, make my day" and "Mr. Gorbachev … tear down this wall."
According to Chapman, the most unusual item in the exhibit is an "inflatable house guest" resembling Reagan. She added she does not think that one is an authorized, licensed product.
Reagan graduated from EC in '32 and served as President from '81 to '89. The museum opened in '94.
 "What makes our collection so unique is we have the second largest collection, outside of the Presidential Library in Simi Valley, California, of items donated by President Reagan himself," said Chapman.
Reagan returned to his alma mater several times.
According to Chapman, another new exhibit is "dedicated to Reagan's continued connection to Eureka College and Eureka, Illinois," It includes a "Key to the City of Eureka" presented to Reagan in '67 when he gave a speech at the dedication of the Melick Library during his tenure as Governor of California.
Other items on display at the museum include the Golden Globe Award for Hollywood Citizenship presented to Reagan in '56, models of Air Force One as well as the USS Ronald Reagan aircraft carrier, portraits of Reagan and items from his collegiate, acting and political careers.
North of the Donald Cerf Center, which houses the museum, is the Reagan Peace Garden, which includes a bust of Reagan and a section of the Berlin Wall.
Access to the museum is by appointment only because of the COVID-19 pandemic. Visits of up to 30 people can be arranged by contacting Chapman at (309) 467-6475 or via e-mail, cchapman@eureka.edu.