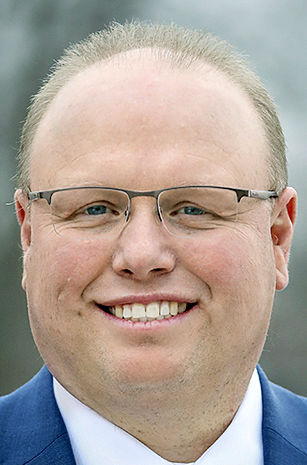 ROANOKE – While the National Basketball Association (NBA) all-star weekend and game will be held in the Windy City, another important event, which has area ties, will be taking place in Chicago as well. Country Financial will induct its 30th Hall of Fame Class. The ceremony will be held Friday evening downtown at the Millennium Knickerbocker Hotel. The five-member group will include local agent Mike Huschen, who was notified in early November.
"I knew it was happening," he admitted. "I knew it was my 20th qualification. We were very fortunate to have a successful year,"
To be eligible, an individual must have put in at least 20 years of service, earn at least 20 all-American distinctions or a minimum of 10 years as an agency manager along with 20 total qualifications.
Huschen joins his dad, Bob Huschen, as the only father-son tandem to be inducted into the HOF. Bob and Mike's mother, Betty, are scheduled to fly in from their winter residence in Fountain Hills, Ariz., 35 miles northeast of Phoenix, to attend. When the elder Huschen retired after 30 years of service in 1992, Mike, the youngest of the couple's three children and fresh out of college, replaced him.
His father passed on one simple message.
"If we take care of the customers and what's in their best interests, they'll take care of you. That's what we taught me," Mike Huschen recollected.
When asked what has been the biggest change since he started in the insurance industry, he was quick to answer.
You have free articles remaining.
"Moving into wealth management," responded Huschen, who attained that license in late January of '99. "Around 2000, we moved a significant amount of wealth management. I'm still learning as I go. It's very fluid. You're learning every day and the business is getting better and better."
The younger Huschen also broke down his clientele.
"Two-thirds is home and auto, one-third is agriculture," he specified. "We try to give everybody the same level of service with regards to what their needs are. Same level of care and service."
He added being enshrined into the HOF is the ultimate.
"This is as big as it gets," Huschen said. "The Hall of Fame is the pinnacle for us. The Hall of Fame is the pinnacle of my career. There's nothing more other than to continue to work hard and qualify for more all-Americans."
He expects to have this begin to sink a day from now.
"It probably will (Friday) in the evening when you're greeted by all the Hall of Famers and hug them and thank them for their help. Basically, it's a gauntlet," Huschen said. "My whole family will be there. It's going to be a lot of fun. There's going to be a lot of tears and a lot of smiles."
Notes: Bob Huschen was in the inaugural induction class in '91. The younger Huschen has also become part of the Million Dollar Round Table (MDRT), which honors top financial representatives from around the globe. He will attend a worldwide meeting over the summer in Los Angeles, Calif.