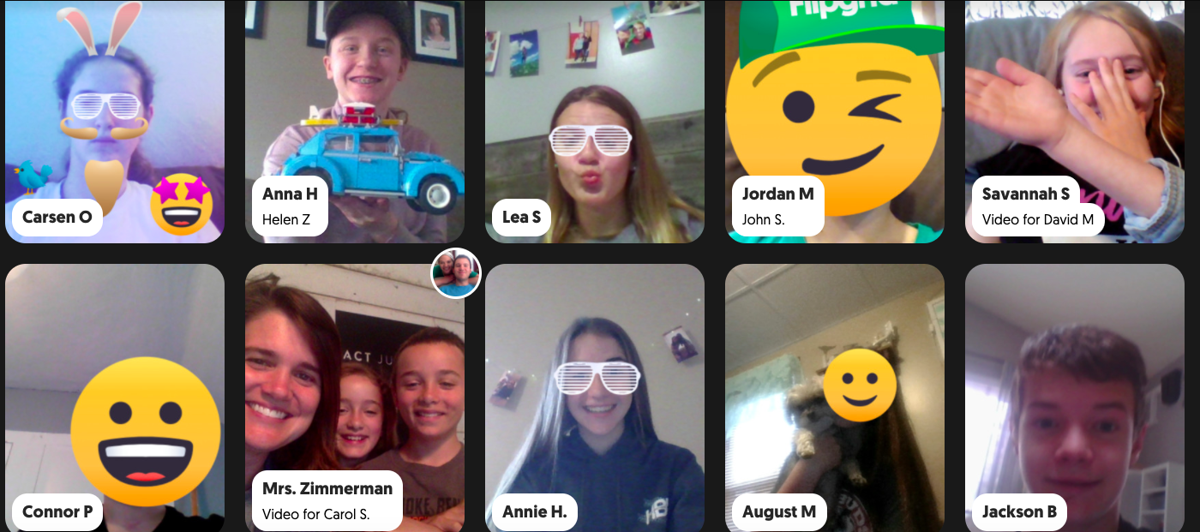 ROANOKE – Kyle Fellner knows a little bit about having a loved one in a nursing home, isolated from family and friends.
 "My grandmother was in the nursing home and passed away during this pandemic and we were not able to see her," said the Roanoke-Benson Junior High teacher.
He gets reminded of that when reading or watching news stories about how nursing home residents are relegated to visits through windows, telephone calls, and in some cases, video chats.
With the age of remote learning in progress and after talking it over with colleague Betsy Zimmerman, Fellner wondered if any of his students would be interested in making a video for the residents of the Apostolic Christian Home.
 "I was very encouraged because with e-learning, we have seen a lot of students participate, but it is a lot to ask of them to complete all of the activities throughout the day," he said. "This is something that is not graded and not required. I was optimistic that a lot of them would want to be involved, but was thrilled when pretty much every student signed up to create a video. It's been a blast watching them."
The students use an app called Flipgrid, an education-based system that educators use as a part of remote learning. Filters are available to encourage creativity.
 "They are great kids and they love doing it," commented Fellner.
Most of the videos are expected to be a minute or two, but can last up to five minutes and are still in production.
 "It's a great idea and the residents are going to love it," said Nate Hoffman, administrator at the AC Home. "We are all very excited to see them."
Of the 40 grade seven and 28 grade eight students, about 10 of them have a relative at the AC Home and will be making their videos for them.
The script is made up by the students. They introduce themselves and personalize the videos by using the name of the selected resident.
 "They let them know they are thinking of the resident and then a list of prompts or suggestions to choose from," Fellner said. "They can just talk, tell a story, talk about their summer plans or tell a joke. We have had some students read a scripture. Some talked a lot about what they are doing with their family. Another student read a poem and another girl basically gave a tour of her house."
Some details, such as when the videos will be uploaded, have not yet been decided.
 "I think that one thing that would be great would be if all of the residents could see all of the videos at one time in a group setting," Fellner said. "I am just so proud of the work they have done and it would be great if all of the residents could see them."
According to Hoffman, it is a great idea, but in a world of social distancing, may not be possible immediately.
 "We would love that, too," he said. "That is what makes this community so great. The residents have enjoyed notes and letters, window visits and people, such as the students, are stepping up to let them know that they are in their thoughts and prayers. They appreciate that."
Be the first to know
Get local news delivered to your inbox!