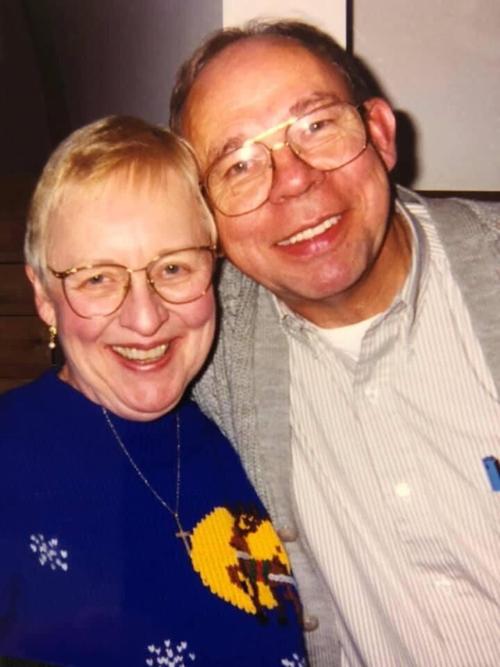 EUREKA – Mary Anita Logsdon, 83, died at 10:30 a.m., Monday, April 26, 2020, at her daughter's home in Star, Idaho.
She was born Sept. 21, 1937, in Olney, the daughter of William Bert and Fannie Josephine Oliver Michels. She married Dr. Loren Logsdon on June 7, 1959. He died Sept. 24, 2020.
Survivors include two daughters, Lori (Kevin) Bell, Canton and Beth (Mike) Peterson, Star; one son, Bruce (Tracy) Logsdon, Meridian, Idaho; eight grandchildren, Lindsay Perry, Kelsey Tanner, Rob Peterson, Kaitlyn Bell, Patrick Bell, Bryce Logsdon, Blake Logsdon and Dylan Logsdon and 12 great-grandchildren that include Gavin McFarland, Brooks McFarland, Will Tanner, Hugh Tanner, Clark Tanner, Ellie Peterson, Calvin Peterson and Margot Peterson.
She was preceded in death by her parents.
Mary grew up in Olney and attended the Cherry Street School and East Richland High School, where was active in the band, choir and won the Latin Award her senior year. She earned her nursing diploma from the Julia F. Burnham School of Nursing in Champaign in 1958, where she was number one in her class and was named "The Ideal Nurse." After several years of university nursing at Beu Health Center in Macomb, Mary entered school to become a nurse practitioner through the Board of Governor's program at Brigham Young University in Provo, Utah. Mary earned a bachelor's degree from Western Illinois University, Macomb, where she also received a master's degree in health. She worked a variety of nursing settings during her life. Mary was one of the first individuals to become a nurse practitioner. She worked in several hospitals and spent most of her career as a nurse practitioner and then served as nursing director at WIU's Beu Health Service. Mary also supported her family, as she worked as a nurse while her husband completed his doctorate at Ohio University, Athens. She was known for her kindness, warm outgoing personality and her love and enthusiasm for life. Mary was very generous with her time, resources and heart and loved to plan special events for friends and family. She was in numerous clubs and sororities in Eureka and enjoyed making and keeping friendships. The center of Mary's world was her husband, her sister, Carolyn Hilk, along with her children, grandchildren and great-grandchildren. She was active in the Eureka Christian Church, where she served as an elder for several years. Throughout her life, Mary enjoyed musicals and shared her enjoyment with her family. She had a very active career as a nurse and she loved learning new things. Mary loved to walk and was known by her friends "as a wonderful person one could tell anything to, knowing it would not be shared and she would not judge." The couple was very involved with activities at Eureka College during his tenure there and after his retirement. In 2010, they established the Loren and Mary Logsdon Endowed Scholarship for students who demonstrate financial need. They loved attending various events and supporting the college in numerous ways. The couple was also active in the ECC. Mary was a beloved wife, mother, grandmother, great-grandmother, nurse, sister and aunt. She missed her husband so much that she decided to join him for his birthday.
A private family service will be held Wednesday at 10 a.m. at the church with the Rev. Jennie Churchman officiating. It will be livestreamed on YouTube at www.eurekachristianchurch.org or at www.facebook.com/eurekacc/live. Burial will follow the service in Olio Township Cemetery, Eureka, where anyone is invited to attend and masks will be required. The family asks that individuals wear bright jeweled tone colors, which Mary loved, in her honor. Argo-Ruestman-Harris Funeral Home in Eureka is in charge of the arrangements.
Memorials may be made to the church, Eureka PEO Chapter IQ or spend the money on taking one's family or someone else to dinner, as that was one of Mary's favorite things to do.