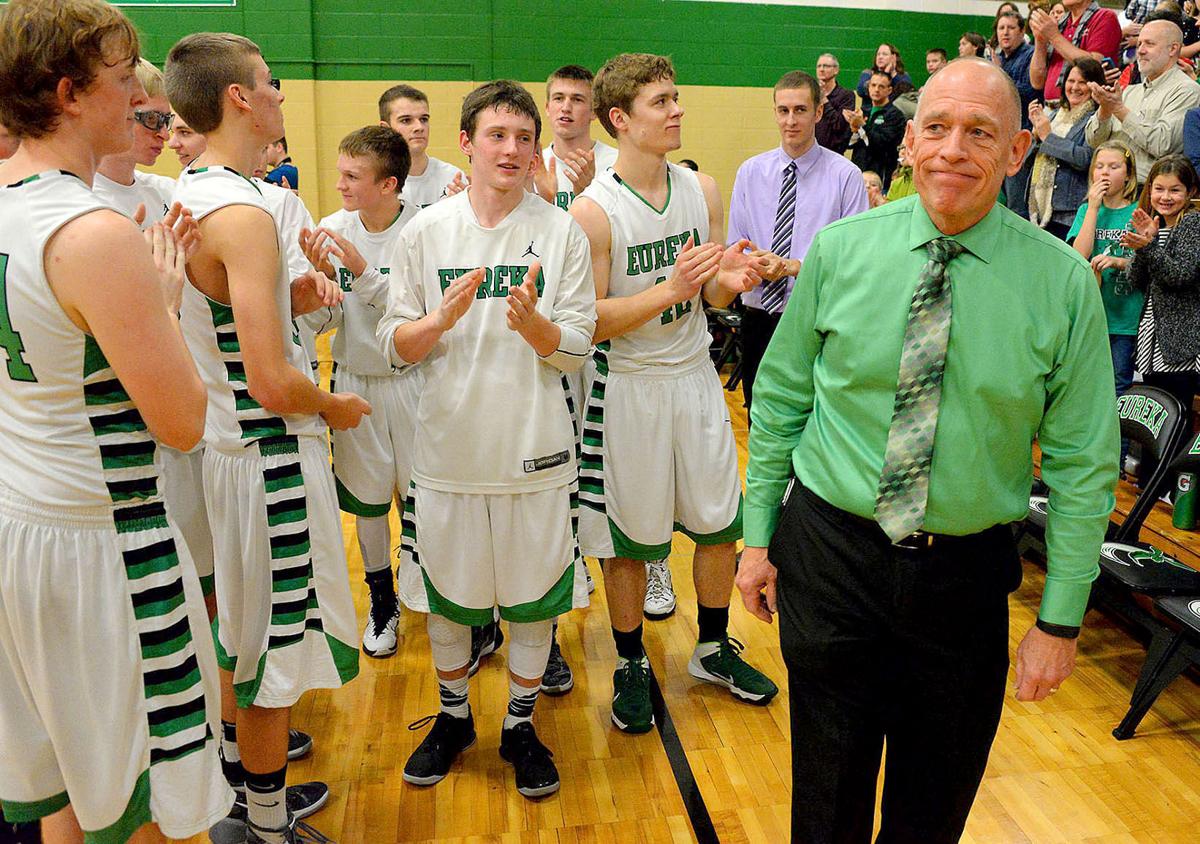 In theory, if somebody wanted to lump Tim Meiss into the same category as an Eddie Robinson, John Gagliardi or Mike Krzyzewski, it can be done. Both Robinson and Gagliardi spent a half-century on the football sidelines at the same institution. In Robinson's case, 54 years to be exact with Grambling State in Louisiana, a member of the Historically Black Coaches and Universities (HBCA). Gagliardi spent all of his seasons at Division III St. John's in Minnesota. Coach K, as he is widely known, just concluded his 41st season as men's basketball coach at Duke.
Meanwhile, much closer to home, Meiss recently decided to hang up the whistle and clipboard after a career that lasted 44 years and spanned six decades. He has spent 36 years, over half of his life, in the Woodford County seat of Eureka. He is familiar with small town America, as he was a multi-sport athlete at Heyworth. After graduation, Meiss studied to become a teacher/coach first at Western Illinois before he finished up at Illinois State. Some three and a half years after Meiss obtained his college diploma, he got his first job. In the late fall of 1977, he started at tiny Hartsburg-Emden. One of the players he coached was a 6-foot-1 forward (normally, that is not the ideal height for a post, but at a school with an enrollment in the 60s, the fixings are slim) named Bill Sampen. While he played hoops, Sampen's first love was baseball and eventually the right-handed pitcher reached the big leagues. Three seasons before the arrival of Meiss, the Stags won just three games. In year one under Meiss, that number rose to 15. In season two, the Stags got to a regional final before they bowed out to Central Catholic, who advanced to the Elite Eight. The following year, they won 17 games.
By '80, Meiss landed at Minonk-Dana-Rutland. In his one season with the Mohawks, he led them to a Woodford Co. tournament title, the program's first in over two decades. His next stop took him north to Yorkville. After a 16-win season, Meiss followed that up with 19 victories, the most the program posted in a dozen years.
After four years with the Foxes, Meiss decided to return close to his roots and ties to this area, as he took the vacant Eureka post in '85. What he inherited was a program in the midst of a downturn to the tune of eight consecutive below .500 seasons. The year before, they only won four games. The next season, Meiss directed the Hornets to 14 games in the victory column. The next year, it grew to 18.
As one can see, a pattern was forming at each of his stops. That was the rapid improvement in a short amount of time.
By the fourth season, Eureka won 21 games, the program's first time over 20 in almost 15 years. Meiss eched his place in school lore in '93-'94 as the Hornets won a program record 30 games and came within an eyelash of a small school state title. The point guard of that squad was his son, Nathaniel. In '99-'00, they posted a perfect 24-0 regular season. The lead guard was his other son, Zach, and his backcourt mate was a future World Series Most Valuable Player in Ben Zobrist. Unfortunately, one bad shooting game derailed them in a regional final, again at the hands of Central Catholic. Five years later, Eureka buzzed again to the Elite Eight, highlighted by an epic comeback in the sectional against Bureau Valley when they wiped out a 15-point deficit late in the third quarter, forced overtime and won. When future Bradley Brave Jordan Prosser came aboard, the Hornets won three straight regional championships in the late '00s and reached a sectional final once during that stretch.
If anybody knows Meiss, that individual is well aware of how important faith and family are. It's similar to the philosophy Vince Lombardi adopted during his tenure with the Green Bay Packers of faith, family and football. In Meiss' case, it would be faith, family and hoops. During a game, he was as mild-mannered and calm as they came, a stark contrast to modern times when a lot of coaches are ranting, raving or stomping his feet either at referees, players or even at opposing fans. The only time Meiss would leave the bench is to call out a play or signal for a timeout,
Although he's very soft-spoken, Meiss was always up front and honest during a postgame interview, He answered every question. Coach was honest and articulate, simple, straight forward and to the point. That's all a sportswriter wants.
In all, Meiss coached a total of 1,144 games on the high school level. He was gracious in victory and even more gracious after a setback.
His influence can still be felt within the family, as Nathaniel has been a head coach for 16 seasons, four at Lexington and the past 12 with El Paso-Gridley. Daughter Lena just wrapped up her second season as Eureka's volleyball coach. In terms of a successor, logic would dictate his son-in-law and Lena's husband, Aaron Dohner, would get the nod. He has coaching in his veins, as he is the son of a coach. This past truncated season, Dohner guided the junior varsity team to a perfect 13-0 record.
In closing, the two highest compliments anyone can bestow on Meiss is as good of a basketball coach as he was, he's a better husband, father and grandfather and the other would be any parent should be eternally thankful to have him as their son's coach and mentor, as that youngster would begin the small steps into adulthood and the outside world.