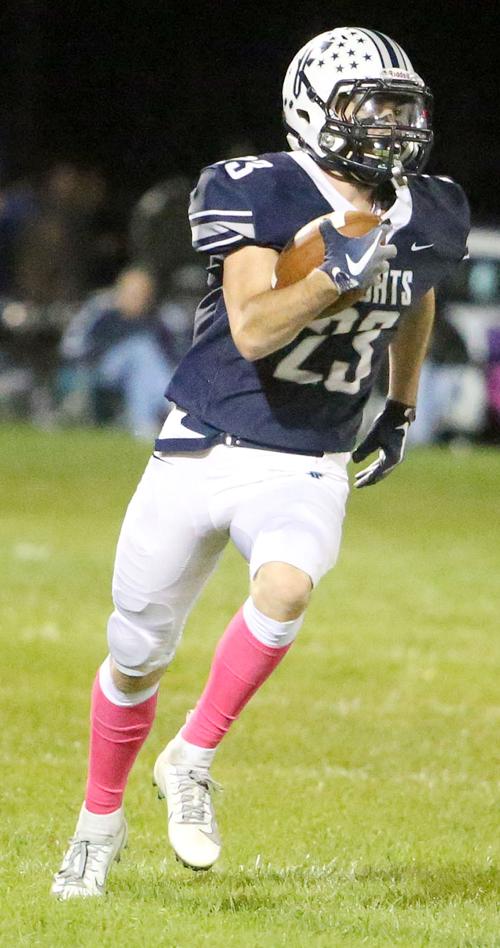 MINONK – Despite committing three turnovers and falling to record a first down on each of their initial two offensive possessions, the Fieldcrest football team still had more than enough ammunition against Heart of Illinois Conference large division and homecoming opponent Deer Creek-Mackinaw on Oct. 4. The Knights stayed unbeaten on the season with a 42-6 triumph to wrap up a third consecutive postseason appearance.
Fieldcrest (6-0, 3-0) got on the board on a 75-yard punt return from Jaxon Cusac-McKay midway through the first quarter. Jacob Joyal's point after made it 7-0.
"I felt like we were in a lull at the start," Knights' coach Derek Schneeman said. "We punted the first time we had the ball, which we had not done all year. For Jaxon and the special teams to come up with a score, that was huge."
Also playing huge was senior quarterback Matt Lorton, who threw for a career-high 348 yards. He completed 21 of 39 passes. Six different players had at least one reception, led by Cusac-McKay seven for 120 yards.
"I think that's what we're after," said Schneeman in terms of spreading the wealth. "We have a lot of guys who can do some damage. Against a cover zero, 5-2, we're confident we can get it to those guys."
You have free articles remaining.
Tisen Covington followed with six receptions for 84 yards, while Keegan Robbins had four for 70.
A 24-yarder from Lorton to Cusac-McKay with 28.9 seconds left in the first half, followed by Covington's catch from Lorton on the two-point conversion, put the hosts on top at 28-0.
The lone offense for the Chiefs (2-4, 1-2) was a 69-yard TD run from Karson Eccles (11 rushes, 99 yards) on the first play of the third quarter. They failed on the two-point conversion try.
The other 48 plays DCM ran resulted in just 58 yards.
"I'm a little discouraged we gave up that TD. We talked about not giving up any points," Schneeman admitted. "That's something we have to fix. Overall, our defense played great. They were lights out."
Kenton Castrejon recorded 16 carries for 81 yards and three scores. For the game, the hosts amassed 443 yards of total offense to 157 for the Chiefs.
When asked if he thought a 6-0 start was a possibility, Schneeman answered, "We had the potential to do that. The guys have played up to their potential. We're been getting better and better. I'd give us an A-, B+. We still have a lot work to do."