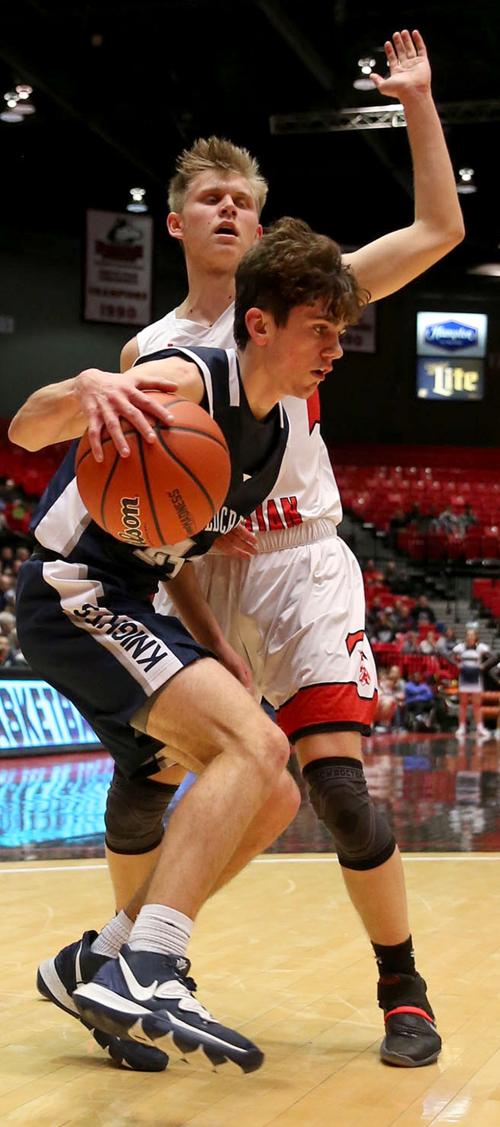 DEKALB – Fieldcrest never had an answer for Elmhurst Timothy Christian's relentless pursuit of attacking the basket in this past Tuesday's supersectional at Northern Illinois University's Convocation Center.
The majority of the Trojans' damage was done in the lane, which carried them to a 59-43 victory.
Starting a frontline of 6-foot-5, 6-4, 6-4, plus their opposition's tallest starter at 6-1, ETC (28-5) made a conscious effort of shooting in the three-second area.
"They had 36 points in the paint," noted Fieldcrest head coach Matt Winkler. "Very uncharacteristic of us. We did not want to give up that many down low. That could have been because we gambled too much."
The Knights (27-7) scored the game's first basket, courtesy of Jaxon Cusac-McKay, then went over six minutes of the opening period without one.
They also sustained a couple mini-droughts, as the Trojans opened an 18-8 advantage.
"That scoring drought in the first half really hurt us," Winkler commented. "They're zone is really good, Their long and lengthy. They're length gave us problems. They're zone shut us down completely. We could not get anything past them. We did not get any penetration or kick outs. They're defense is a lot better in person than on film."
ETC varied the zone between a 1-3-1 and 2-3 complete with trapping principles.
You have free articles remaining.
"We mix it up quite a bit," Trojans' head coach Scott Plaiser said, "As of late, we've played more man because we're scared of guys shooting the basketball."
Fieldcrest was within striking distance at 20-11 at intermission before ETC created separation and built the lead to as large as 19 at 36-17.
"We did not turn them over enough," said Winkler, whose team forced 10 turnovers. "We were not aggressive enough. We only had four fouls in the first half. We came out tentative in the third quarter.
"They got a lot of offensive rebounds (13) over the top of us. We have to get stronger and we will."
Fieldcrest cut the margin down to eight at 49-41 with two minutes and 15 seconds remaining on a traditional three-point play (basket plus free throw) by Andrew May.
ETC's response was a 10-0 spurt to bump the lead to 18 at 59-41.
Josh Harris (16 points) led the Trojans, while Ben VanderWal (12) and Matt Owens (10) also scored in double figures.
Cory Land had 16 points for the Knights, while Cusac-McKay followed with a dozen.
"They've could have quit, but they did not," said Winkler. "To our credit, we cut it to eight. They're the epitome of a team. If we could have gotten a couple of breaks, we could have gotten it down to six. It would have been a ballgame."
The result snapped Fieldcrest's 14-game win streak.
Be the first to know
Get local news delivered to your inbox!