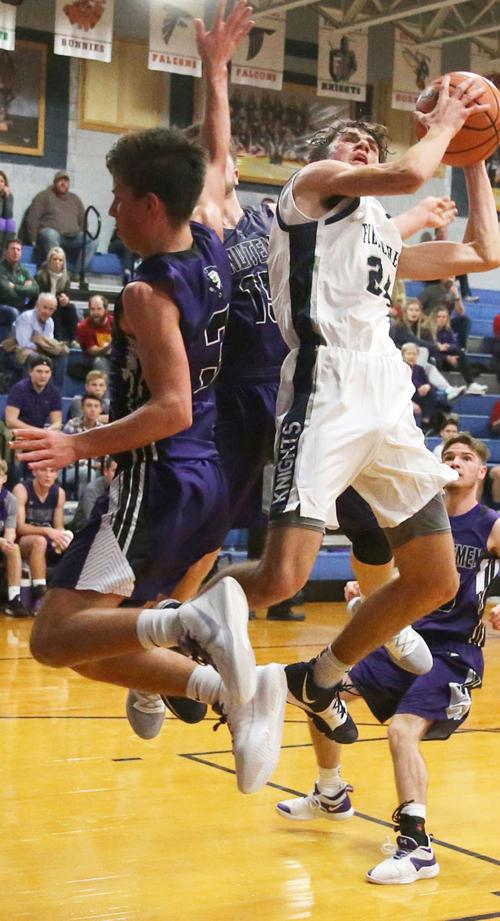 MINONK - Fieldcrest held Lexington without a field goal over the first 11-plus minutes on Tuesday evening in a 70-19 victory. The game was the season, home and Heart of Illinois Conference opener.
Bolstered by their defense, the Knights raced out to an 11-0 lead. They limited the Minutemen (2-2) to just six field goals and forced 20 turnovers.
You have free articles remaining.
 "Our defense was great," said Fieldcrest coach Matt Winkler. "I like that tempo. The big question mark is playing that good defense when the shot goes up, can we get that rebound? Our tallest player is 6-2."
Twelve of the 14 Knights' players who saw court time scored. Reserves Landon Cook, Henry Lorton and Noah Nordstrom each had nine points. Nine was also the point total for Lexington's Trevor Keagle, who made the Minutemen's initial basket with four minutes and 13 seconds left in the opening half.
Notes: Fieldcrest won the rebounding battle, 46-25. The Knights also had their first game of the 2013-14 season on Dec. 3, which resulted in a 53-47 road loss at the hands of Putnam Co. By virtue of Fieldcrest's lead of greater than 30 points, the fourth quarter was played under a running clock. Junior lead guard Jaxon Cusac-McKay (689) is 311 points shy of 1,000. He is on pace to get there sometime in February.
See article on Dec. 5 Woodford County Journal newsstands