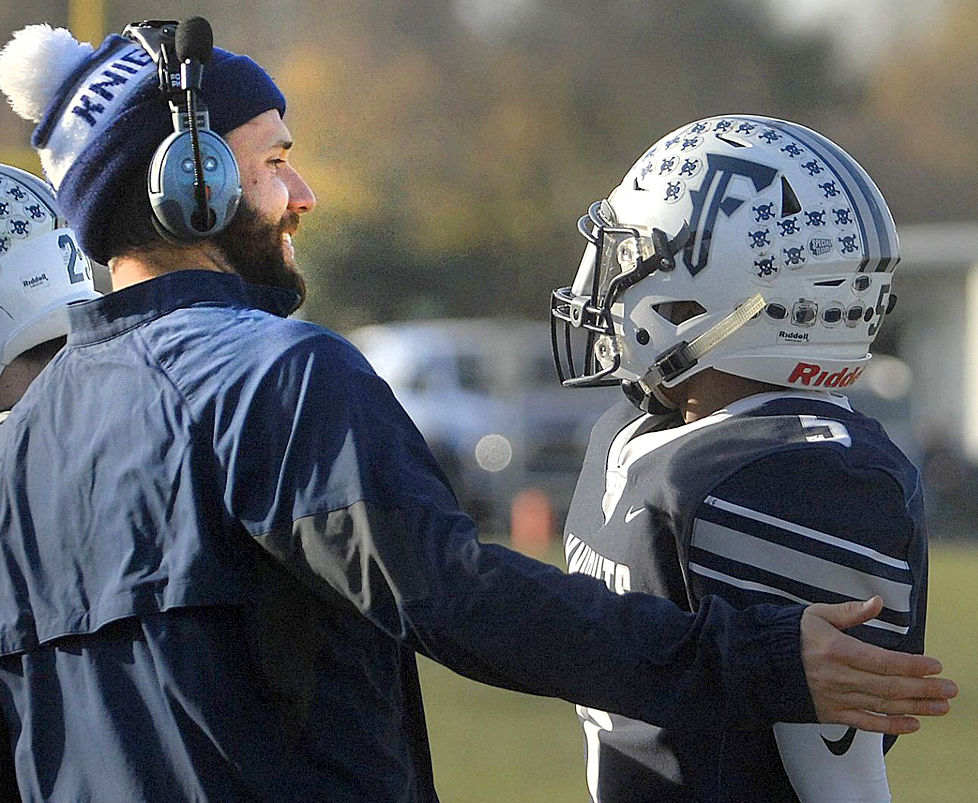 MINONK - Size took care of speed in the second round of the two A playoffs on Nov. 9, as Fieldcrest smashed Elgin St. Edward 35-14 at Veteran's Park. The Knights (11-0) used their girth to open up several running lanes, as they amassed 251 yards on the ground.
"They only dressed 22 or 23 players," pointed out Knights' head coach Derek Schneeman. "We had more depth. As the game went on, I thought our size and physicality would wear them down."
In the second quarter, Fieldcrest was kick started by a fake punt on a fourth down and eight from their own 24, as Cory Land ran for 11 yards and a first down. That kept the drive alive, which was finished off by a three-yard touchdown run from Kenton Castrejon for the game's first score. Jacob Joyal's point after gave the hosts a 7-0 lead with four minutes and 11 seconds left in the opening half.
That was the first of three TDs on the day for Castrejon, who gained 97 yards on 16 carries. The three scores gives him 24 on the season.
"I'm pretty pumped up whether I get in or someone else does," commented Castrejon. "Our (offensive) line is so crazy. When we score, the team's all fired up. It's a good feeling."
His second TD from two yards out and Joyal's kick upped the Fieldcrest lead to 14-0 late in the first half.
The Knights got the ball to start the second half and upped their advantage to 21 on a Jaxon Cusac-McKay two-yard TD run.
You have free articles remaining.
Fifty of Joe Sacco's 127 yards came on a third quarter carry to get the Green Wave (7-4) on the board.
Fieldcrest responded on one play, a 58-yard gallop to paydirt by Tisen Covington to boost the hosts' lead back up to three scores at 28-6.
"There were two critical times we scored," Schneeman said. "One was right before the half and the other was Tisen Covington's score. They (ESE) had the momentum. We were able to get the momentum back both times."
The Knights forced two Green Wave turnovers, both of which were interceptions thrown by quarterback Anthony Holte. Land had one and Keegan Robbins the other. Fieldcrest now has 28 takeaways and a plus-16 turnover margin.
"The key was getting pressure on him (Holte)," said Schneeman. "We wanted to make him feel uncomfortable. I thought our d-(defensive) line forced him off his spot."
Cusac-McKay added 71 yards on 15 carries. On the day, Fieldcrest averaged nearly six yards per attempt.
According to Schneeman, the Knights were going to ride their line throughout the duration of the contest.
"We knew they would not be big upfront," he explained. "We were hoping our size advantage would take over, we could establish the run and feed Kenton and Jaxon."
Parker Ruestman recorded 10 tackles, while Mason Faulk was next with seven.