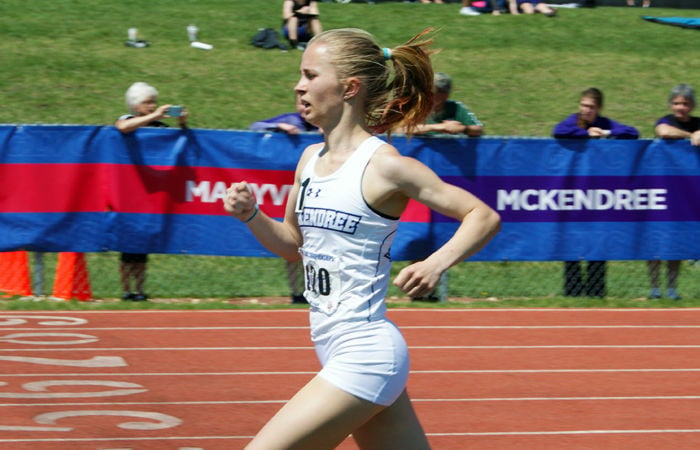 EUREKA – Several forces in the universe had to conspire before Quincy McSweeney's father, Jeff, could put the obvious into words.
"As terrible as it sounds," the elder McSweeney told his daughter, the Eureka track product, "the pandemic might be right for you. It's exactly what you needed."
To unravel the logic behind that statement, one must go back to March 8, 2019, when McSweeney ran her final indoor race for Lebanon-based McKendree University with a plan to return the following spring to use her final season of outdoor eligibility.
That extra year of training was supposed to allow the five-time Division II All-American (outdoor and indoor combined) to break through to new levels of excellence in the 800- and 1,500-meter events, as well as the four-by-four relay.
Of course, that plan disappeared when the coronavirus pandemic ended McSweeney's swan song before it began.
"I really was (crushed)," she said. "You work so hard for so many months and you have this plan in your head."
McSweeney's plan to graduate later this month with a degree to teach high school science is still a go, but her remaining year of outdoor eligibility did not go unnoticed in the track coaching world.
"I did not think anybody would be looking ... for me especially," said McSweeney.
Someone did, as she has decided to spend her final season as a graduate transfer next year at D-II Northwest Missouri State in Maryville, approximately 90 miles north of Kansas City.
"The coach (Brandon Masters) is someone I think I can put a lot of trust into. The conversations that he and I have had have helped me put a lot of faith in his training and how he would handle someone trying to go to the next level," she commented.
Specifically, McSweeney wants an 800 time faster than her McKendree record of two minutes six point 17 seconds. She likes the fact Masters mentored '19 D-II national champion Skylyn Webb to a career best of 2:02.47.
McSweeney's nine program records at McKendree in individual events and relays include a 4:31.8 in the outdoor 1,500 and a 4:57.5 in the indoor mile. This spring, she was hoping to make a seventh trip to the D-II national meet.
"I was actually on spring break when everything started (to close)," said McSweeney, who learned about the cancellation of spring sports after a 12-mile hike in the Great Smoky Mountains of eastern Tennessee. "We had a hill workout that morning. From that morning to 7 p.m., everything was the opposite of what it had been."
After college seniors in spring sports received another year of eligibility, McSweeney's decision to leave McKendree was made easier by the fact the coach who had recruited her, Michael Mendez, had stepped down in May of '19.
"Anybody who can get a girl from 2:20 her senior year (in high school) to 2:08 the next spring is going to have my complete trust," said McSweeney, who actually sped 2:08.65 her first year of college after topping out at 2:18.10 as a high schooler.
An eight-time state track medalist on the prep level, McSweeney credited Eureka head coach Brandon Heider, an assistant when she was there, for putting her in position to shine.
"I honestly cannot be more thankful for what he set me up for," said McSweeney of the meticulous Heider. "He has spreadsheets of every workout he's ever coached."
During the pandemic, McSweeney has followed Masters' workouts.
"It's been a lot more sprint stuff, which is fun," she said. "It's been a lot more goal-oriented, which is always how I do best."
Relays, in particular, bring out McSweeney's best. She's run low-55-second splits in the four-by-four. Her relay partners from the '18 fourth-place national meet unit, who helped clock a school record 3:40.18, hold a special place in her heart.
"I might start tearing up," said McSweeney, as she discussed Tsitsi Mahachi, Kaylee Fann and Jordyn Looman. "I've never experienced teammates and motivation that way and I've always considered myself a very motivated person. Just to see people join that mindset and decide they want to join a cause, they want to fight for you and you want to fight for them, it's intense.
"We broke the (program) record a few times. It did not matter what order we were in. It did not matter who we were running against. It was always 'do it for each other and do the best that you could possibly do.'"
McSweeney, who also ran cross country at McKendree, has long had one foot in the world of sprinters and the other among distance runners.
"If you do long runs and get through workouts and you are miserable together, it's a different kind of bond," said McSweeney, who is amused that the only two Great Lakes Valley Conference gold medals she ever won came in the 1,500.
But, those glory days at McKendree are now gone.
"I'm just ready to get going on this next step," McSweeney said. "It's just been a great, motivating few weeks just to realize there is a light at the end of the tunnel and you've got to have something to look forward to."
It's what McSweeney needed and a pandemic made possible.
Be the first to know
Get local news delivered to your inbox!