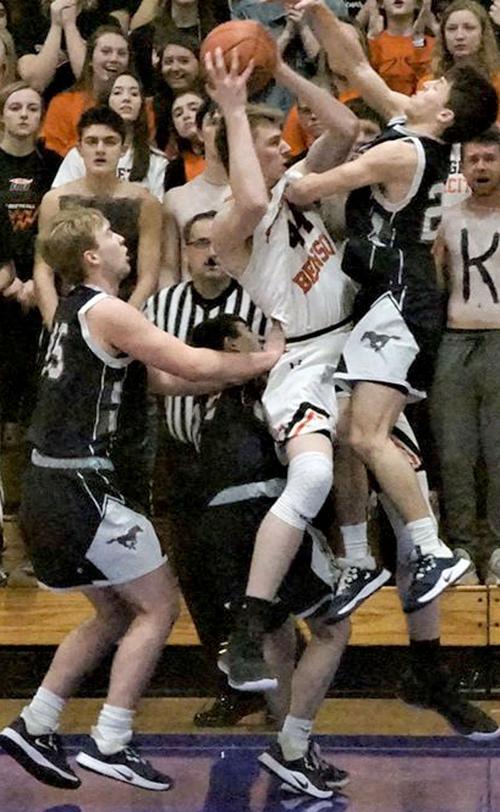 Victories over Ridgeview and Chicago Fenger have advanced Roanoke-Benson to the Final Four. They defeated Ridgeview 38-32 in the March 6 Danville Schlarman Sectional and Chicago Fenger 45-43 this past Tuesday in the Normal Supersectional at Redbird Arena on the Illinois State University campus.
Victories over Ridgeview and Chicago Fenger have advanced Roanoke-Benson to the Final Four. They defeated Ridgeview 38-32 in Friday's Danville Schlarman Sectional and Chicago Fenger 45-43 in Tuesday's Normal Supersectional at Redbird Arena on the Illinois State University campus.
Arguably, the game's biggest shot came from R-B sophomore guard Joel Weber, who drained a three-pointer from the right corner, to give the Rockets (36-1) a 30-27 lead.
"The three by Joel Weber was a huge shot that we needed to get a little bit of relief," R-B coach Abe Zeller said. "We found ways to score."
A Luke Braman bucket increase the lead to five before a three from Ridgeview's Levi Zimmerman pulled the Mustangs (25-10) to within 32-30.
They had a chance to tie, but Reece Ramirez missed a short shot in traffic underneath the hoop.
"We had a couple opportunities, a couple of good looks," commented Ridgeview coach Rodney Kellar. "It seemed like we were battling uphill all night, but the kids stayed with it."
The Mustangs made it 34-32 before another Braman field goal off a Jack Weber assist made it 36-32 before the younger Weber canned two free throws to increase the margin to six.
R-B had a little difficulty against Ridgeview's halfcourt trap, a staple under Kellar.
"I just think in this situation that happens sometimes with the pressure in this kind of game and this time of year," pointed out Zeller. "Some of it might have been what we were not doing.
"It's hard. When you watch Division I teams, they sometimes struggle. It looks easy from the sideline, but it's not."
Braman led all scorers with 13 points, while Jack Weber added 10. R-B shot 38 percent from the floor (15 of 39).
Zimmerman (10 points) was the only Ridgeview player to crack double figures. They were 12 of 40 from the field for 30 percent.
You have free articles remaining.
"Every possession is worth its weight in gold," Kellar explained. "I thought we played possession by possession pretty well and executed. They just had a couple more baskets than us. That's a great team. For (R-B) to pressure through the season they've had with everybody gunning for you, they represented themselves and their conference (Tri-County) really well."
In the first meeting between the teams on Feb. 4, the Rockets were down 32-29 in the final period before they went on a 15-4 run to prevail 44-36.
According to Zeller, he had a fairly good idea they would meet up with Ridgeview again.
"I knew there was a chance for that," he commented. "When I was scouting them Wednesday night, I was rooting for Salt Fork because I thought that would be an easier matchup for us than Ridgeview. Rodney is a Hall of Fame coach. His assistant, Jake (Kennedy) is one of the top assistants around and he had success at Le Roy. I knew they would be ready."
Down 43-42, the Rockets had possession of the ball when Jack Weber to work. He was fouled on a field goal attempt, which went in. The left-hander added the free throw for a 45-43 lead with seven point four seconds to go. That was three of the lead guard's 17 points.
"He (Trent Weldon) tipped it to me and I knew I had to get downhill and find someone open. Luckily, I was the one who was open and shot it," Weber said. "It was kind of hectic. Everyone was trying to get the ball. Once I got the ball, the lane just opened up."
The Titans (20-15) had one last chance. A driving Isiah Hall shot into traffic was off the mark. The 6-foot-8 Braman got a hand on the rebound and the clock ran out.
CF watched Braman compile 13 points and nine rebounds in the first half and paid additional attention to him after halftime.
 "They just pushed me and doubled me. They were not doing that the first half," said Braman. "They made it harder to pass me the ball and for me to catch the ball."
Braman still finished with 15 points, 13 rebounds and five blocks.
"We tried, but he's a helluva player. He's a load to handle on the blocks," Fenger coach Stephan Collum said. "He does a good job not overextending his arms to cause fouls on himself. He keeps himself in the ballgame that way by just going vertical on his block attempts."
Titans' leading scorer Donovan Taylor was held well below his 19.5 scoring average with seven points before he fouled out with 90 seconds to play.
"Defensively, to hold Fenger to 43 points on this court, we knew we would have to get back in transition. We knew we would have to protect the paint," Zeller said. "We did enough. We got it done."
CF led 35-31 early in the final quarter. Joel Weber converted two straight drives into buckets and hit two free throws at the 5:27 mark for a 37-35 Rockets' edge.
Zeller pointed to "taking care of the ball" as a key. They committed just 10 turnovers against the pressure defense of Fenger.
Be the first to know
Get local news delivered to your inbox!