BLOOMINGTON — Bloomington Mayor Tari Renner admits to not being much of an artist, but, he says, he does know a piece of good art when he sees it.
On Sunday, Renner was particularly impressed with Bloomington's newest piece of public art, the Youth Mural Project at the intersection of West Market Street and Morris Avenue.
"If you gave me a week to do a project, it would not look good at all," he said in front of a crowd of about 200 people at the unveiling of the mural. "But I think this is terrific."
The project was completed last week by a group of 20 local youths who envisioned, designed and painted the mural under the direction of Joel Bergner of New York, the co-founder of Artolution. The Bloomington-Normal native travels internationally, creating public art with youths in diverse and unique communities.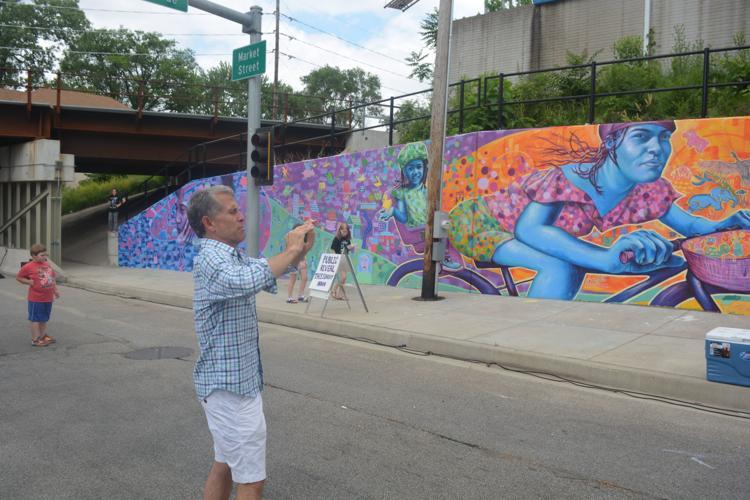 "I am so proud of our youth and so proud of our community," Renner added.
The youths who worked on the project were selected from 51 applicants, and all attend area junior or senior high schools, except two who are home-schooled.
"This really reflects well on Bloomington-Normal because these kids are the future of this community," Bergner said. "I grew up here, so it is really special to come back here and participate with this."
"Art is very important and we have a great community here," said Rishith Talagadadeevi, a Bloomington High School student. "I made that as a tribute to the former mural that was here so that it will never be forgotten."
"My favorite part of this week was just meeting everyone and working on the mural," said Bloomington Junior High School student Ryder Elliott.
Among those who attended the unveiling were parents of the participants, including Laurie Bergner, Joel Bergner's mother. Her likeness can be found in the mural on the western edge.
"I am so proud, so very proud," she said. "It's a special day because it's here in Bloomington and yes, I am a very proud parent today."
The ceremony featured a dance performance from BCAI-Breaking Chains & Advancing Increase School of Arts.
"This mural is much more than just paint on a wall," said BCAI founder Angelique Racki. "It is an inspiration and shows you what our youth can accomplish."
The collaboration was a joint venture between Illinois State University's Illinois Art Station, Artolution and the city of Bloomington.
"It is beautiful," said Bloomington resident Carla Chandler. "Knowing that this was done by students here in town makes it mean something. It is an amazing piece of work and I am very impressed."
Also impressed was nearby resident Charlie Happ.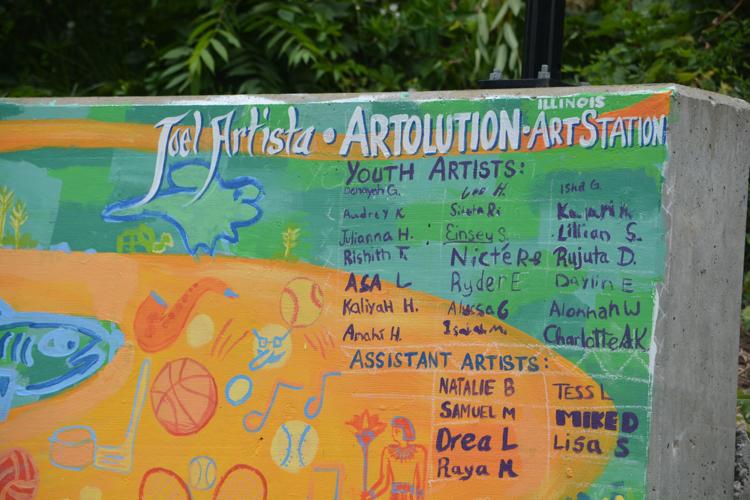 "I know these kids did a lot of work and because this area of town is so busy, it is going to get recognized and it should," he said.
The artist's names are written on the top portion on the east edge of the wall.
"That's what is cool," said Lakeisha Wilson, also a nearby resident. "You know that someone in that group of 20 students is going to be famous some day and they are going to credit working on this project, right here. We have some special things going on in this town and this is a day to show that off."