BLOOMINGTON — Several fights broke out on the Eckley Quad at Illinois Wesleyan University on Thursday and people were writing all over the sidewalks, but don't worry, it was all part of a plan from the arts corner of campus.
"We're calling it the College of Fine Arts campus takeover," said one of the organizers, Julie Johnson, interim director and associate professor in the School of Art.
Arts Slam featured faculty and students from the School of Art, School of Music and School of Theater hosting a series of events Wednesday through Friday.
"Some of them are planned events and some of them are pop-up events to bring arts to public spaces on campus," said Johnson. "We wanted pop-up things that are crazy fun."
So that's why theater students in the "Sticks and Stones" class staged sword fights on the quad. It's also why an improv group performed in the cafeteria and an a capella group sang in the Center for Natural Science.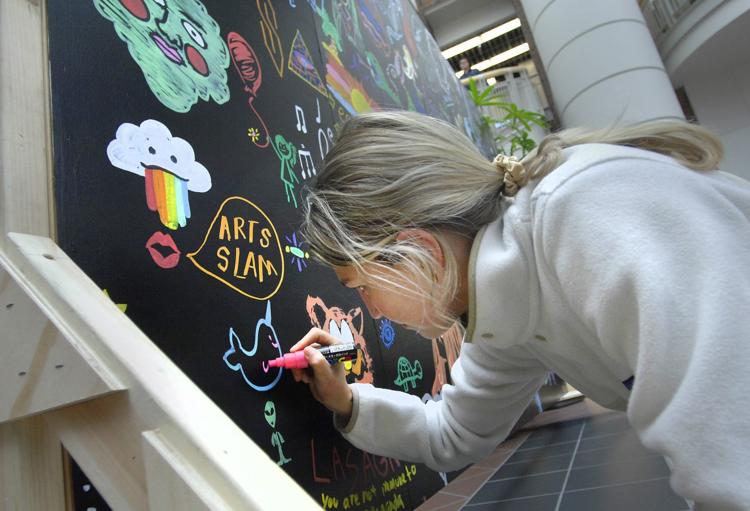 There were dance classes, piano performances and an architectural tour, among other things.
"The idea is to bring them outside of their normal home," said Nancy Loitz, professor of theater, as she picked up chalk on the quad at the end of the day. "Some things normally done in the classroom will be done out here."
Travis Ulrich, a junior in music theater from Milwaukee, Wis., was among several students who delivered singing "telegrams" during the Arts Slam.
He walked into a classroom, said hello, dropped to one knee and sang a Michael Bolton song.
Catching people by surprise was part of the fun, said Ulrich.
"It's kind of like a solo flash mob because they're unsuspecting," he said.
Students — and other passersby — were encouraged to express their inner artists with boxes of chalk set out around the quad and fluorescent markers accompanying a black-surface, rolling mural that moved from location to location.
The cold, windy and sometimes rainy weather of the last few days posed a few challenges for some of the planned outdoor events. It's hard to have a painting class where the wind is gusting to 30 mph.
But there were plenty of indoor activities and others, like the stage combat class, still braved the elements.
Junior Jim Conklin, a music theater major from Baton Rouge, La., was among those taking part in the sword fights.
Conklin explained, "We've been taught a fight we each have to memorize and put into the scene, putting our own spin on it."
"And nothing does that like fighting each other with swords," added Ulrich, before taking on Conklin in a battle.
Johnson said the idea came from something similar she saw at another campus. The goal was to let people on campus know what's available and maybe get them to take a fine arts class or two.
Conklin said staging sword fights and other arts events beyond the classroom and on the quad was a good way to attract attention.
"We've never really done anything like this before," said Conklin. "It's hard to ignore it."