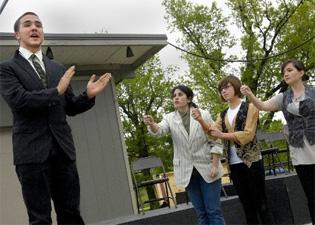 BLOOMINGTON - "The Laramie Project," a dramatic reflection on the 1998 slaying of gay college student Matthew Shepard, ranks as one of the more sobering theater works of the past decade.
Because of that status, Moises Kaufman's script might seem too fraught with demands for a production starring high school and middle school students, some as young as 12 and none older than 16.
"Might" is the operative word.
Jeff Schwartz, director of the McLean County Diversity Project, says he's observed something more than demands being sidestepped.
He says he's watched a "talented and dedicated" group of McLean County students immerse themselves in Kaufman's text and "work their hearts out."
Produced by Schwartz for the McLean County Diversity Project, the results of that talent and dedication will be on public display at 7 p.m. Friday in the Bloomington Center for the Performing Arts.
In the works for the past 18 months, the production features a cast of 17 playing more than 80 different characters. The students have also handled set design and construction and other behind-the-scenes chores.
They hail from Normal Community High School, Normal Community West, Bloomington High School, University High School, Kingsley Junior High, Tri-Valley Middle and High School, Metcalf School and Chiddix Junior High.
"It's just a huge undertaking," he says of the production, being directed by Tricia Stiller and Troy Clark, both veterans of the local theater scene.
"But it's been such a neat thing to look at how it's been enriching the kids, some of whom have never even performed before."
Although some of the more extreme language has been edited, Schwartz says the expressions of attitudes about hate and homosexuality remain intact.
Schwartz is the former Downs mayor who founded the McLean County Diversity Project seven years ago as a way "to educate residents on the value of diversity within a community."
"The Laramie Project," he says, offers an ideal vehicle for that mission.
The play derives from a series of interviews with Laramie citizens undertaken by Kaufman and his fellow members of the Tectonic Theatre Project.
They were asked to offer their thoughts on the October 1998 murder of the 21-year-old Shepard, who was beaten and left tied to a fence to die because of his sexuality.
Characters deliver their uncensored thoughts verbatim from the interviews, and each actor is entrusted with as many as four or five roles.
Rather than "The Laramie Project" being too mature a project for 12-to-16-year-olds, Schwartz says it connects directly to something "that is a huge issue with the kids - discrimination and acceptance. It is also an issue that is alive and well and in their schools."
He adds, "The defining moment for me has been seeing these kids evolve from 17 actors coming and being built into a team and production company, and then growing together."
The end goal of that evolution, for both participants and the audience who will come to watch their efforts bear fruit, Schwartz says: "To foster a rational acceptance of the differences that reside in us all."
---
At a glance
What: "The Laramie Project"
Where: Bloomington Center for the Performing Arts, 600 N. East St., Bloomington
Tickets: Adults, $7; seniors and high school age and younger, $5
Box office number: (866) 686-9541
Cast: Ali Drumm, Cady Williason, Dana Anderson, Emma Blyth, Gaby Mangialardi, Jake Thaker, Jessi Whitman, Jessica Tung, Jordan Sigunick, Karthik Patil, Keaton Richard, Sage McCracken, Shreyas Suresh, Taylor Walters Chapman, Troy Clark, Whitney Pledger