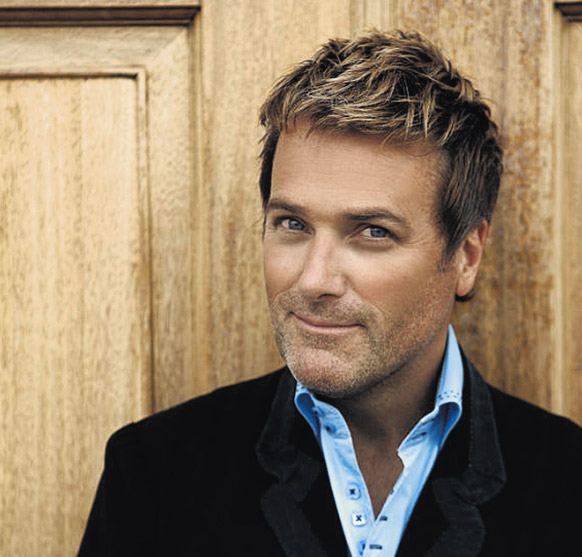 At 52, Michael W. Smith may seem a bit young in the tooth to be looked upon as The Old Man of contemporary Christian music. But the facts bear this view out. Sort of.
The one-time People magazine Most Beautiful People candidate is a longtime father of five, with the youngest 17 and two already married.
And, per the latter development, he recently entered the ranks of grandparenthood.
Though a very boyish-looking grand-pap, there's no turning back now, with his entire brood -- two sons and three daughters -- entering their own parenting years.
"It is weird, yeah, a little surreal," he reflects just hours away from the opening night of his "New Hallelujah World Tour," which will work its way cross-country for a Nov. 6 stopover at Bloomington's U.S. Cellular Coliseum. "I don't picture myself that way."
But the three artists joining him on the tour are all relative young-'uns: singer Matt Maher, 34; "American Idol" alum Phil Stacey, 31; and singer Meredith Andrews, in her 20s.
And they've all been pumping him for advice and guidance on how to handle their careers.
And Smith has accepted his role as the tour's designated Yoda.
"They're younger, yeah, which I love, and I'm really looking forward to working with all three of them," Smith notes, adding that, as "big 'American Idol' fans," he and his wife Debbie "were rooting Phil on. They're all just great people, and I'm really glad to have 'em along."
Laughing, Smith says, "I have to say, with all humility, that they think they've gone to heaven getting to work with me."
Under the somewhat holier-than-the-average-concert circumstances (both Maher and Andrews are also worship leaders, Smith himself was the lead pastor of his own church), the comment has a bit more subtext than it ordinarily might.
Whatever, "I've never honestly thought I was blazing any trails. Back in the '80s, Amy (Grant) and I were just doing what we loved to. We didn't realize we were making some sort of mark. They were just great times ..."
Even so, Smith has donned his "Old Man" cap and doled out sage advice along the way. It runs to the likes of: "Just keep it real, be yourself and surround yourself with great people. It's a crazy world out there, and if you don't have parameters, this business can eat you for lunch, especially with all the temptations and ... well, the list goes on and on, especially for those who have families."
Trust him, Smith says: He's personally stared down each and every one of those temptations and other list items over the course of his career, the official "star" phase of which dates to 1983.
Things began well early on, then turned bumpy in young manhood.
Smith became a committed Christian at age 10 following an "intense spiritual experience," then strayed after leaving for college, where he detoured into a serious bout of alcohol and drug abuse. This dark stretch climaxed in a 1979 breakdown.
A recommitment to his Christian ideals followed, leading to a career in music that began on the sidelines, as a songwriter and keyboardist for others. He moved center-stage after a successful association with Christian pop queen Amy Grant -- first as piano player on her 1982 tour, followed by a promotion into the tour's official opening act.
The following year produced his debut solo outing, "The Michael W. Smith Project," followed by the success of 1984's rock-leaning "The Big Picture." From those beginnings blossomed a career that, like that of Grant, has wavered between the sacred and secular.
Though most of his 29 No. 1 hits have occurred on the Christian charts, several Smith songs crossed over into major mainstream pop hits, including 1990's "Place In This World" and 1992's "I Will Be Here For You."
A testament to the depth of Smith's commitment to the contemporary Christian field can be discerned down on the Dove Awards front: a whopping 34 of Christian music's Grammys weigh down Smith's trophy case.
He chalks up his success at avoiding the pitfalls of fame and fortune to that long-running family life that dominates his conversation.
"It boils down to the fact that I have a good wife who I love very much," he says.
And when Smith first became a father, he laid down an edict he says he "more or less" stayed true to all through his parenting years.
"I made a rule that I would never be gone for more than two weeks at a time" -- bold words, indeed, when many is the concert tour that can be out on the road for a month or more at a time.
Now that he's entered into that aforementioned "old man" phase, the edict hatched in the '80s has been in for some good-natured ribbing, he says.
"The kids are grown and they've sort of gotten their own lives, and, even though we're a very, very close family, they kind of laugh at me now when I jump on a plane to come home," he says.
"Now, I'm hearing things like, 'Dad, we're OK. Really.'"
What: Michael W. Smith, with Matt Maher, Phil Stacey and Meredith Andrews
Where: U.S. Cellular Coliseum, 101 S. Madison St., Bloomington
Box office number: 800-745-3000
Joining Michael W. Smith on the U.S. Cellular Coliseum stage next weekend will be a trio of "A New Hallelujah World" tour-mates. They are:
• Matt Maher: The second Newfoundland, Canada, performer to appear on a Twin Cities stage in a month's time (rock band Great Big Sea at the BCPA preceded him). The singer and worship leader is best known for his 2004 hit, "Your Grace Is Enough," which Maher wrote and Chris Tomlin recorded. Maher recorded a second version of the song, mixing both his and Tomlin's vocals.
• Phil Stacey: A native of Harlan County, Ky., Stacey first gained national renown when he entered the finalist ranks of "American Idol's" sixth season and made public the fact that he missed his daughter's birth to audition for "Idol." After attempting to go the country route with his self-titled first album, he switched labels to Christian specialists Reunion Records, who released "Into the Light" earlier this year
• Meredith Andrews: Like Maher, Andrews mixes singing with worship leading. The North Carolina native released her first album, "The Invitation," a year ago and spent most of the past summer touring with Natalie Grant and Chris Sligh.
• Real name: As is, with the "W." standing in for "Whitaker"
• Marriage: Just one, to Deborah Kay Davis
• Fallout: Two sons, three daughters
• Life-changing spiritual experience No. 1: At age 10, resulting in his becoming a devout Christian
• Life-changing spiritual experience No. 2: At age 22, following a drugs-and-alcohol-fueled breakdown
• First major gig: Keyboardist with Christian band Higher Ground
• Songwriter-for-hire: Penned hits for Bill Gaither, Amy Grant, Sandi Patty, Kathy Troccoli and others
• Keyboardist-for-hire: Manned the ivories for Amy Grant's 1982 tour, eventually graduating to opening act
• Singer-songwriter-for-self: 1983's "The Michael W. Smith Project" was his Grammy-nominated solo debut
• Albums of note: "The Big Picture" (1984), "Go West Young Man" (1986), "Change Your World" (1992), "Healing Rain" (2004)
• Singles of note: "Friends," "Place in This World," "I Will Be Here For You," "Somebody Love Me," "Healing Rain"
• Awards of note: Three Grammys, 34 Doves, one of People magazine's "Most Beautiful People"