BLOOMINGTON — An assortment of leather, lace, brass, boots and buckles spread into the First Friday events in downtown Bloomington as Cogs and Corsets: A Steampunk Happening kicked off a weekend full of festivities.
To begin the "happening," about 20 steampunkers strutted through downtown streets for the annual event's promenade, dressed to turn heads.
In simple terms, "steampunk" is Victorian science fiction, said Melanie Shellito, one of the festival organizers.
"What would the world be like if the Victorian Era was still the era, but instead of moving past that into the Industrial Revolution and moving to electricity, what if we stayed with steam? What if we stayed if cogs and gears?" she said.
Shellito said everyone finds something different in steampunk that draws them in. The third annual Cogs and Corsets event brings together veteran steampunkers and newcomers with elements of history, science, technology, artistry, costumes and performance.
High winds whipped through Main Street on Friday evening, tossing layered skirts and sending several vendors into the Bloomington Center for the Performing Arts for a break from the breeze.
A selection of jewelry, goggles, wands, hats, headpieces, belts, bags and other costume essentials were available at the street-turned-indoor market.
Festivalgoers fired off insults and foam pellets on the McLean County Museum of History lawn in their efforts to take home the official Certificate of Bragging Rights for the Nerf Gun Dueling Contest.
Tea duels settled spats inside the museum as participants played "tea chicken," as Amy Scovel called it, a contest in which they dunked cookies into hot tea to see who would be the last to take a bite.
"The cookies were tasty even though we lost," she said.
You have free articles remaining.
After their first sample of the steampunk experience at the festival last year, Scovel and her wife, Jamie, dove in head first with a plague doctor's beaked mask to match their outfits and VIP passes to make sure they don't miss any of the Cogs and Corsets events.
"It's just right up our alley because we're nerds," Amy Scovel said. "(Jamie's) a history major and I've always been interested in history so we like the history, but we both read sci-fi so we like that kind of aspect."
Once it was dark enough, the ArcAttack gave a free demonstration with a Tesla coil, lighting up the BCPA lawn.
Melissa Clark said her son, who was dressed the part, was so drawn in by the science of steampunk that he wants to build his own Tesla coil for next year.
For the food motivated steampunkers, a selection of food trucks and pop-up restaurants set up camp on the BCPA lawn to supplement the free tea-soaked cookies. They'll be back Saturday evening while actor Joshua Kane performs "Gothic at Midnight" at the center.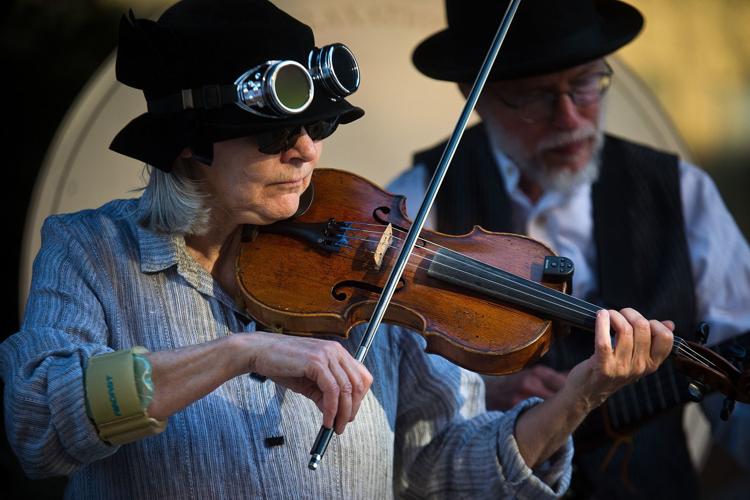 Clark has been interested in steampunk for a few years, but Cogs and Corsets was her first event. She and her family made the three-hour drive from Imperial, Mo. to take part in the festivities.
"It's just been a fun family thing for us to do together and a way for us to talk about history and culture and being able to learn from the past, even though it's sort of a fantasy," she said. "It intrigues (the kids) so that they can get into the actual history part."
"It's a nice break from real life."