BLOOMINGTON — Bloomington-Normal's newest Mexican restaurant is designed to give off a hip, but elegant, vibe with its uniquely lit entry, leather banquettes and lighted signs spelling out "feel good" and "buen provecho" (enjoy your meal).
Final touches were underway Friday for the opening of Ancho & Agave at 11 a.m. Tuesday.
"I am very excited about everything from our food program to the atmosphere inside to our service level," said Biaggi's founder and CEO Todd Hovenden. 
"We're hoping to bring a new perspective not only just for Mexican cuisine here in Bloomington-Normal, but also the restaurant scene in general," he added.
Ancho is a type of chili pepper and agave is the plant used to make tequila and mezcal, "so as a Tex-Mex place, both of those are integral to what we're doing," said Ken Davenport, director of operations. 
Ancho & Agave features an open dining space with high ceilings, 14-foot windows, a large garage door that opens to a patio and a large center bar.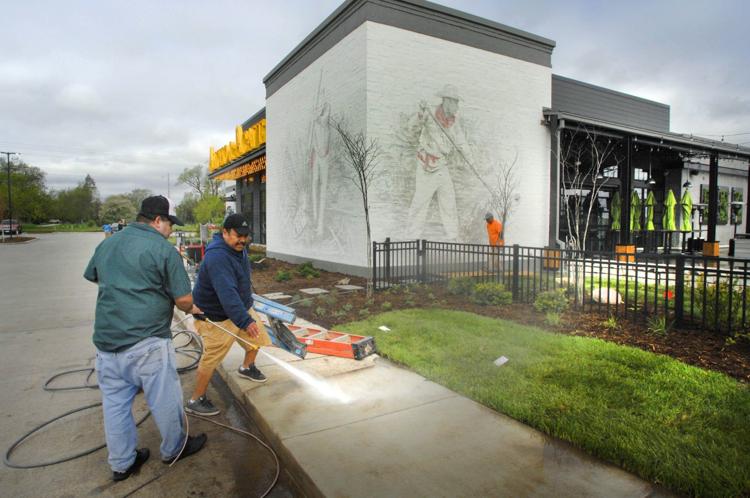 "The space is elegant, cool and has an industrial feel so it's very casual. The average consumer can just walk in anytime," said Davenport. "The food itself is dynamic. It's all made from scratch. We make our own corn tortillas from scratch, for example."
"I think people will find a lot of their favorites on the menu," added Hovenden. "We have burritos and enchiladas. We have 14 types of tacos and a lot of great appetizers as well." 
Prices range from $3 for a taco to $19 for a fajita dish, said Davenport.
The restaurant also will offer 36 different tequilas, several different mezcals and large fruity margaritas.
The restaurant can seat up to 235 people inside and 70 to 80 on the outdoor patio with three fire pits.
You have free articles remaining.
The restaurant will be open from 11 a.m. to 10 p.m. Monday through Thursday, from 11 a.m. to 11:30 p.m Friday and Saturday, and from 10 a.m. to 9 p.m. Sunday. An a la carte brunch also is available from 10 a.m. to 2 p.m. Sundays.
The restaurant will employ between 85 and 100 people. 
"We're moving dirt now. We're starting construction around June 1, so we hope to move into the new facility sometime around the beginning of November," said Hovenden
Biaggi's remains open at its current location at 1501 N. Veterans Parkway until the new 11,000-square-foot restaurant opens.
Biaggi's also plans later this year to start construction on a building for its corporate offices at the same location.
A second Ancho & Agave restaurant is under construction near Madison, Wis., she added. 
---
Photos: New Ancho and Agave Mexican Restaurant prepares to open