NORMAL — Growing up in Bloomington-Normal, Radiance Campbell was very familiar with the Gamma Phi Circus, Illinois State University's 90-year-old student circus that returns with performances April 12 and 13.
"There's a picture of me when I was 4 years old coming here with my day-care class," said Campbell, now an ISU junior majoring in sociology.
But she never thought about joining the circus until a fellow student on stilts reached down and handed her a flyer when she was on the quad her freshman year.
"I didn't know you could go in with no experience," said Campbell, who has gone from circus novice to walking the high wire — in high heels, no less.
The secret is confidence, according to Campbell.
"Wire is a mental test," she said. "You have to be calm and confident in yourself."
It's seeing students like that grow in skill and confidence that maintains the excitement for Marcus Alouan, who has been circus director for nine seasons — after seven years as a performer while an undergraduate and graduate student.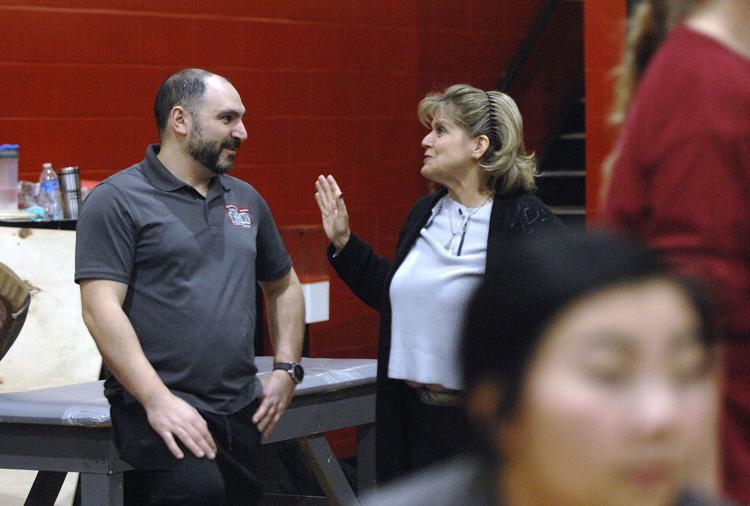 Founded in 1929 as an all-male fraternity, Gamma Phi is marking the 90th anniversary of its founding. It is the oldest collegiate circus in the United States.
"We are bringing back some old acts we haven't done for awhile," such as Roman rings and perch pole, he said. "We like to keep things fresh for our audiences" and some of those old acts will have "a new twist this year."
Performances will be at 7 p.m. April 12 and 1 and 7 p.m. April 13, with a pre-show children's carnival at noon April 13 for those with a matinee ticket.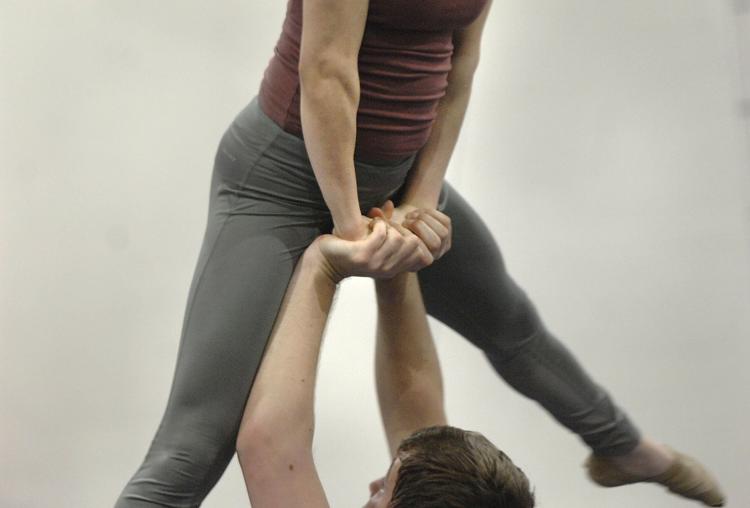 This year is special because of "the excitement of bringing our past into our present," said Alouan. "We are literally standing on each others' shoulders."
'Values' haven't changed
A few things have changed since Gamma Phi was founded by Clifford "Pop" Horton. For example, women were officially made part of Gamma Phi Circus in the 1940-41 season although there had been female acts before that.
One thing that hasn't changed is "our values," said Alouan.
Those values are printed on posters that hang on the walls of the Horton Field House south gym where the circus members practice. They spell out CIRCUS: Commitment. Integrity. Respect. Courage. Unity. Service.
The commitment of the students, assistance of the university and support of the community, which attends the circus each spring, are keys to the success of the program, said Alouan.
Even after nine decades, Gamma Phi shows no sign of slowing down. There are 101 students involved this year, said Alouan, "one of the biggest, if not the biggest, yet."
Assistant director Ivan Stoinev said, "They are an incredible group, not only as performers but as a group." He clasps his hands together to emphasize the unity. "It's going to be a great show."
Alouan said the group includes an "amazing incoming class" of more than 40 new members, five with previous circus experience.
That includes freshman Cassie Weigel of Alameda, Calif., who has been a professional performer for 11 years.
"I like how you never stop learning," she said of circus performing.
Unlike gymnastics, with rigid requirements of what you have to do, said Weigel, "In circus, it's a lot more creative."
An aerialist, whose acts include trapeze, cube and teeterboard, Weigel is studying to be an athletics trainer so she can help circus performers recover from injuries.
Special education major Nick Balk of South Elgin, is only a sophomore, but he is captain of the Russian swing team, which catapults him high into the air.
"I like the adrenaline rush of flying off and flying in the air for so long," he said.
Even though its his second year in the circus, he started attending the Gamma Phi Circus summer camp in 2009 — missing only one year.
When it comes to the circus, Balk said he likes " the constant pursuit of 'more.' There's no one in the world who knows everything about circus. … You can always do one more flip."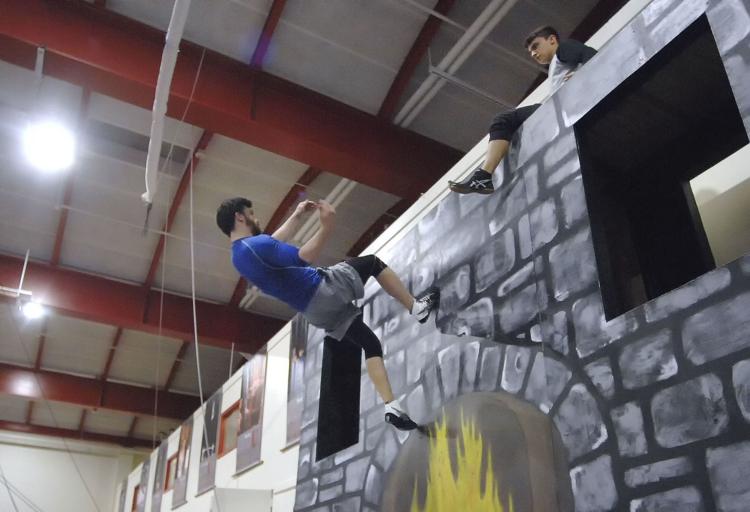 That pursuit of "more" also is what attracted Evan Baird, a junior in kinesiology from Downers Grove.
"You wake up every day knowing you're going to challenge yourself," he said. "You achieve goals together in a healthy active environment."
Balk admits "there are a lot of late nights" but said, "You can do a lot in 24 hours. You just have to find the time" — even when that means doing homework in the gym.
Campbell said of classes and circus, "It's a juggling act. It's a balancing act." Then she smiles and adds, "They teach that here."
---
Photos: Practice makes perfect for Gamma Phi Circus